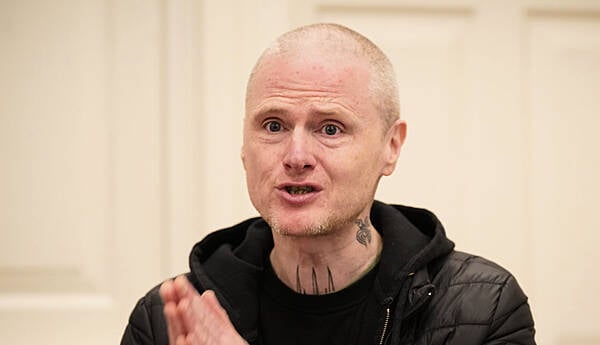 Tenants facing eviction from a Dublin apartment complex have protested outside the city council offices.
More than 100 residents of Tathony House in Kilmainham, including families and children, were sent eviction notices last year as their homes are to be sold. Tenants in the three-storey complex must vacate the property by the start of June.
People Before Profit councillor Madeleine Johansson said the Government needed to extend the current eviction ban to prevent situations like this all over the city.
"In other European countries … you can't evict tenants just because you're selling your property, you have to sell the property with tenants in-situ," she told Newstalk radio. "We're saying that we need that type of legislation here in Ireland as well."
Busy morning! Out for a leaflet and door knocking session in and around Donacarney. Housing is the biggest issue on the doors and people are seeing no hope. Into town then to support @JamesRedNetwork and @cllrjohansson and residents in their fight for their home in #Tathonyhouse pic.twitter.com/QlM0Nrt1K3

— Bernard Mulvany PBP DBN👩🏼‍🦽🛗 (@mulvanypeopleb1) February 4, 2023
Meanwhile, a leading homelessness campaigner has also called on the Government to extend the eviction ban beyond the end of March.
Fr Peter McVerry said the majority of people becoming homeless are being evicted from the private-rented sector.
"We're asking for [the eviction] ban to be extended, or to have a process whereby a landlord who can show extreme difficulty with it can be exempt from the ban on evictions," he told Newstalk.
Fr McVerry said the ban on evictions was the most effective way of reducing the number of homeless people during the pandemic.
Last week the latest official homelessness figures revealed that there were 11,632 people living in emergency accommodation.