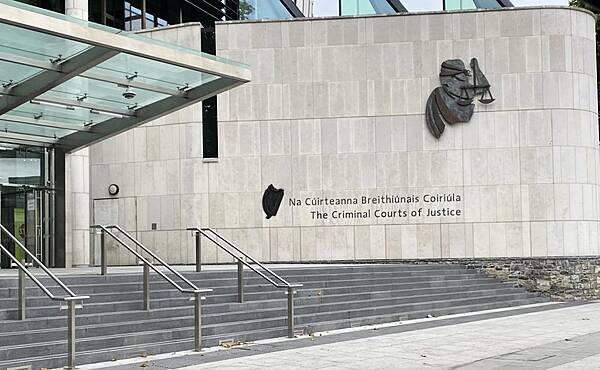 Isabel Hayes
A man who is believed to have transported about €1 million euro in cash for a criminal gang over a prolonged period of time has been jailed for three years.
After Carl Buckley (38) was caught by gardaí handing over €53,000 in cash in a transaction "between two criminal entities" last year, his home was searched, and a ledger outlining dozens of similar transactions was discovered, Dublin Circuit Criminal Court heard on Tuesday.
Encrypted messages referring to a boss known only as 'Mr Brownstone' were also found on Buckley's phone, John Berry BL, prosecuting, told the court.
Buckley, with an address at Holywell Green, Swords, Co Dublin, pleaded guilty at Dublin Circuit Criminal Court to one count of possessing the proceeds of crime at Swords on February 4th, 2022. It is a money laundering offence which carries a maximum term of imprisonment of 14 years.
His defence counsel urged Judge Martin Nolan not to impose a jail term, saying Buckley got involved with the criminal gang under duress after getting a loan to buy his child a PlayStation for Christmas. He is the sole carer of his child, and his life revolves around him, Oisin Clarke BL, defending, said.
Sentencing Buckley on Tuesday, Judge Nolan said the court was aware of the effect a prison sentence could have on innocent third parties, and he agreed Buckley is unlikely to re-offend.
He said if he had been dealing with a single incident of Buckley transporting the €53,000 in cash, he would have been open to a non-custodial sentence. But he said the evidence disclosed a long-running pattern of involvement by Buckley in a criminal gang.
The judge handed down a sentence of three years.
Surveillance operation
Detective Garda Gavin Curran said that on the day in question, gardaí were carrying out surveillance on another man, who is still before the courts. Buckley arrived at the scene and, when arrested, was found to have €53,000 in cash in his car. The co-accused had a much larger sum in his vehicle, the court heard.
When arrested, Buckley made admissions and gave gardaí access to his mobile phone, where the encrypted messages were discovered. The ledger, which was found in his home, outlined numerous similar cash transportation transactions over a period of time, the court heard.
Det Gda Curran said the transactions amounted to "in excess of €1 million easily".
CCTV footage also showed Buckley meeting an unidentified woman earlier on the day he was arrested and engaging in some kind of transaction, which was backed up by documentation in the ledger, the court heard.
Buckley has four previous convictions for road traffic offences.
Defence counsel handed in a large number of testimonials on behalf of Buckley, which described him as an active member of the community and a man whose life revolves around his child.
Mr Clarke said that Buckley very much wanted to get his son a PlayStation 5 for Christmas one year but that the financial institution he normally got loans from had shut down. He instead took out a loan of €3000 from a "particular individual".
When Buckley was unable to work during Covid as he was caring for his child, he couldn't pay off the loan and started working for the criminal organisation instead, the court heard. At one point, a gun was pulled on him, the court heard.
Mr Clarke said his client is the sole guardian for his child, whose mother lives in Latvia, and the child will have to move there in the event of Buckley being jailed.
Judge Nolan said that if it hadn't been for the excellent mitigation in the case, he would have set a headline sentence of eight years. He jailed Buckley for three years and declined to suspend any portion of it.
Buckley shook his head and mouthed "No" as the sentence was handed down.