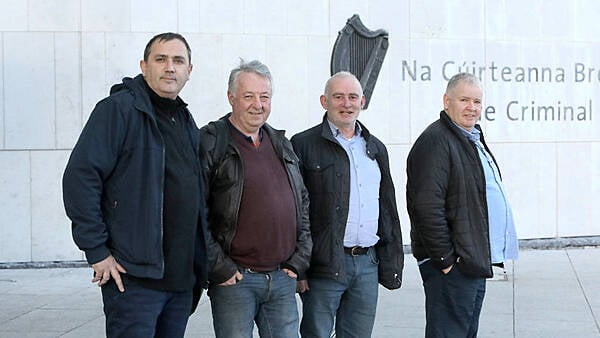 Declan Brennan
A security guard allegedly attacked by a large group of men at a repossessed farmhouse has told a jury that one of the defendants previously assaulted him at another house eviction.
Ian Gordon, one of four men allegedly assaulted and falsely imprisoned in the early morning of December 16th, 2018, also testified that he was forced to eat the faeces from a guard dog that had been severely injured and lost control of its bowels.
It's the State's case that at around 5am on December 16th, 2018, a group of approximately 30 people, some wearing balaclavas, arrived at the rural property at Falsk outside Strokestown, Co. Roscommon, armed with chains, pickaxe handles, a meat cleaver, baseball bats and a hurley.
Sledgehammer
The door of the house was smashed with a sledgehammer and four security men were seriously assaulted, forced to the ground, had their shoes removed and their hands tied with cable ties. The windows and doors of the house were smashed, the men's vans and cars were set on fire and a guard dog was beaten unconscious and had to be put down.
Patrick Sweeney (44) of High Cairn, Ramelton, Co Donegal, Martin O'Toole (58) of Stripe, Irishtown, Claremorris, Co Mayo, Paul Beirne (56) of Croghan, Boyle, Co Roscommon and David Lawlor (43) of Bailis Downs, Navan, Co. Meath have pleaded not guilty to a total of 53 charges.
Each man is separately charged with criminal damage to the door of the house, aggravated burglary, false imprisonment of and assault causing harm to the four security guards, arson and violent disorder. The four defendants are also charged with robbery of a wristwatch from John Graham and, finally, with animal cruelty.
Shotgun
Mr Gordon began giving evidence last Thursday. On Tuesday, in continuing evidence, he told Ann Rowland SC, prosecuting, that he was lying on the ground and saw someone with a full length shotgun which was pointed down towards him.
He said this man pointed the firearm to the side of his head. He said he heard a man's voice saying: "That's enough Davey, you're gonna kill him." He said this man spoke with a southern accent, such as from Cork or Kerry.
He said a second male voice than said: "This is Ian Gordan, ex-UDR, ex Loyalist paramilitary." The witness said he recognised the voice as that of the defendant's David Lawlor.
He said it was a softly spoken voice and he said he had heard Mr Lawlor speaking to him on around nine previous occasions. He said that in mid 2017, Mr Gordon was doing security at a U2 concert in Croke Park and Mr Lawlor allegedly came over to him, asked him if he was named Ian Gordon and told him "you repossessed my house".
Mr Gordon said Mr Lawlor said the house was in Navan. He told the jury that he was previously involved in security for locksmiths at two properties in Navan, but that it would be ordinary policy that he would not be told the address nor the names of the homeowners.
Music concerts
He said he met Mr Lawlor a number of other times at music concerts like Electric Picnic and that he believed Mr Lawlor was at these events working as a security guard for "Celtic security". He told the jury that on various occasions Mr Lawlor spoke to him and called him "an Orange bastard" and a Loyalist paramilitary.
He said that on one occasion he was providing security at the repossession of a property in Balbriggan, north Dublin, and a crowd of around 30 people were gathering outside the premises.
He said they were "getting quite irate" and several people seemed to be "flaming the situation".
"They wanted us out, they wanted the people back in," he said. He said he saw Mr Lawlor and that Mr Lawlor approached him. "Mr Lawlor assaulted me," he said.
Social media
Mr Gordon said the defendant hit him twice in the back of the head and told everybody that he was "ex British army and I was involved with the UVF and the UDA". He said Ben Gilroy was "doing the social media and telling everybody these people were from the North".
He said gardaí at the scene advised Mr Gordon and his colleagues to leave for their own safety. He said they went to Balbriggan garda station and he later made a statement to gardai about the alleged assault.
He said there were ultimately no criminal proceedings.
In relation to the events in December 2018, he said he was on the ground and was trying to move towards the injured guard dog to check on it. The witness appeared upset and wiped his eyes with a tissue when he told the jury that he could see the dog, Quinn, was severely injured.
"His head was split open, you could see brains, all down his back was lacerations. He said that the gunman directed him to move to the front of the house. He said he tried to stand up but the gunman put his foot down on his back, pushed him down and said "crawl".
He said the dog had lost control of his bowels and the gunman pushed the gun to the side of his head and told him to eat the faeces.
"He told me to eat it, it was my dog, 'you eat it'. He put one piece in my mouth. I was in fear, thought I was going to be shot. I swallowed some of it and spat the rest out."
"He then told me to crawl towards the front of the property," Mr Gordan said. The trial continues before Judge Martina Baxter and a jury.
Mr Gordon told the jury that he crawled towards the front of the property and was directed towards a grass area where three other members of his security staff were already sitting.
Tied up
He said Johnny Graham and Gary McCourtney had their hands cable tied to their front. He said Mr Graham had cuts to his face and Mark Rissen only had one shoe on.
The witness said a man, who he recognised from the eviction five days earlier, removed his boots. He said another man, who was holding a hurley with a piece of steel attached to it, told him: "You're not so hard now."
He said a man at the gate seemed to be acting as a timekeeper and was periodically shouting ten minutes, and 15. He said when he shouted "20 minutes", everyone began shouting, "We need to get going, we need to get going".
He said the men started to leave and they all got into the back of the cattle lorry. He said the driver was wearing a florescent jacket. He said the tele-handler which had earlier rammed through the gates of the property was used to move hay bales across the path.
He said he saw the previous property owner Anthony McGann coming in through the gate. He said five vehicles had been set alight including a scrapped vehicle which had belonged to the McGanns.
Mr Gordon said that the other four vehicles belonged to him and these included a VW Transporter and a Ford Transit mini-bus which were completely burnt out.
He said he told his colleagues to call gardai and emergency services and to go back into the house and secure it in case the attackers came back.
"I went outside looking for Quinn. I found him at the side of the property, I checked for any signs of life. I carried him down to the gate, to the front gate.
"I laid him down there, I held him in my arms," he said. He said the dog was still alive.
He said two men then arrived in a Peugeot car and got out. One of them began using his phone to record the scene at the property and the other man who was holding a cudgel stood behind him.
He said he heard sirens and saw blue flashing lights and the two men said to each other: "We need to go." They left and an ambulance arrived and Mr Gordon was taken to Sligo hospital where he was treated for a head wounds, cracked ribs, a broken ankle and cuts all over his body.
He received six staples to his head. He agreed with Ms Rowland that the dog was subsequently put down by a vet who had come to the property.