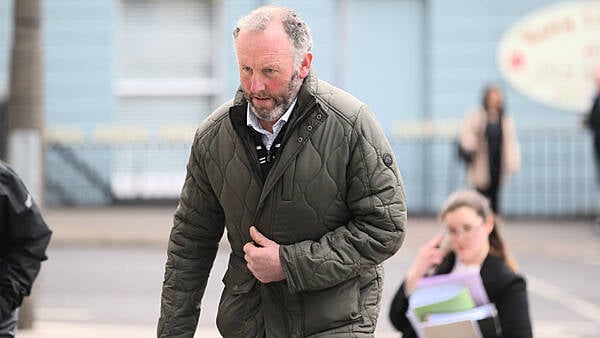 Eoin Reynolds
A solicitor for Chrissie Treacy wrote to her nephew Michael Scott telling him to stop threatening and intimidating her and interfering with her property in the year before she died, the Central Criminal Court has heard.
Mr Scott denies murdering his aunt by deliberately running over her in an agricultural teleporter outside her home. His lawyers have said her death was a tragic accident.
Solicitor Brendan Hyland on Tuesday told prosecution counsel Conall MacCarthy BL that he acted for Ms Treacy and her brothers Willie and Michael over a number of decades.
He said that in 2017 Ms Treacy wanted an "enhanced" rent on a 42-acre farm that she had been renting to Mr Scott and asked Mr Hyland to help her put the farm on the market.
In a letter from Mr Hyland to Mr Scott he noted that damage had been done to the farm and to equipment owned by the new tenant. He said in the letter that Mr Scott had "interfered with the letting of lands" and "sought to intimidate neighbours and potential tenants from taking the land".
Threats
He said Mr Scott had also made threats to interfere with Ms Treacy's home help and warned that legal action would follow if he failed to "cease making threats and interfering with her [Ms Treacy's] rights".
Mr Hyland said he had concerns that Ms Treacy was vulnerable and that a lot of pressure was being put on her in relation to the land that she owned.
He also detailed a dispute in which Mr Scott's solicitor stated that an agreement had been made whereby Ms Treacy's land would go to Mr Scott when she died.
No such agreement had been made, Mr Hyland told the court, and as a result of Mr Scott's behaviour and attitude towards Ms Treacy, she instructed him to partition the land they jointly owned.
Michael Scott (58) of Gortanumera, Portumna, Co Galway has pleaded not guilty to murdering Ms Treacy outside her home in Derryhiney, Portumna, Co Galway on April 27th, 2018.
Mr Hyland told the trial that following the deaths of her brothers Willie and Michael, Ms Treacy came to own a 42-acre farm at Kiltormer and half of a 140-acre farm around her home at Derryhiney. The other half of the Derryhiney farm was owned by Mr Scott.
They were, he said, joint owners and "tenants in common" meaning that the farm was not partitioned and neither one owned specific lots or fields, but "every blade of grass was held at 50% each".
In 2017 Ms Treacy came to Mr Hyland's offices with her friend and neighbour Regina Donohue and an agricultural auctioneer named Declan McHugh.
Ms Treacy was at that time renting her lands at Kiltormer to the accused man Michael Scott and his brother Tom Scott. She wanted to engage Mr McHugh to put the land on the market because she was "anxious to get a greater or enhanced rent", Mr Hyland said.
On April 11, 2017 Mr Hyland wrote to Michael Scott saying: "We are instructed that you have interfered with the letting of lands by the new tenant, furthermore you have made threats and sought to intimidate neighbours and potential tenants from taking the land.
"You threatened to interfere with our client's home help coming to her house where she lives on her own. Unless you cease making such threats and interfering with her proprietary rights in relation to her letting her lands and her use and enjoyment of the privacy of her own home, we will take legal action including applying to the court for an injunction to prevent interference."
Damage
Mr Hyland also noted that damage had been done to fencing at Kiltormer and said that all matters had been reported to gardai. The same letter was sent to Tom Scott.
On April 27, Mr Hyland sent a further letter to Tom and Michael Scott calling on them to "immediately cease interfering with Ms Treacy's land and stop damaging the fence".
The letter stated that further damage had been done to electric fencing at Kiltormer and that lead had been left exposed creating a danger to animals on the land.
The letter stated: "We again call on you to cease interfering with our client's lands. If you fail or refuse, our client will have no option but to take legal action." On the same date Mr Hyland sent a letter to gardai setting out concerns for Ms Treacy's safety.
Around this time Ms Treacy also instructed Mr Hyland to draw up a new will in which she appointed her friend Regina Donohue as her executor and left "everything to her".
On April 28 Mr Hyland received a phone call from Michael Scott. "He was extremely angry and abusive on the phone to me and I couldn't speak because he was in such a rage, he didn't give me a chance to respond," the solicitor said.
"He accused me of giving wrong instructions and that he had nothing to do with this and he wasn't involved in the matters that were the subject of the letter." Mr Hyland said he was "shocked at the utter vehemence of his anger".
About 45 minutes later Mr Scott phoned back with a "completely different tone" and apologised for hanging up on the previous call. Mr Hyland told Mr Scott he should get his solicitor to respond if he had a difficulty with what was in the letter.
Mr Scott also made a complaint about Mr McHugh, accusing him of "interfering" and "trying to cause trouble".
In August that year gardai told Mr Hyland that they were aware of the difficulties between Ms Treacy and Michael Scott but because a formal complaint had not been made, they could not progress the matter.
In November 2017, Ms Treacy called Mr Hyland saying Michael Scott's lease on her half of the land at Derryhiney had expired and she wanted to "regularise matters". She said that Mr Scott was "anxious for a new lease" and if he couldn't get the lease it would create difficulties for him and his dairy business.
Mr Hyland asked Declan McHugh to value the land because Mr Hyland felt there was a "gross undervalue" in what was being paid. A short time later Mr Hyland received a call from Ms Treacy's phone but when he took up the call Michael Scott was on the other end.
"That surprised me," he said. "The only thing I could presume was he was in her kitchen."
He added: "I was very concerned about her, that a lot of pressure was being put on her. I knew her, she was a very kind lady and quiet, an inoffensive person, living on her own and she was very vulnerable."
Mr Scott told Mr Hyland that he wanted a lease in his wife's name and that the terms would be the same as before which, Mr Scott said, was €6,000 per year.
On December 6th that year Ms Treacy called Mr Hyland. She was very upset, seemed "disorientated" and "under enormous stress".
He told her he would call to her home as he felt "she was completely vulnerable and a lot of pressure was being put on her".
Mr Hyland later discovered that her confusion and upset was caused by a letter from Michael Scott's solicitor which contained a new six-year lease on the land at a rate of €6,000 per year and requested Ms Treacy to sign the lease in the presence of her solicitor.
On December 8, Declan McHugh told Mr Hyland that he valued the lease for Ms Treacy's half of the land at Derryhiney at €13,000 per year.
Mr Hyland wrote to Mr Scott's solicitor saying that Ms Treacy now wanted to partition the land at Derryhiney and stating that Ms Treacy had been subjected to threats and intimidation from Mr Scott.
Mr Hyland called on Mr Scott to "cease such threats and intimidation forthwith and to cease phoning this office".
One week later Mr Scott's solicitor wrote back saying that Mr Scott would not agree to the partition, but he would offer an increased rent of €8,000 per year for Ms Treacy's half of the land.
The letter added that Mr Scott, "Does not understand the suggestion of threats and intimidation on his part. It seems our mutual clients have been getting on quite well for several years now and hopefully that will continue."
On January 5th the following year, Ms Treacy spoke to Mr Hyland and again concerns were expressed regarding the ongoing difficulties between Ms Treacy and Mr Scott over land.
On January 24th, Mr Hyland received a letter from a new solicitor acting for Mr Scott suggesting a division of the land and a ten-year rental agreement for Mr Scott at current market rates with an option to review the rate over the ten years.
The new solicitor wrote that it had been agreed that Ms Treacy would enter a new arrangement whereby she would have the use of her portion of the land for life and thereafter it would transfer to Mr Scott.
Under such an arrangement, Mr Hyland said Ms Treacy would have the use of her land but would not have full legal ownership of it. She would not be able to sell or give away her portion or leave it to someone else in her will.
Ms Treacy told Mr Hyland that she had not and would "under no circumstances" enter into any such agreement. Mr Hyland responded to the letter saying that no such agreement had been made.
He added: "Due to difficulties caused by your client's behaviour and attitude towards my client, my client has instructed me to send papers to counsel to draft partition proceedings."