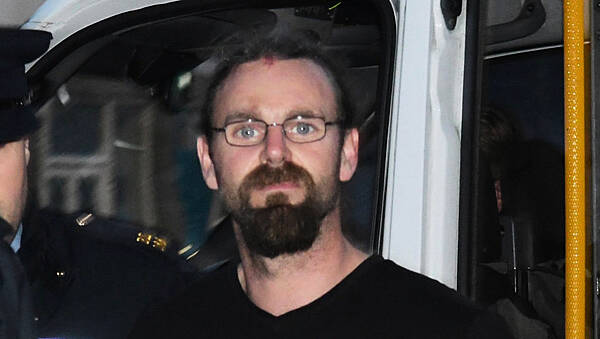 Fiona Magennis
Garda murder accused Stephen Silver in the past experienced psychotic symptoms that were on the "extreme end" of his bipolar affective disorder, while he is also alleged to have also previously threatened and assaulted hospital staff, a forensic psychiatrist has told his trial.
Giving evidence to defence counsel Dominic McGinn SC today on Tuesday, Dr Brenda Wright, interim clinical director at the Central Mental Hospital, confirmed that during one hospital admission in 2003, Mr Silver was diagnosed as being "manic with psychotic symptoms".
Asked by Mr McGinn if this was "as bad as it gets" in terms of bipolar affective disorder, she agreed that it was.
"To have manic symptoms and have delusions, hallucinations and disordered thinking, that his the extreme end of the illness," the psychiatrist said.
In her evidence to the jury, Dr Wright outlined several psychiatric admissions, both voluntary and involuntary, many of which occurred after Mr Silver had stopped taking his medication.
She told the court of a hospital admission in September 2006, when it was reported Mr Silver had been found by gardaí barricaded into his apartment and emerged from his bedroom holding a sword and wearing black battle gear.
'Extreme' behaviour
She described his behaviour in this instance as "quite extreme" and said following his admission to hospital he was agitated, slapping the walls and making darting movements like karate chops.
She agreed with Mr McGinn that during his first night as an inpatient, he threatened four staff members before closing a door to a staff area in order to keep hospital workers in.
The court heard Mr Silver was treated with an antipsychotic injection but remained agitated for a period of two to three days. He remained in hospital for a period of 33 days and his diagnosis on this occasion was bipolar affective disorder with periods of being manic.
Dr Wright confirmed to Mr McGinn that the diagnosis appeared to be consistent on every admission at this stage.
Mr Silver (46), a motorbike mechanic from Aughavard, Foxford, Co Mayo has pleaded not guilty to the capital murder of Garda Horkan (49) knowing or being reckless as to whether he was a member of An Garda Siochána acting in accordance with his duty at Castlerea, Co Roscommon on June 17th, 2020.
Mental illness
He has pleaded guilty to manslaughter and the jury have been told the main issue in the trial is Mr Silver's state of mind at the time of the shooting.
Dr Wright told the trial on Monday that as a consequence of his mental illness, Mr Silver's capacity was "significantly impaired" at the time of the shooting.
Earlier, Dr Wright told Mr McGinn the accused was admitted to the Roscommon Department of Psychiatry at the end of October 2003.
He was allowed home on November 6th for a period of a week and Mr McGinn asked if it would be common for a patient to go from being so agitated that they need and antipsychotic injection to being allowed home within a week.
Dr Wright said in Mr Silver's case, the behavioural aspects like aggression and agitation tend to settle first while other aspects, such as hypomania and unusual thinking, can take longer to resolve. "That's not unusual," she said.
She agreed with Mr McGinn that on his return to the unit after his trip home he remained hypomanic over the next two weeks, showing signs of disinhibition, talkativeness and sleep disturbances. She said he remained overfamiliar though his behaviour was easier to manage and that showed there were elements of the illness still present.
She noted that his diagnosis on discharge on this occasion was bipolar affective disorder.
Dr Wright confirmed to Mr McGinn that this was the first time that bipolar affective disorder was diagnosed in Mr Silver and that though he had been in and out of psychiatric care for a number of years it took some time for doctors to settle on a diagnosis.
She agreed with counsel that manic with psychotic symptoms was "as bad as it gets" in terms of bipolar affective disorder. "To have manic symptoms and have delusions, hallucinations and disordered thinking, that is the extreme end of the illness," she said.
Alleged assault on gardaí
Mr Silver's next admission was in July 2004 following alleged assaults on gardaí and damage to property.
It was noted at this time that he was drinking heavily and was not taking his medication. Over the next 11 days, Mr Silver refused all medication, and it was noted he was particularly volatile and aggressive, Dr Wright said.
Mr McGinn noted that at that stage his diagnosis had gone back to schizoaffective disorder and asked the doctor if that was unusual. Dr Wright said this wasn't unusual as the final diagnosis of bipolar hadn't been consistently established.
Mr McGinn noted that at this stage Mr Silver accepted he had a mental illness and required ongoing treatment. He also admitted he had been dabbling in ecstasy and cannabis for three weeks prior to his admittance on that occasion.
Mr Silver was again admitted to hospital in September 2005 when he presented with his mother who noted he was becoming hyperactive.
"It appears his family were very tuned in to those behaviours, that he was not his normal self," Dr Wright said. "The difficulty is persuading the person they are unwell."
The doctor observed there had been a couple of admissions where Mr Silver said he felt fine, but his family had noticed a change in his behaviour.
She agreed with Mr McGinn that the accused acknowledged on this occasion that the fact he wasn't taking his medication and his ongoing alcohol and cannabis abuse contributed to his admission.
His next admission was in September 2006 followed by a further hospital stay in March 2007 when he was brought in on an involuntary basis by gardaí.
It was noted on this occasion that he had not been taking his medication since December 2006 and had accused his girlfriend of trying to poison him.
Dr Wright said during this admission he again became agitated and threatening to staff and was observed walking naked through the unit. She said this was an example of "disinhibited behaviour" and this would be "the more extreme end of that".
She confirmed to Mr McGinn that this disinhibited behaviour can manifest itself in physical actions as well as speech.
The psychiatrist agreed with counsel that during this admission Mr Silver allegedly assaulted two security staff members and was difficult to manage.
The trial continues on Wednesday before Ms Justice Tara Burns and the jury of seven men and five women.