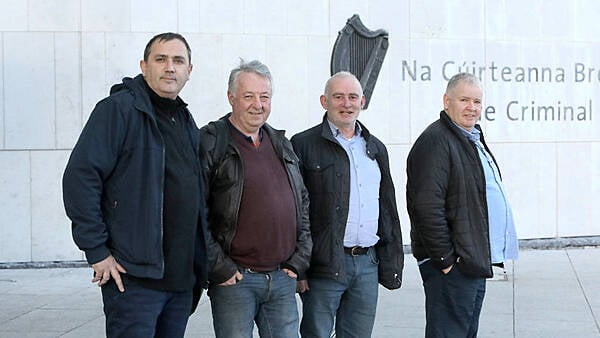 By Declan Brennan
A security guard allegedly attacked by a large group of men at a repossessed farmhouse has told a trial that he is 100 per cent certain he recognised the voice of one of his attackers.
Ian Gordon testified earlier this week that he was forced at gunpoint to eat dog faeces during an attack in December 2018.
It is the State's case that at around 5am on December 16th, 2018, a group of approximately 30 people, some wearing balaclavas, arrived at the rural property at Falsk outside Strokestown, Co. Roscommon, armed with chains, pickaxe handles, a meat cleaver, baseball bats and a hurley.
The door of the house was smashed with a sledgehammer and four security men were seriously assaulted, forced to the ground, had their shoes removed, and their hands tied with cable ties. The windows of the house were smashed, the men's vans and cars were set on fire and a guard dog was beaten unconscious and later had to be put down.
Patrick Sweeney (44) of High Cairn, Ramelton, Co Donegal, Martin O'Toole (58) of Stripe, Irishtown, Claremorris, Co Mayo, Paul Beirne (56) of Croghan, Boyle, Co Roscommon and David Lawlor (43) of Bailis Downs, Navan, Co. Meath have pleaded not guilty to a total of 53 charges.
Each man is separately charged with the same 17 charges; criminal damage to the door of the house, aggravated burglary, false imprisonment of and assault causing harm to the four security guards, arson of four vehicles and violent disorder.
The four defendants are also charged with robbery of a wristwatch from John Graham and, finally, with animal cruelty.
Under cross-examination, Mr Gordon confirmed with counsel defending Mr Lawlor that he had previously served with the British Army in the Ulster Defence Regiment and in the Royal Irish Regiment. He said that after leaving the army he worked as an enforcement officer for the courts, serving summonses and warrants.
He said he later went into security work and, in 2013, his company GS Agencies Ltd was registered.
Mr Gordon accepted that he and his security staff were working in security in this jurisdiction in circumstances where the company did not have a licence.
He said he didn't know a company licence was required and said his staff had individual security licences. He said the Private Security Authority later prosecuted GS Agencies for operating without a company licence, and he entered a guilty plea.
Counsel put it to the witness that he was either mistaken when he said he recognised Mr Lawlor's voice on the night or that he had deliberately "put him in the picture" in circumstances where Mr Lawlor was not there.
Mr Gordon replied "Mr Lawlor was there. I recognised his voice; I am 100 per cent sure of that."
Mr Gordon earlier repeated his evidence that during the alleged assault he was lying on the ground and saw someone with a full-length shotgun which was pointed down towards him.
He said this man pointed the firearm to the side of his head. He said he heard a man's voice saying: "That's enough Davey, you're gonna kill him." He said this man spoke with a southern accent, such as from Cork or Kerry.
He said a second male voice than said: "This is Ian Gordan, ex-UDR, ex-Loyalist paramilitary." The witness said he recognised the voice as that of the defendant David Lawlor, and it was a "soft-spoken Dublin" voice.
Mr Gordon had previously met Mr Lawlor around five times at music concerts such as Electric Picnic, when both men were working for separate security firms.
He said that on the first occasion of meeting Mr Lawlor, the defendant accused Mr Gordon of being involved in the repossession of his home in Navan.
Mr Gordon said that during this interaction at the car park of Croke park, before a U2 concert, Mr Lawlor threatened to throw him down the stairs. He said that on subsequent meetings, Mr Lawlor spoke briefly to him and called him obscene names.
Counsel for Mr Lawlor put it to Mr Gordon that in his evidence that someone had said "that's enough Davey," he was mistaken or deliberately given, in circumstances where Mr Lawlor was not there. Mr Gordon denied this.
The trial continues before Judge Martina Baxter and a jury.