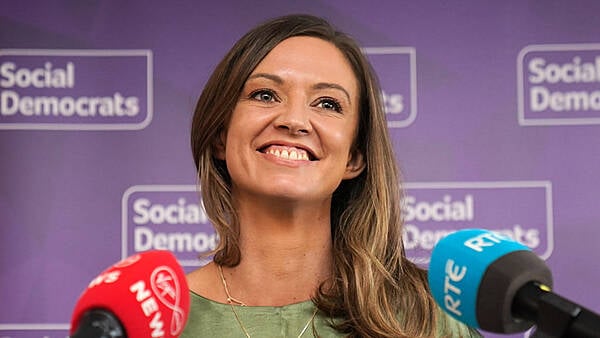 By Gráinne Ní Aodha, PA
TD Holly Cairns did not rule out a coalition with any party as she became leader of the Social Democrats on Wednesday.
Promising to be "unashamedly ambitious" about the upcoming local and general elections, she said the party wants to be in government and implement policies.
Although the Cork South-West TD admitted there were many similarities between left-wing parties in Ireland, she denied that the Social Democrats would be appealing to the same pool of voters as the Labour Party.
She also ruled out a long-mooted merger with Labour, saying that "trust has been broken between people and the Labour Party".
"I don't think we're actually appealing to the same group of voters and I wouldn't have joined the Labour Party," she said, prompting applause from the packed room of her friends, family and party members.
She added: "We really want to govern, we want to implement the policies that we're speaking about, but we don't want to go into government for the sake of going into government.
"We certainly wouldn't be going into government to make up the numbers.
"Our aim is to introduce democratic policies that can have a profound impact on the people we represent. We're not ruling anybody out at the moment… but safe to say we will drive a very hard bargain."
In her maiden speech, Ms Cairns outlined how she joined the Social Democrats just five years ago, while campaigning for a vote to liberalise Ireland's abortion laws in the 2018 Eighth Amendment referendum.
She said: "Some will say I am too inexperienced for this job.
"To them I say, I have plenty of experience.
"I grew up on a small dairy farm in West Cork; I worked as a waitress through school and college; I had to emigrate after the crash; I worked in disability services and saw the transformative difference that proper services can make to disabled people's lives; I have a masters in science; and I have run a small business with my amazing mum.
"I may not fit the stereotype of a politician, but that is not a bad thing.
"Let's not forget that some of the most experienced politicians in the Dail bankrupted the country a little over a decade ago."