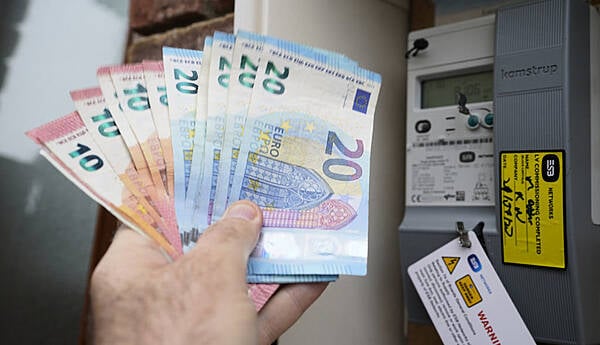 A 100-year-old woman from Trim, Co Meath has received an electricity bill for almost €1,000.
Sinn Féin TD Johnny Guirke told the Dáil on Wednesday that the bill from Electric Ireland covered a 59-day period from December 7th, 2022, to February 3rd, 2023, and the final figure was €957.49.
Mr Guirke said Kitty from Trim, Co Meath, contacted him recently about her Electric Ireland bill and said she only uses a fridge, washing machine, immersion heater, lighting and two electric heaters on timers and no central heating.
Speaking in the Dáil, Mr Guirke said: "I have Kitty's bill here. Her previous bill was €133.42. Her electricity usage involves a fridge, a washing machine, an immersion heater, lighting and two electric heaters on timers, with no central heating."
He also spoke of another of his constitutents, Gerry Clarke (77) from Ballivor, County Meath, who received his Electric Ireland bill this week. "It amounts to €1,678.65. His previous bill was for €671, and the one before that was for €290. His bill of €1,678.65 works out at €26.22 a day over 64 days, not the highest price in Europe for domestic use but the highest in the world. Is it any wonder that a third of all households are experiencing energy poverty?"
Mr Guirke said the Government and the Minister for Environment Eamon Ryan "need to get the finger out and deal with these energy companies, which are making massive profits on the back of pensioners and the Irish public in a cost-of-living crisis."
Responding to his statement, Taoiseach Leo Varadkar said: "I have had the same experience the deputy has had and have met many people in my constituency who have been really shocked by some of the utility bills that have landed in their letter boxes in recent weeks. These are the winter bills. They are extremely high. Unfortunately, there is another one on the way.
"The Government is acting. We have extended the 9 per cent VAT rate on electricity and gas until the end of October. There is another €200 energy credit on the way and, of course, we have provided for targeted welfare payments to increase pensions, increase the fuel allowance and widen eligibility for the fuel allowance, among other actions, and we will not stop here.
"The next step is the introduction of a windfall tax so that we can take back some of the profits of the energy companies and give them to people to help them with their bills."