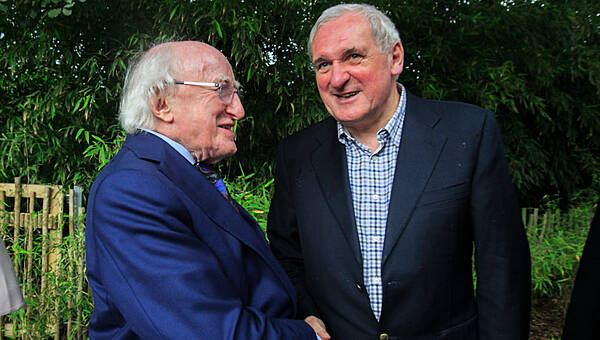 James Cox
Former taoiseach Bertie Ahern has said speculation about whether he will run for president in 2025 is "disrespectful" to President Michael D Higgins.
Mr Ahern has been consistently linked with a presidential run, and this intensified recently after he rejoined Fianna Fáil.
In an appearance on The News Agents podcast, Mr Ahern was pressed on the issue again.
He did not rule himself out, joking that he first wants to "live until the next election".
"They keep asking me that question, and the answer to that question is I want to live that long until the next election… number one. Number two, if I ever do think about that issue I'll let the world know, and if I don't I won't have to let the world know at all."
Mr Ahern went on to say that he is a "huge supporter" of President Higgins, and that he thinks speculation about who will run in 2025 is "disrespectful".
"I'm a huge supporter of the present president, and I actually think it's disrespectful of those people in the Republic who raise the issue about who would be next. Traditionally, we never have a debate about whom the next president will be until the last three months or so, so that's still two and a half years away. The issue doesn't even arise for two and a half years."
Mr Ahern led Fianna Fáil from 1994, and served as Taoiseach from 1997. He resigned from Fianna Fáil in 2012 after the Mahon Tribunal.
Speaking to Pat Kenny on Newstalk after rejoining the party, Mr Ahern said: "All I did was join my local cumann. I didn't take over as Taoiseach or anything."