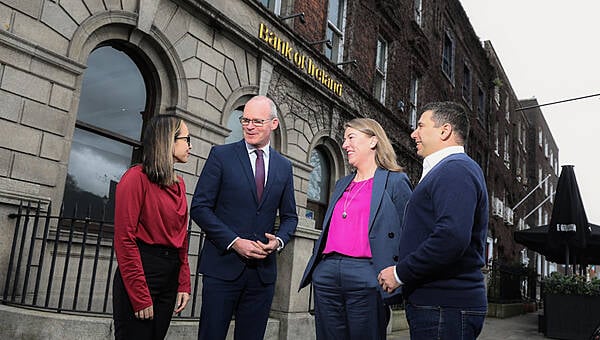 James Cox
Bank of Ireland has announced 100 new technology roles "to further accelerate a range of digital projects" across the group.
This follows the recruitment of 230 similar tech specialists since 2021.
The new roles – which include cloud platform engineers, cybersecurity experts, data infrastructure engineers, specialised project managers and business analysts – will be part of the group's technology and customer solutions team.
Irish consumers are becomingly increasingly digital-led in their interactions with their financial services providers, which Bank of Ireland said is behind the new roles.
Last year, the Bank of Ireland mobile app was enhanced through the introduction of a new digital money management service which offers customers insights into their spending. The bank processed 366 million contactless transactions, up 41 per cent since 2021.
Over 90 per cent of everyday product applications are now digitised, according to Bank of Ireland.
New hires will be involved "in some of the group's most critical strategic initiatives".
"These include developing new customer features on digital channels, delivering against the Group's Cloud Strategy, protecting customers against emerging cyber threats, and capabilities such as advanced data analytics," Bank of Ireland said.
Eimear Harty, HR director, group technology and customer solutions, said: "Bank of Ireland is one of the most attractive and dynamic places to build a career right now. We have some exciting digital projects underway across the Group, and we're looking for talented specialists who want to drive improvements in the banking experience for millions of customers.
"As well as interesting work, Bank of Ireland is a great place to grow your career. Colleagues benefit from some of the most progressive and inclusive workplace policies in the market, flexible working supported by a network of remote hubs, and competitive pay.
"Banking is changing fast, it's exciting, and these new positions will be at the forefront of advances in the sector. These new roles will further support our progress and momentum as we build a world-class, diverse technology team, delivering improvements for customers."
Minister for Enterprise, Trade and Innovation Simon Coveney said: "I want to warmly welcome this investment and jobs announcement from Bank of Ireland. These are high value tech jobs, and I am glad that Ireland has the talent and demand for this type of expansion."
The roles will be recruited in line with the bank's flexible working policy, meaning applicants will be able to work from a combination of home and central office locations, as well as a network of 13 remote working hubs.