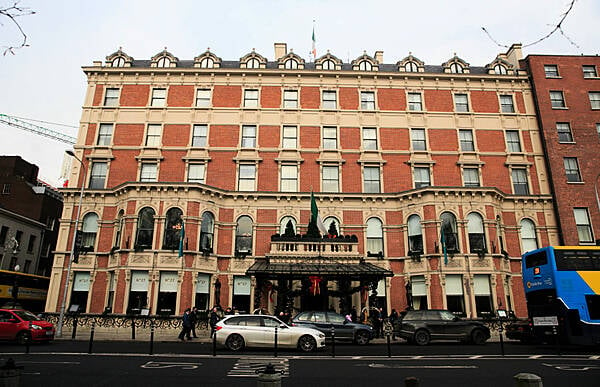 High Court reporters
A chef who claims he injured his knee when he allegedly slipped and fell on stairs at the five-star Shelbourne Hotel has launched a High Court action.
Arkadiusz Perzyna had been carrying a tray of shallot and carrot purée to a basement kitchen at the luxury hotel in St Stephen's Green, Dublin when he claims he tripped and fell forward down four steps.
His counsel, Gabriel Gavigan SC instructed by Maguire McClafferty solicitors, told the court the 45-year-old sous chef can no longer run after he suffered a nasty tear injury to his knee.
Counsel told Ms Justice Carmel Stewart it was their case that there had been multiple previous complaints by co-workers in advance of the fall about the condition of the stairs.
Counsel said when his side sought discovery of documents from the hotel's side in relation to those complaints, there were no documents of previous complaints and CCTV did not cover the part of the stairs where the sous chef allegedly fell.
The hotel, counsel said, will contend the chef could have used the lift, but the sous chef was too busy and guests, patrons and other employees all use the lift, Mr Gavigan said.
Mr Perzyna, of Annfield Lawn, Castleknock, Dublin, has sued Torriam Hotel Operating Company Ltd, trading as The Shelbourne Hotel, St Stephen's Green, Dublin as a result of the alleged fall five years ago.
Defective steps
It was claimed that on November 11th, 2018 at around 11.45am the chef was working in the kitchens of the hotel and had to make his way down to the basement kitchen.
He was carrying a tray and, it is claimed, as he stepped down onto one of the steps his right foot got caught on what he claims was a lip caused by a combination of an alleged defect in the step and an alleged raised defective nosing strip.
He fell forward down four steps landing heavily on his knees, it is alleged.
It was claimed the steps were allegedly caused to be defective and were allegedly broken up and uneven and had alleged defective nosing strips.
It was also claimed there was an alleged failure to heed multiple previous complaints from hotel employees in relation to the condition of the steps.
All the claims are denied, and the hotel further denies that the sous chef tripped.
It further denies there was a lip on the stairs, which was allegedly caused by a combination of an alleged defect in the step and an alleged raised defective nosing strip on the step.
The hotel also claims that Mr Perzyna was the alleged author of his own misfortune and had allegedly failed to pay appropriate attention while descending the stairs.