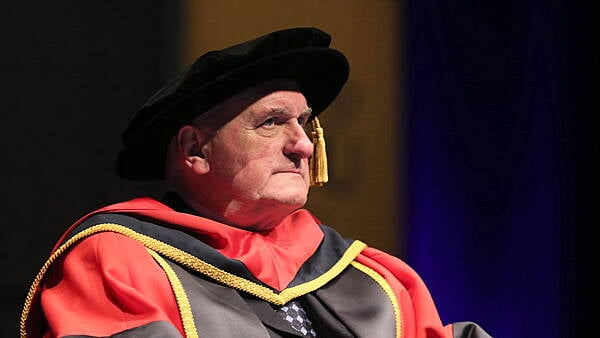 A conferring ceremony for former taoiseach Bertie Ahern at Dublin City University this afternoon was briefly disrupted by protesters.
Three men, claiming to be from the Connolly Youth Movement, stood up and said they could not let the event go unchallenged, as Mr Ahern was about to make his speech.
"On behalf of the youth of Ireland, our friends and our families, we as students and as members of the Connolly Youth Movement cannot be idle and we cannot let an event like this go ahead unchallenged," one protester said.
They accused Mr Ahern of begin an "architect" of the financial crash, and claimed he has played a role in the mass emigration of young Irish people.
A number of people present in the auditorium began to boo and heckle the protestors.
The men were then removed from the ceremony.
Students protest after Bertie Ahern receives award in DCU https://t.co/aELh8hapB3 pic.twitter.com/E2Gfn6KghJ

— Mick Caul (@caulmick) March 2, 2023
Mr Ahern remained on stage during the protest, and did not react.
Mr Ahern was receiving an honourary doctorate from the college, alongside peace campaigner Monica McWilliams, for their contributions to the Good Friday Agreement.
In a video of the speech posted to their Twitter account, the Connolly Youth Movement stated that their intention was to "disrupt and oppose" the conferring ceremony.