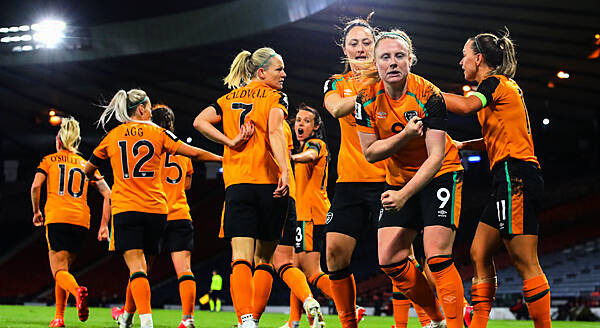 Fiachra Gallagher
Amber Barrett is a big part of the reason Ireland are going to Australia to play in their first-ever Women's World Cup this summer — and this Friday, she'll join Ryan Tubridy to recount the qualification journey, and the campaign that lies ahead.
Barrett will join Ryan on the Late Late Show to speak about why her all-important goal against Scotland last October will forever be intwined with her community back home in Donegal.
Prue Leith, judge on popular BBC show The Great British Bake-Off, Trisha Lewis of Trisha's Transformations and comedian Emma Doran will also join Ryan on the couch.
Leith is a professional restaurateur, novelist and businesswoman. She'll also discuss her foray into documentary-making: she recently explored the subject of assisted dying.
Lewis will discuss with Ryan how she overcame her secret gambling addiction, faced down loan sharks, and cleared the tens of thousands of euro of debt she had.
Comedian Doran, making her Late Late Show debut, will discuss a life-changing decision she made during lockdown.
Straight from the stage of the annual Press Photographers Association of Ireland (PPAI) Awards Ceremony, PPAI president David Branigan will present some of the award-winning press photos of 2022. The Press Photographer of the Year will also join Ryan and Branigan directly from the award ceremony on Friday night.
Plus, there will be live Irish music from Pillow Queens who will perform Hearts and Minds and country star Nathan Carter who will sing The Morning After.