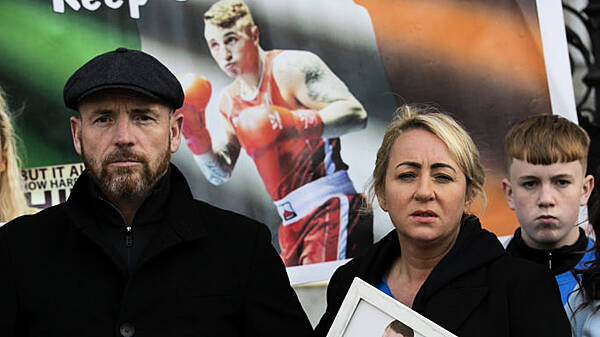 David Raleigh
The Minister for Justice has granted a controversial application by convicted killer Logan Jackson, moving him from Limerick Prison to a UK jail near his family.
The decision was confirmed on Thursday despite the victim's mother, Tracey Tully, pleading with the Minister to keep Jackson in an Irish jail for the remainder of his sentence.
Ms Tully, mother of champion Irish boxer Kevin Sheehy (20), who was targeted by Jackson in an unprovoked killing, said she was "sick to my stomach" after hearing the news.
Informed by email
Solicitors for Ms Tully and Mr Jackson were each informed this evening in an email sent from the office of the Chief State Solicitor office that Minister had granted Jackson's transfer request, which the killer brought under the European Convention on Human Rights.
Mr Sheehy, a five-time national boxing champion and who was earmarked as a future Olympian, died after he was repeatedly run over by Jackson who was driving a 4×4 vehicle at Hyde Road, Limerick, on July 1st, 2019.
Eight weeks after Jackson, of Longford Road, Coventry, was convicted and sentenced to life in Limerick Prison in December 2021, he successfully applied for a transfer to his native England.
A jury at the Central Criminal Court had unanimously rejected Jackson's defence of provocation and found that he had flown into a murderous rage after drinking alcohol at a house party.
Jackson, aged in his mid-30s, several times ploughed the 4×4 vehicle into Mr Sheehy who had been walking home at the time.
However, before Jackson could be transferred, Ms Tully instructed her solicitor Sinead Nolan, of Mark Murphy & Company, Limerick, to seek a judicial review of the Minister's decision.
High Court challenge
Last year, Ms Tully brought a High Court challenge against the Minister's decision on grounds that it amounted to a breach of her human rights under the 2017 Victims of Crime Act, and that the transfer was made outside of the Minister's powers under the 2019 Parole Act.
Ms Tully also sought a declaration that the Minister's decision was unconstitutional as it removed the jurisdiction for sentencing him from the Irish State and handed it over to another state. Ms Tully also argued that her rights to be consulted on any parole applications by Jackson would be extinguished if his transfer went ahead.
The proceedings were resolved last November after the Minister agreed to review the decision.
Speaking on Thursday night, Ms Tully said she had not been notified that the Minister was deciding the matter and had understood it might be dealt with in a number of years.
"I was not notified. This is like the day my son was murdered, all over again, I'm heartbroken" Ms Tully said.
She said questions remain over the Minister's initial decision to transfer Jackson so early in his sentence.
"I'm shocked and traumatised this evening, I can't believe it, this is a nightmare, I feel sick, and I'm disgusted at the way the criminal justice system has treated me and my family," Ms Tully said.
She added she would "continue to investigate" all legal avenues in trying to prevent Jackson's prison transfer.
"I need answers, the real answers. As Kevin's mother, I've every right, every right to these answers."
Limerick Fianna Fáil TD Willie O'Dea, who supported Ms Tully's challenge to the prison transfer described the Minister's decision as "absolutely disgraceful".
"It's a despicable decision by the Government. First of all, they wanted to transfer (Jackson) immediately without any consultation with the family, they were forced by the courts to get the family's views on the matter, and having done so, they have decoded to transfer him anyway."
Mr O'Dea said, in his view, the Department of Justice "have treated the whole thing as a box-ticking exercise".
Mr O'Dea claimed he had reliable information that it was "for reasons of convenience" that Jackson was being transferred to the UK.
The sources said Jackson has been living under a death threat and is being held in solitary confinement in Limerick Prison away from the rest of the general prison population.
Mr O'Dea said he would be raising the matter in the Dáil. "I will ask the government to justify its decision, but in my view it's totally unjustifiable, it's wrong, and cruel and it's piling injustice on top of injustice."
"This is how we treat an Irish champion boxer? The Minister for Justice and the Government should be ashamed of themselves," Mr O'Dea said.
Two other men are wanted by gardaí in connection with the murder.
In a statement on Thursday night, a spokesman for the Minister for Justice Simon Harris said: "The Minister for Justice has expressed his sincere condolences to the family of Kevin Sheehy on their loss in such appalling circumstances, and wishes to do so again."
It said the Minister had "with great difficulty" acceded to the request of Mr Jackson to serve the remainder of his term in a UK prison.
The Minister "is acutely aware that news of this development will be difficult for the family of Kevin Sheehy", it stated.
"In arriving at this decision, and with the feelings of the family of at the forefront of his mind, Minister Harris sought to explore all possible options."
"However, the Minister is obliged to act in a manner consistent with the obligations under international law, specifically the Council of Europe Convention on the transfer of prisoners and the European Convention on Human Rights."
"Having considered those obligations, the clear advice of the Attorney General, and the particular circumstances of the case, it was necessary to accede to Mr Jackson's application for transfer."
"In doing so, the Minister is satisfied that Mr Jackson can expect to spend many more years in prison, as is just given the horrific nature of the crime he committed and the pain he has caused."
Jackson was convicted in England in 2017 of possession of two 9mm bullets, which he said had been put through his letterbox at his home in Coventry while he was under threat.
He previously had a foot amputated after being shot in England after threats were issued by a Coventry gang.