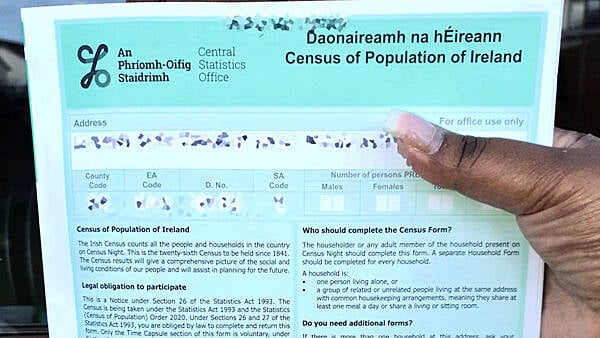 Noel Baker
A pensioner found guilty of assaulting a census official has received a six-month suspended sentence.
Michael Allen (66), of Garylucas, Garretstown in Co Cork, had pleaded not guilty to the charge of assaulting Kieran Burns, a census supervisor, when the official and a colleague, Laura Coholan, visited his home on March 15th, 2022.
Bandon District Court heard that Mr Allen had already told Ms Coholan "I do not give a f**k who you are, get the hell off my property" when she had visited his home on March 6th to deliver census forms.
Ms Coholan said she was "taken aback" by this, telling Judge James McNulty she had never encountered anything like it.
"I was actually very afraid," she said, explaining that as a census enumerator for the Kinsale area she was responsible for some 350 households.
She said she was wearing hi-vis gear with Central Statistics Office (CSO) and census lettering, and also had an official identity badge.
Ms Coholan returned to the property with Mr Burns at 11.15am on March 15th. Both census workers said Mr Allen first opened a window and aggressively told them to leave.
Mr Burns said Mr Allen then opened the door and rushed out, pushing him into the chest and arm.
"We were frozen to the spot," Mr Burns said. In her evidence Ms Coholan said Mr Allen's action were "violent" and his behaviour "erratic" and "aggressive".
Both census workers said Mr Allen disappeared back into the house at one point and re-emerged, again pushing Mr Burns.
Ms Coholan told the court she was worried Mr Allen would return with a dog or weapon.
Mr Burns told the judge: "I just wanted to try to explain to the gentleman that [the census] was no big deal."
Security-conscious
Garda Richard O'Sullivan told the court he received a call from the census workers and went to the property, where Mr Allen said he would not be making a statement. The garda said Mr Allen recorded that interaction on his phone.
Mr Allen's census form was subsequently posted to his home and completed, and Mr Burns rejected an assertion from Mr Allen's solicitor, Killian O'Mullane, that it could have been posted as soon as it became obvious, from March 6th, that Mr Allen did not wish to engage.
He also rejected any idea that he had come to Mr Allen's property to confront him.
He said census forms could be posted to households, but only after three attempts were made to engage personally, including confirming name and eircode and how many forms a household may require.
Mr Allen rejected the evidence of both census staff, saying he did not assault anyone, and added that Mr Burns had assaulted him in what Mr O'Mullane later described as "argy-bargy".
He said the family was very security-conscious as a result of an attempted burglary and anxiety on the part of Ms Allen's wife, something also attested to by Mr Allen's daughter in evidence.
Mr Allen also denied using any bad language and his daughter, Kathleen – who told the court she was on the property along with her two children and her mother during the first visit by Ms Coholan – said she would have intervened if she had heard anyone speak like that.
Mr Allen also said his wife had been very stressed by the presence of the two census workers, who, he claimed, did not leave when asked to do so.
However, Judge McNulty said Mr Allen's evidence was unsatisfactory and sentenced him to six months, which he suspended in full on the condition that he keeps the peace.
The judge said this would extend to social media, warning there should be no posting relating to Ms Coholan or Mr Burns.
Judge McNulty said an assault on a public servant was a grave offence, adding that it was "bad form, to put it mildly" and "unworthy of him".
"He is entitled to be a contrarian, or some class of non-conformist, if he wishes. He is entitled to be un-cooperative, unreasonable, or difficult, if he wishes," the judge said.
"But he cannot engage in threatening or abusive words and behaviour, and he certainly cannot assault any person, least of all a public servant," he added.
Recognisance was fixed for appeal on Mr Allen's own bond of €2,000, half in cash.