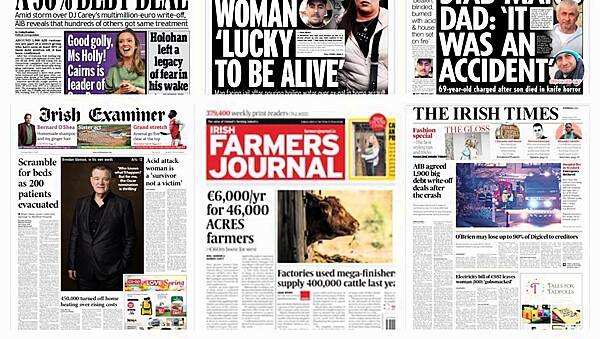 AIB figures revealing 1,900 people received 90 per cent debt write-downs and the fire at Wexford General Hospital are among the stories on Thursday's front pages.
The Irish Times leads with the AIB debt write-downs.
The Irish Examiner and Irish Independent both lead with the Wexford General Hospital fire.
The Echo leads with a story on clamping fines in Cork, while West Cork TD Holly Cairns being confirmed as the new Social Democrats party leader also makes the front page.
The murder of a Polish man in a quiet estate in Kilkenny is the lead story in the Irish Daily Star.
Wednesday's front page pic.twitter.com/yBUEhQLaz3

— Irish Daily Star (@isfearranstar) March 1, 2023
The AIB debt write-downs feature on the front page of the Irish Daily Mail.
AIB to tell TDS that select group of 1,900 people had most of their debt written off… read the full story in Thursday's Mail pic.twitter.com/1lQjLb50EQ

— The Irish Daily Mail (@irishdailymail) March 1, 2023
A €1,600 electricity bill for a Meath pensioner is the subject of the front page story in The Herald.
In the North, the Belfast Telegraph and The Irish News lead with the shooting of a police officer in Co Tyrone.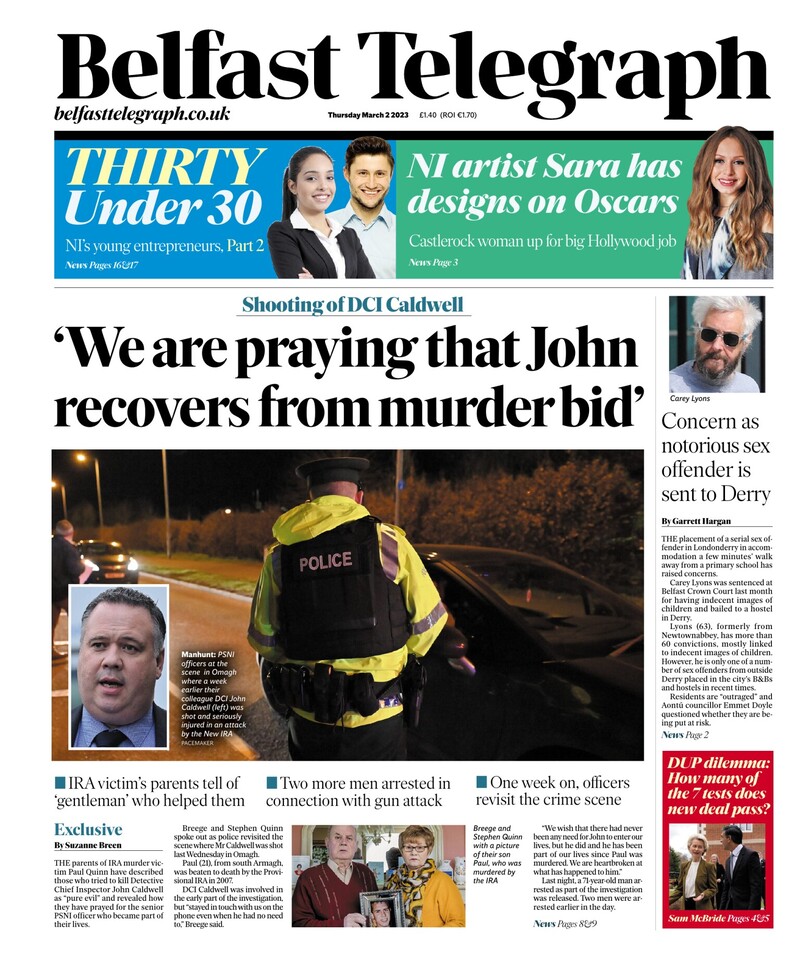 Good morning. Today's #FrontPage

Organised crime gang link to Caldwell attack

Abuse victim calls for archbishop's resignation over Finegan document

Read: https://t.co/JyzDL4zdLS

Subscribe: https://t.co/y5tlLNJSPb

Home Delivery: https://t.co/I1gVh0iuJt pic.twitter.com/M4VE5MZw9k

— The Irish News (@irish_news) March 2, 2023
The Thursday UK papers are led by further revelations from a tranche of leaked messages published by The Daily Telegraph.
The paper says former UK health secretary Matt Hancock was involved in a bitter behind-the-scenes clash with then-education secretary Sir Gavin Williamson over moves to keep schools open during the Covid pandemic.
The front page of tomorrow's Daily Telegraph:

'Hancock's 'rearguard action' to shut down schools'#TomorrowsPapersToday

Sign up for the Front Page newsletterhttps://t.co/x8AV4OoUh6 pic.twitter.com/fDohs3JZ6K

— The Telegraph (@Telegraph) March 1, 2023
The Independent also carries the leak of more than 100,000 WhatsApp messages.
Thursday's INDEPENDENT Digital: "The WhatsApp war" #TomorrowsPapersToday pic.twitter.com/jHxRXy8FQJ

— Allie Hodgkins-Brown (@AllieHBNews) March 1, 2023
The Daily Mirror and Metro say the leaks have sparked "fury" among grieving Covid families.
Thursday's front page: The tragic betrayal https://t.co/tWCNrQJTHx #TomorrowsPapersToday pic.twitter.com/QygQsavLPE

— The Mirror (@DailyMirror) March 1, 2023
Tomorrow's Paper Today 📰

SICKENED BY HANCOCK'S MESSAGES

🔴 Covid victims' families hit out at WhatsApp chats suggesting he overruled care home test advice#TomorrowsPapersToday pic.twitter.com/L5hYFtSkPS

— Metro (@MetroUK) March 1, 2023
The Guardian reports the saga risks damaging the public's confidence in the official Covid inquiry.
Guardian front page, Thursday 2 March 2023: Confidence in Covid inquiry hit after leak of Hancock messages pic.twitter.com/SArpbWye6T

— The Guardian (@guardian) March 1, 2023
Elsewhere, The Sun, Daily Mail and Daily Express report Harry and Meghan have been told they must "vacate" their UK home of Frogmore Cottage, close to Windsor Castle.
On tomorrow's front page: https://t.co/ZhudzKqjv0 pic.twitter.com/SMqEHeD3ru

— The Sun (@TheSun) March 1, 2023
Thursday's @DailyMailUK #MailFrontPages pic.twitter.com/23nuEnE8Wl

— Daily Mail U.K. (@DailyMailUK) March 1, 2023
Front Page – Harry and Meghan rage at 'cruel' eviction#TomorrowsPapersToday https://t.co/IjF2WZhi1C pic.twitter.com/cCTgE111DM

— Daily Express (@Daily_Express) March 1, 2023
New NHS guidance urges GPs to offer alternatives to antidepressants and painkillers for repeat patients in a bid to tackle addiction to prescription pills, according to The Times.
Thursday's TIMES: "NHS plan to help millions stop using antidepressants" #TomorrowsPapersToday pic.twitter.com/WbQGc6ILG4

— Allie Hodgkins-Brown (@AllieHBNews) March 1, 2023
The Financial Times leads with Bank of England chief Andrew Bailey signalling financial markets are wrong to assume the firm will further raise interest rates.
Thursday's FINANCIAL Times: "Bailey seeks to take heat out of market expectations for further rate increases" #TomorrowsPapersToday pic.twitter.com/I1gnVg1h2I

— Allie Hodgkins-Brown (@AllieHBNews) March 1, 2023
The i reports the British government is considering vaccinating UK poultry against bird flu.
Thursday's front page: UK chickens may get jabs to stop bird flu spread in humans#TomorrowsPapersToday

Latest by @janemerrick23: https://t.co/wu2MCSvspk pic.twitter.com/vgUlKRVfLH

— i newspaper (@theipaper) March 1, 2023
And the Daily Star says Jeremy Clarkson may soon be leaving his role as host of Who Wants To Be A Millionaire?
Thursday's front page: Can we phone a friend please?

#TomorrowsPapersToday https://t.co/7uCxGVuTxA pic.twitter.com/g5g5wXsxWL

— Daily Star (@dailystar) March 1, 2023