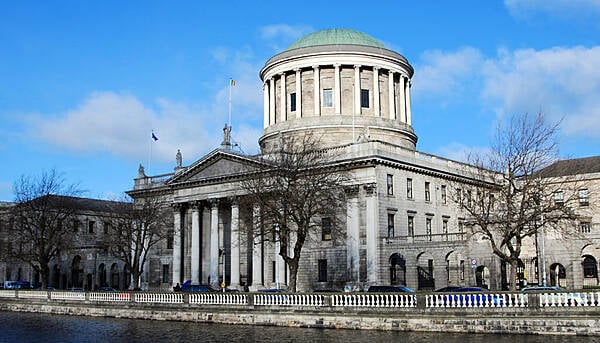 High Court Reporters
Court declarations that the State breached the rights of the adult male asylum seekers left homeless upon arrival in Ireland would assist with future damages claims, the High Court has been told.
Colm O'Dwyer SC, instructed by the Irish Refugee Council Independent Law Centre, said the cases of two Afghan male asylum seekers brought earlier this week are not moot due to them since receiving State-provided accommodation.
There was now no need to proceed with the applications for orders that would force the State to provide the males with housing, but the applicants are still asking the court to declare that their rights have been breached, he said.
Mr Justice Charles Meenan said he will prioritise hearing these cases, which could act as test actions for future similar proceedings.
The two male asylum seekers who both separately sought international protection on February 8th, alleged they were left homeless and given a €28 Dunnes Stores voucher upon arrival in the State.
One of these applicants claims he is a minor, but there is an "ongoing dispute" about his age, and he has now been housed in an adult-only centre, said Mr O'Dwyer.
Counsel for the Child and Family Agency (CFA), Leanora Frawley BL, told the court this applicant was found to be not eligible for CFA services. The agency had assessed him to see if he was, indeed, a child.
Previously, lawyers for the State told the court that all women, children and family applicants seeking international protection have been accommodated since the CityWest processing centre ceased taking new arrivals on January 19th. Adult males are receiving accommodation in chronological order from the date of their arrival.
In pursuing court declarations, Mr O'Dwyer said it is a breach of asylum seekers' dignity to leave them destitute.
He said there has "for some reason" been a decision not to accommodate adult male international protection applicants, while Ukrainian adult males are being housed.
Declarations from the court would assist in future similar cases, including two recently filed in the court, and indicate what remedy the court would give for the alleged breach of rights.
They would also assist people in bringing claims for damages for these alleged breaches, he added.
Inability to accommodate
Mr Justice Charles Meenan said there is a difference between a failure to accommodate people and an inability to accommodate them.
He noted that news reports on Friday say the cabinet has agreed funding of €20 million to accommodate international protection applicants and Ukranian refugees.
The Minister for Integration is also not disputing his legal obligation to provide reception accommodation to asylum seekers, the judge said, adding: "When you put all that together, how does a declaration benefit you?"
Mr O'Dwyer said there was a difference between the Minister admitting there is a duty on him to accommodate asylum seekers and the court declaring that the Minister has breached his duty in that regard.
David Conlan Smyth SC said his client, the Minister, has "unambiguously" accepted his legal requirement to accommodate the applicants and did so at the "first possible opportunity". There is no question of a failure or refusal to act, he added.
The State is dealing with a 600 per cent increase in international protection applications since the start of 2021, with emergency reception centres increasing from 32 to 128 over the period, he said.
He rejected a suggestion from the applicants' lawyers that the fact a hotel booking website showed available rooms meant the State was not exhausting all possibilities. He said many accommodation providers only accept personal credit cards.
Mr Conlan Smyth submitted that there was no damages claim before the court, which was only dealing with the two actions before it. There is no "practical benefit" to the two applicants in continuing their cases, which he said are now moot.
He also said the two cases do not allege that there has been an unlawful distinction made between Ukrainians and other international protection applicants.
"The State does not accept there is any form of unlawful discrimination," he added.
Mr Justice Meenan said the applicants are entitled to proceed with their cases. The first issue to be addressed will be whether or not the actions are now moot.
The judge said he will prioritise hearing these cases, which could act as test actions for future similar proceedings. He adjourned the matters for two weeks when they will be mentioned before him.