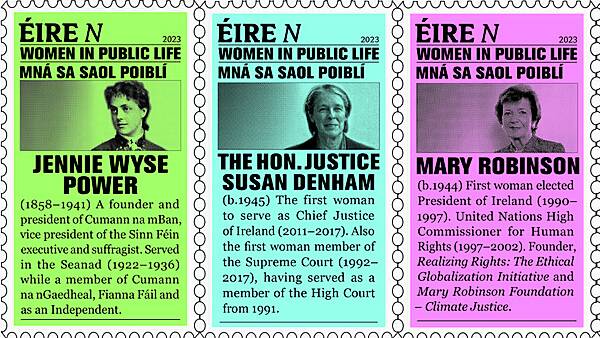 An Post has unveiled a new set of stamps celebrating the achievements of four leading Irish women, ahead of International Women's Day next Wednesday.
The stamps will feature Mary Robinson, Susan Denham, Jennie Wyse Power, and Thekla Beere, each of whom have contributed greatly to public life in their own unique ways.
Designed by Oonagh Young of Design HQ, the stamps are based on primary source materials that reflect the significant achievements of these women in their respective fields. The national 'N' rate stamps issue covers postage on the island of Ireland.
Debbie Byrne, managing director of An Post Retail, said that the Women in Public Life stamp series aims to recognise women who are changemakers in their own lifetime, and who have worked to improve the lives of others in Ireland and across the globe.
Speaking at the unveiling of the stamps at the GPO, Mrs Susan Denham, former Chief Justice, expressed her delight at being featured on the Women in Public Life stamp issue, which she sees as a celebration of the inclusion of women in the Judiciary.
These new stamps are part of An Post's ongoing effort to mark the contributions of Irish women to the country's life and culture. The Women in Public Life stamps follow on from previous releases, such as Irish Women in Sport, Jane, Lady Wilde/Speranza, and Pioneering Irish Women.