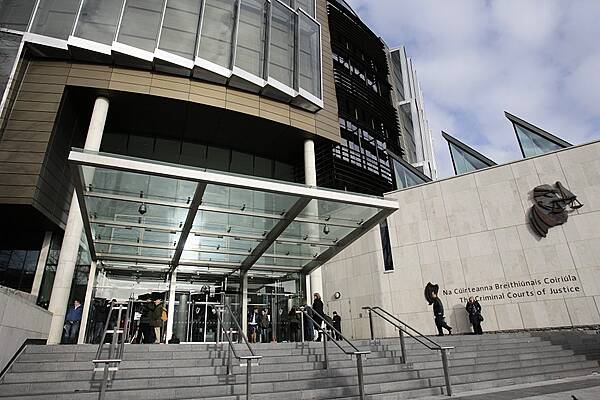 Eimear Dodd
A man who subjected his pregnant former partner to a "merciless and prolonged" attack, including whipping her with an electric cord, has been handed a 20-month prison sentence.
Martin Maughan (30) of Holywell Villas, Swords C0 Dublin, pleaded guilty to one count of assault causing harm and one count of criminal damage at an address in Santry on February 8th, 2020.
Imposing sentence at Dublin Circuit Criminal Court on Friday Judge Martin Nolan said Maughan subjected his victim, who was five months pregnant, to a "merciless and prolonged attack" which resulted in her sustaining soft tissue injuries to her arms, head and shoulder area.
He handed Maughan a 20-month prison sentence and said Maughan must have known the victim was pregnant, which was an aggravating factor.
Dublin Circuit Criminal Court heard that Maughan had called to the home of his ex-partner, who was then five months pregnant, and brought alcohol with him.
Alcohol
The injured party didn't want alcohol in the house and threw it out the back door. She asked Maughan to leave, but he took the keys and got the alcohol. The two then got into a verbal dispute.
Later, the victim was in the spare room when Maughan entered and started kicking her legs and punching her. He grabbed a bedside lamp and used the cord to whip her arms, legs and shoulders.
Maughan told the victim that he would say she had hurt herself if the gardai came. The attack lasted around one hour, during which Maughan also struck her with the plug of the lamp and hit her head against the wall.
The victim escaped the house when Maughan let her go downstairs to get water. While outside, she asked a security guard nearby to contact gardai. The defendant went after the victim and dragged her back to the house, but left the scene when he heard gardai were on the way.
Arrest
Maughan was arrested nearby in an intoxicated state and was initially deemed unfit for interview.
The victim sustained soft tissue injuries and went to the hospital the next day. A section of her victim impact statement was read to the court. The woman said she couldn't bring herself to think about what might have happened if she had not got out of the house.
CCTV and photos were also handed to the court.
Maughan has 26 previous convictions, including 11 public order offences and six for road traffic matters.
The investigating garda agreed with defence counsel that none of Maughan's previous convictions are of a similar nature to this incident and he had not come to garda attention between 2011 and 2018. He also accepted that Maughan has an issue with alcohol and didn't cause any difficulties when arrested.
Defence counsel said this was a "very serious attack on a mother and a woman in her own home". The court heard Maughan had apologised and accepted the seriousness of this incident, which should not have happened.
Maughan has a serious issue with alcohol and mental health difficulties. He left school at an early age and has literacy difficulties. Maughan is also a father of seven children. Defence counsel asked the court for as much leniency as possible for Maughan.
Judge Nolan said he would consider Maughan's guilty plea, and expression of remorse among the mitigating factors.
He said Maughan has a problem with alcohol and added that the defendant's previous convictions for public order offences showed Maughan and alcohol "should not mix".