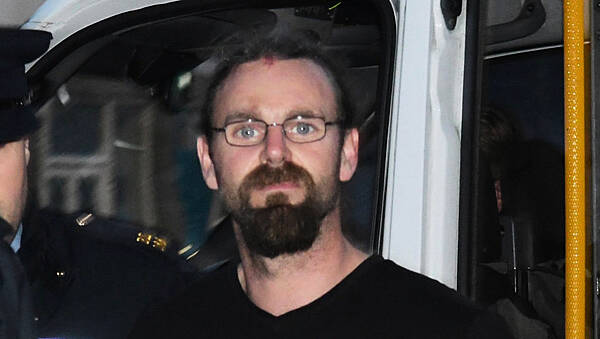 Fiona Magennis
Garda murder accused Stephen Silver was at times facetious, contemptuous and hostile toward detectives during interview, with the level of incongruence in his "grossly inappropriate behaviour" indicative of mental illness at that time, a psychiatrist has told the Central Criminal Court.
Giving evidence to defence counsel Domnic McGinn SC on Friday, Dr Brenda Wright, interim clinical director at the Central Mental Hospital, said the grandiose ideas displayed by Mr Silver and his disinhibited behaviour, including taking his shoes off and massaging his feet whilst being interviewed, showed Mr Silver was incongruous to the situation he found himself in.
The psychiatrist told the trial that the accused's behaviour during garda interviews became erratic and "increasingly bizarre", with evidence of grandiose ideas. She said it was her view that his behaviour was consistent with previous relapses of his bipolar disorder.
Outlining the findings of her report to Mr McGinn, Dr Wright said it was her view that Mr Silver's illness at the time of the killing of Garda Horkan was such that it impaired his thinking and his judgment and therefore contributed significantly to his actions at that time.
She said her findings were based on all the information she had reviewed, including her own interviews with Mr Silver, his local mental health records, the dvds of his Garda interviews and his records from the Central Mental Hospital and prison.
'Manic relapse'
The psychiatrist said it was her view that at the time of the offence Mr Silver was mentally unwell, secondary to non-compliance with medication, and was experiencing a manic relapse of his condition.
Dr Wright said Mr Silver first showed signs of illness in 1997 at the age of 22 and had 16 admissions to hospital between 1997 and 2010, 11 of which were involuntary.
She said there were two further hospital admissions in 2018 and 2019, both of which were voluntary.
Mr Silver's condition was characterised by periods of hypomania and mania and his condition responded well to treatment.
The expert medical witness said Mr Silver had reported disturbed sleep in the days prior to Gda Horkan's killing and difficulties with thinking, describing how his "head was rushing".
The psychiatrist said his belief that his female companion was in MI6 and the fact he had given away his motorcycle to James Coyne though he could not afford to do this was further evidence of a relapse of his mental illness.
Mr Silver (46), a motorbike mechanic from Aughavard, Foxford, Co Mayo has pleaded not guilty to the capital murder of Garda Horkan (49) knowing or being reckless as to whether he was a member of An Garda Siochana acting in accordance with his duty at Castlerea, Co Roscommon on June 17th, 2020.
He has pleaded guilty to manslaughter and the jury have been told the main issue in the trial is Mr Silver's state of mind at the time of the shooting.
Interview footage
Dr Wright told Mr McGinn she reviewed footage of the five garda interviews given by Mr Silver over the course of two days following the fatal shooting.
She said during his fifth and final interview with gardaí on June 19, Mr Silver's engagement was poor from the outset and he initially indicated he would not be answering any more question.
She noted his behaviour and his manner toward gardaí was at times facetious, contemptuous and hostile and his manner was erratic and incongruous to the situation he found himself in.
At one point in the interview Mr Silver was shown the firearm used in the fatal shooting. She agreed with Mr McGinn that initially the accused didn't engage but then said that's what happened "when children use guns on men. They die".
The psychiatrist said this was another example of "gross incongruence" in the context of what Mr Silver is saying and the tone and manner he uses to the guards.
"My view of his behaviour at that time is it is grossly inappropriate, both what he is saying and the manner he is saying them in. That level of incongruence, in my view is indicative of mental illness at that time," she said.
Dr Wright said Mr Silver displayed evidence of grandiosity and an idea that he was a person of particular importance and that he had "special skills and abilities".
"It's my view that he is mentally unwell during those interviews," the psychiatrist said, adding there is an escalation of this in the fifth interview over and above the others.
She said his persecutory ideas are in evidence when he begins to reference the incident as "a set up" and expresses the belief that James Coyne was somehow colluding with gardaí.
"In normal circumstances you would see someone appreciate the gravity of the situation and they would behave appropriately, and they would maintain that over a period of time," she said.
The trial continues on Monday before Ms Justice Tara Burns and the jury of seven men and five women.