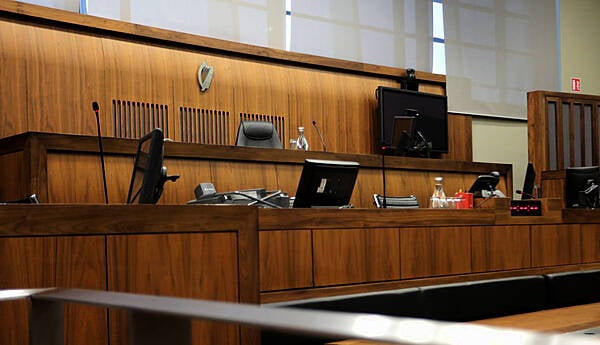 Fiona Ferguson
A teenage boy who was 14 when he had unlawful sexual intercourse with a girl in a public park has had one year of a deferred sentence activated after failing to abide by the judge's conditions.
The now 17-year-old boy was previously given a four-year sentence that was deferred on certain conditions and which could be activated, suspended or partially suspended on the deferred date.
The conditions included that he not commit further offences and follow all directions of the Probation Service. The Central Criminal Court heard these conditions had been breached.
The boy, who cannot be named due to his age, pleaded guilty to the defilement of a child under the age of 15 at a location in Co Dublin on December 31st, 2019.
At a sentence hearing in December 2021, the prosecuting gardaí told the court the accused had forced the girl onto the ground, performed sex acts on her, then had unlawful sex with her.
The boy denied to gardaí having unlawful sex with the victim, but admitted to the other sexual activity.
He claimed that the victim had been the instigator and everything was done with consent.
Vulnerability
In her victim impact statement, the young woman told the court that she should be able to walk anywhere in the world and not have this happen to her.
The girl said she finds it hard to make new friends as she does not trust anyone any more. She said the accused "took advantage of my body and my vulnerability".
She said that every New Year's Eve when others are celebrating, she had to relive this nightmare over again.
She said she wishes she could turn back time, but she knows that is impossible.
The girl said she hopes one day she can feel again and just have a normal happy life, but she thinks that is impossible too.
At the hearing in December 2021, Vincent Heneghan SC, defending, said his client was of the view at the time that "perhaps" matters were consensual, but he now knows they were not.
He said his client instructed that he fully accepted the victim's version of events. He submitted his client was a very young individual when he committed these acts and a custodial sentence should be a last resort for someone of this age.
Imposing the deferred sentence in January 2022, Mr Justice Paul McDermott said that "for a young girl to be attacked and violated in the way she was, by a boy she thought she could trust," has understandably had an enormous effect on her.
Period of detention
He said under the provisions of the Children Act 2001, a period of detention should only be imposed as a last resort.
He said the court could defer imposition of a sentence for a period following which a sentence can be activated if the accused has not done what they are asked to do.
Mr Justice McDermott said he would impose a four-year order of detention, but deferred the imposition of this sentence and adjourned the matter for finalisation.
The judge remanded the accused on continuing bail under strict conditions, including that he not commit further offences, follow all directions of the Probation Service and not make direct or indirect contact with the victim.
The case was further adjourned in December 2022 to allow matters against the accused in the District Court to be dealt with.
On Friday, Mr Heneghan said a probation report before the court had some positive aspects but acknowledged the lack of maturity and engagement was troubling.
He said the boy was lacking any adult guidance or assistance from friends or family and was not aware that the Probation Service could point him in the right direction if he engaged.
He said that no one wanted to abandon all hope for a 17-year-old and submitted he could become a proper and upstanding member of society if given the opportunity.
Addressing him, Mr Justice McDermott said he had been hoping for a positive probation report outlining his engagement, but that had not happened.
He said the boy had made choices contrary to the direction the court was trying to point him in.
Mr Justice McDermott noted that the offence had been committed by the boy when he was 14 years old and that anyone who has dealt with the boy since recognised he was at very low risk of similar reoffending.
He said that the boy had made some efforts to engage initially, but recently things had gone "way off the rails". He noted there may be some cognitive issues and was taking that into account.
Mr Justice McDermott activated 12 months of the four-year period of detention and suspended the final three years for two years.
He told the boy that during his time in detention, the boy should try to engage with and address what people were trying to do for him.
If you have been affected by any of the issues raised in this article, you can call the national 24-hour Rape Crisis Helpline at 1800 77 8888, access text service and webchat options at drcc.ie/services/helpline/, or visit Rape Crisis Help.
In the case of an emergency, always dial 999/112.