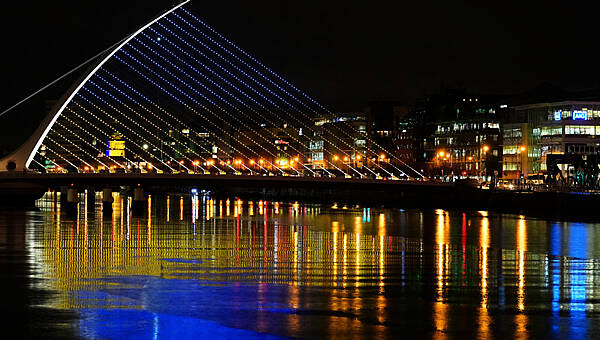 By Gráinne Ní Aodha, PA
A working group has been set up and allocated €20 million to intensify efforts to find accommodation for refugees arriving in Ireland.
It comes after several requests for offers of State-owned buildings from the Department of Integration and after a winter that forced the government to close the Citywest welcome hub to new arrivals and warned some new refugees would have to sleep on the streets.
Speaking in Wexford, the Taoiseach said Cabinet had signed off on plans to set up the working group.
"We had a Cabinet meeting this morning signed off on a revised government plan to enable us to provide shelter and accommodation for many of the refugees coming into this country, particularly from Ukraine," the Taoiseach told reporters in Co Wexford.
"We need to make sure that we're better equipped to accommodate more new arrivals," he said, adding the €20 million was an "initial" allocation.
"Essentially what they're doing is two things: refurbishing any building we can find, to make us fit for people to live in, and also looking at the number of State-owned sites around the country where we'll be able to put in small housing units of accommodation… which would be able to accommodate, on a more permanent basis, thousands of people through the course of this year."
He said it was "impossible to say" whether the plan was enough, adding that there are around 3,000 people arriving looking for international protection, with two-thirds from Ukraine.
He said that there are "about 700 locations" across the country where the government is relying on the private sector to house refugees. This includes hotels, B&Bs, and self-catering units.
"We don't have an indication yet about how many will revert to tourism, some will. So we have to plan for that.
"One thing I would say is that we are speeding up payments. I know a number of accommodation providers have understandably been very annoyed that we've fallen behind on paying our bills. That section of the department has been given additional staff and also we are using some private contractors as well."
Schemes
In a statement released on Friday, the Government said accommodation has been sourced for almost 60,000 people fleeing the war in Ukraine, and 20,000 other asylum seekers.
The Government said that as well as accommodation provided through the private sector, refugees are to be housed through the 'Offer a home' scheme, a programme for refurbishing buildings and a pilot initiative to provide rapid-build houses.
"In light of the acute and growing pressures, government is stepping up action to maximise the pace and scale of delivery on this accommodation strategy.
"An Accommodation Working Group has been established to support the Department of Children, Equality, Disability, Integration and Youth; the Department of Housing Local Government and Heritage; and the OPW in the agile delivery of accommodation required.
"An expanded programme of work has now been agreed by government that will allow consideration of commercial properties and sites for development, refurbishment or purchase and the use of alternative modular buildings.
"This work will be progressed by all of the state actors working together as part of the Accommodation Working Group and a National Coordination Unit will be established in the Local Government Management Agency to ensure delivery on the expanded workstream at local level.
"Work is also ongoing across government to intensify Communications and Community Engagement on the humanitarian response," it said.