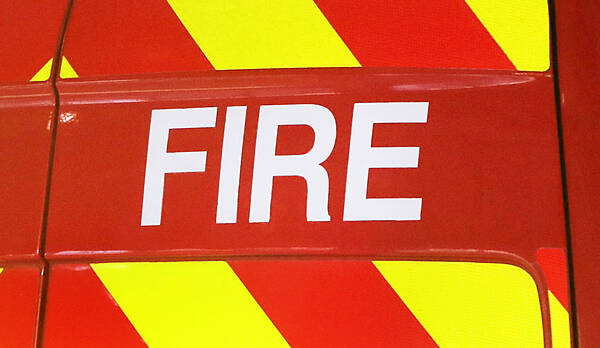 Sarah Slater
A major fire was once brought under control by Wexford town firefighters as another frightening blaze broke out on Friday evening when up to four vehicles were engulfed in a blaze at a multi-storey car park.
Emergency services were alerted to the fast moving fire by members of the public within the busy car-park.
At least three units from Wexford Fire Service attended the scene for several hours which broke out inside the Stonebridge multi-storey car park to the rear of The Talbot Suites in Wexford town.
The fire broke out in one car park which began to spread to nearby cars around 5pm.
Firefighters wearing breathing apparatus to bring the blaze under control as quickly as possible and to ensure that people inside the building were evacuated as quickly as possible.
Gardaí also rushed to the scene to ensure anyone inside the building was out and set up a cordon at entrances to the car-park preventing members of the public from entering.
Assistant Chief Fire Officer Ray Murphy explained that the fire "started in one car" and quickly spread to other vehicles parked close by.
The blaze was brought under control within an hour, but firefighters remained at the scene to dampen down the area. No-one was injured in the fire.
It is the second major fire in the town in 48 hours following the largest medical evacuation at Wexford General Hospital in the history of the State and the first time a major emergency incident was declared in the county by the joint agencies of the HSE, Gardaí and the Wexford County Council.
More than 200 patients had to be evacuated when fire broke out shortly before 4pm last Wednesday and was brought under control within several hours by more than 40 firefighters from across Wexford and Waterford. No patients or staff were injured.
Maternity services reopened on Friday despite damage to the special care infant ward and out-patient appointments are due to resume on Monday after the fire broke out at the 280 bed facility.
Mr Murphy said that a piece of machinery is most likely the cause of the fire in a plant room on the roof. There was "no asbestos or other chemical run off risk".
He said the scale of the damage was "medium to small" and was confined to a small part of the hospital confined to one wing.He said the cause of the fire has not yet been "fully determined". The wards worst affected were a gynaecological and surgical ward.
Taoiseach Leo Varadkar who visited the hospital on Friday afternoon said that it will take "weeks to months" before all services at Wexford General Hospital have fully resumed.