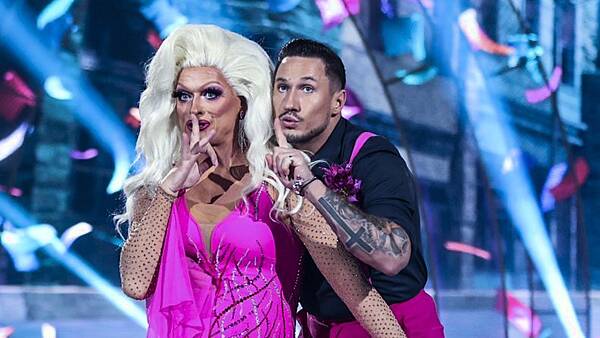 Panti Bliss (aka Rory O' Neill) has become the sixth celebrity to leave Dancing with the Stars as the competition reached the quarter-final stages.
After Sunday night's results Panti said: "I'm very sad and everything, but Brooke [Scullion] is like a niece to me, my best friend, I love her with all my heart. Denys is everything. I love this man so much."
Two former Dancing with the Stars champions made a glorious return to the dance floor on Sunday night's show.
How AMAZING were tonight's Team Dances?! 🌟 We officially want our Hand Clap Hustlers and Disco Dazzlers to be a permanent fixture 😅 And HUGE congrats to The Disco Dazzlers – very worthy winners! What did you think folks? Did the right team win? 🤔💃🕺 #DWTSIrl pic.twitter.com/YhpsMBMANk

— RTÉ One (@RTEOne) March 5, 2023
Jake Carter, winner of series two, and Lottie Ryan, who waltzed away with the glitterball after the series four grand final, joined the celebrities for the ultimate dance showdown as the team dances created new challenges for the celebrity dancers and their partners this week.
Sunday's jam-packed show began with a traditional Tango from singer Brooke Scullion and Robert Rowiński after they received the first perfect score of the series for last week's dance. They danced to Escala's track Libertango, scoring 28 from the judges.
A tango-tastic start to the quarter finals from @Brooke_Scullion and @rowinski_robert ♥️ 28 points! #DWTSIrl pic.twitter.com/xqEGWUDCpW

— RTÉ One (@RTEOne) March 5, 2023
Comedian and actor Kevin McGahern and Laura Nolan were the second couple to dance. Their fast-paced Salsa was set to Stay with Me by Calvin Harris feat. Justin Timberlake, Pharrell Williams and Halsey. Ther pair scored 23 from the judges.
2FM Presenter Carl Mullan and Emily Barker brought Charleston to the dancefloor. This fun performance was danced to Bills by LunchMoney Lewis, with Carl and Emily taking 28 points from the judges.
Now THAT was one cheeky Charleston – and not a broken table in sight! 😅🙌 28 points from our judges for the fabulous @CarlMullan and Emily! #DWTSIrl pic.twitter.com/WYgZYJwecZ

— RTÉ One (@RTEOne) March 5, 2023
Next it was the turn of singer and actor Damian McGinty who danced an elegant Foxtrot to Don't Let The Lights Go Out by Panic! At The Disco. Damian and Kylee received 25 from the judges.
Panti Bliss and Denys Samson were the fifth couple to dance. After surviving last week's dance off, their quirky American Smooth was danced to Bjork's classic hit It's Oh So Quiet, with the judges scoring them 27.
The final couple to dance were TV presenter and entrepreneur Suzanne Jackson and Michael Danilczuk. They performed a sultry rumba to Young and Beautiful by Lana Del Ray and scored 30 from the judges, which was the highest score in any Dancing with the Stars series for a Rumba.
We're simply RAVING for @SoSueMe_ie and Michael's rumba 🤌❤️ As were the judges! 30 points #DWTSIrl pic.twitter.com/mzzW6sC3bN

— RTÉ One (@RTEOne) March 5, 2023
After the team dances, Panti and Denys along with Brooke and Robert found themselves with the lowest combined scores, so each couple got a second chance to save their place in the competition. Afterwards the judges decided that it was time for Panti and Denys to leave the competition.
The eliminated couple will be interviewed on The Ryan Tubridy Show on RTÉ Radio 1 on Monday morning.