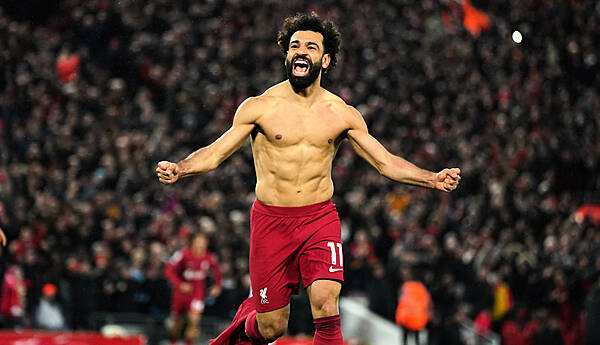 By Carl Markham, PA
Mohamed Salah became Liverpool's record Premier League scorer as they put the boot into Manchester United's chances of joining the title race with a humiliating and historic 7-0 mauling at Anfield.
The future of the Reds' forward line paved the way as Darwin Nunez and Cody Gakpo scored twice to demolish their arch-rivals with a result which was the largest victory in the fixture's 211-match history.
Three of their goals came in a seven-minute spell either side of half-time which left the visitors, who have not won on this ground since Jurgen Klopp's first encounter with them in January 2016, reeling.
The soon-to-be the last man standing of Liverpool's famed front three Salah then provided a timely reminder of the standards that pair have to meet with two goals of his own – either side of a Nunez header – to go past Robbie Fowler as the club's record Premier League scorer with his 128th and 129th goals.
Substitute Roberto Firmino, who on Friday told the club he would not be seeking a contract extension and would end his eight-year stay in the summer, applied the finishing touches with the seventh.
Our biggest-ever win over Manchester United. pic.twitter.com/8q5co1HGrx

— Liverpool FC (@LFC) March 5, 2023
'Absolute shambles'
Speaking as the game entered its final few minutes, former Manchester United defender Gary Neville told Sky Sports: "Absolute shambles.
"It can swallow you up here at Anfield. I've experienced it myself, but never to this level. You might lose 2-0, you might lose 2-1, you might lose 3-1 – you don't lose 7-0.
"You do not get beat 7-0 at Anfield if you're a Manchester United team or player."
After the final whistle, Neville added: "That first 40 minutes was what I would call a classic away performance at Anfield, where I thought Manchester United weathered the storm and it looked like they were going to go and get that goal and go in ahead at half-time.
"But they conceded just on the stroke of half-time. The second half has been an absolute disgrace, a shambles, epitomised by no-one more than the captain, Bruno Fernandes, who I think has been embarrassing at times in this game.
"But I have to say it's not their usual performance, it's not their usual spirit, it's not their usual form and he [manager Erik Ten Hag] will deal with it, I'm sure, very quickly like he's dealt with other difficult situations this season."
Roy Keane's verdict
Former United skipper Roy Keane said the players would be "ashamed" of their performance.
He told Sky Sports: "It's obviously a very, very bad day, shocking day, really. The goal just before half-time and the second half.
"United, the senior players were… use all the words, embarrassing. Didn't show any leadership skills, particularly the senior players. The goals they gave away were shocking.
"Tough, tough day for United. Thank God, I've never been part of a team that's been beaten by that much playing for Manchester United.
"The players will be embarrassed, they'll no doubt be ashamed of their performance. Particularly the second half when the going got tough, they just went missing. To give up that many goals…"
Fellow Sky Sports pundit and former Liverpool player and manager Graeme Souness was hugely impressed by the Reds' second-half display.
He said: "Liverpool were sensational in the second half. I said at half-time, treat this as a 0-0, you've got to win the second half, but I did not expect that.
"After the second or third goal, Manchester United were just second to everything after that, and the result doesn't flatter Liverpool.
"They [United] just didn't compete in the second half and Liverpool just ran right over them."