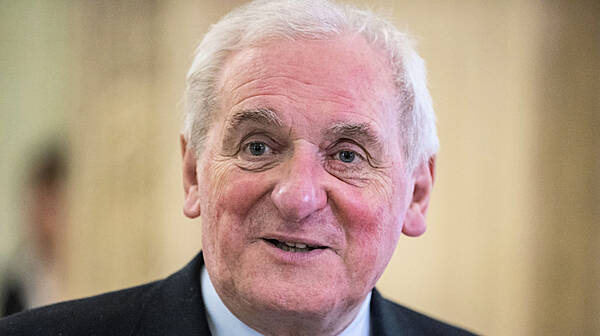 By Gráinne Ní Aodha and David Young, PA
Former taoiseach Bertie Ahern has remained coy on the prospect of running for the presidency in 2025.
Almost a month after it was revealed that he rejoined Fianna Fáil, 10 years after leaving, he urged reporters to avoid "all kinds of speculation" on whether he would make a bid for the Áras.
Speculation has circulated on what role the former Fianna Fáil leader would take in the party after he was readmitted as an ordinary member, paying an annual fee of €20.
Senior Fianna Fáil figures have emphasised that he would not take on any senior party role, with Tánaiste and Fianna Fáil leader Micheál Martin saying that his membership is welcome in the context of his "outstanding" contribution to peace on the island, ahead of the 25th anniversary of the Good Friday Agreement.
Mr Ahern himself has said that he has "no intention of going back to my old job," and suggested that the 2025 presidential election is too far away to clarify whether he intends to run.
After an address to a gathering of the British-Irish Parliamentary Assembly at Stormont on Monday, Mr Ahern told reporters that there was "lots of speculation about a lot of things".
"I keep away from that," he said of the Áras bid rumours.
"All I did was join my local (Fianna Fáil) Cumman branch in Drumcondra and that led to all kinds of speculation, so don't listen to that too much."
When asked whether he had no interest in running for the presidency, he replied: "I didn't say that."
When asked did this mean he was interested in the role, he said: "I didn't say that either."
Mr Ahern left Fianna Fáil in 2012, as efforts began within the party to expel him following a tribunal's findings.
The Mahon Tribunal, which looked at allegations of planning corruption, did not find Mr Ahern to be corrupt but it said he did not "truthfully account" for money he lodged into his bank account.
With Fianna Fáil stuck in the mid-teens to high-20s in opinion polls, speculation abounds about the consequences of the former taoiseach's return to his party.
As leader of Fianna Fáil, the Dublin politician won three back-to-back elections for the party, and served as taoiseach from 1997-2008.