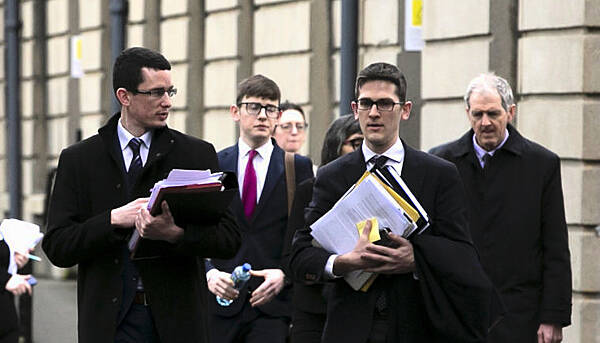 Tom Tuite
A brother of sacked teacher Enoch Burke was remanded in custody after telling a judge, "I am not a criminal", and refusing to sign a bail bond on a charge in connection with outbursts in the Four Courts on Tuesday.
Simeon Burke (24) had been arrested following chaotic scenes where gardaí had to intervene in the Court of Appeal in the Four Courts after a judgment was handed down in teacher Enoch Burke's case.
He and his family had been there to support his brother, awaiting a ruling on his unsuccessful appeal against the High Court orders refraining him from attending Wilson's Hospital School.
Gardaí arrested his younger brother, Simeon, with an address at Cloonsunna, Castlebar, Co Mayo, and brought him to Bridewell Garda station.
He was charged with engaging in threatening, insulting and abusive words and behaviour at the Court of Appeal but refused to take up station bail, resulting in gardaí bringing him before Judge Paul Murphy at the evening sitting of Dublin District Court. The public order offence can carry a three-month jail sentence.
Enoch, his mother Martina, sister Ammi, father Sean, and brother Isaac supported him in the District Court, as he branded the proceedings "shameful" and refused to sign his bail bond.
Judge Paula Murphy remanded him in custody with consent to bail in his bond of €200 and a condition to stay away from the Four Courts.
'Shameful'
However, he demanded the judge stop the proceedings as he refused to sign the bond. As a result, he was escorted into custody while his family called the proceedings "shameful".
"Shame on all of you," said his brother Enoch.
Simeon Burke, who has yet to indicate a plea, will face his next hearing on Tuesday at Cloverhill District Court.
Dressed in black trousers, an open white shirt and a grey T-shirt, he sat silently as evidence of arrest, charge and caution was given by Garda Conor Dwyer.
Garda Dwyer told Judge Murphy that he went to the Four Courts at 3.23pm after the Burke family refused to leave the Court of Appeal, and there was a breach of the peace with several members of the public present.
Garda Dwyer said he escorted the accused from the courtroom "shouting in an aggressive manner."
The officer alleged that he tried to reason with him but he would not comply and he arrested Simeon Burke for an offence under section six of the Public Order Act.
He was then taken to the Bridewell Garda station, where he "made no reply to the charge".
Garda Dwyer told the court he was not objecting to bail, but he asked for conditions to be imposed.
'Treated shamefully'
Asked if he had legal representation, Simeon Burke told Judge Murphy, "I can speak for myself; this process needs to be stopped. I have been unlawfully arrested, and I have been treated shamefully and disgracefully by the gardai".
"I am shocked and shaken to the core," he said, adding, "I went to the Court of Appeal, as every citizen has a right to do".
"During my time there, the president of the Court of Appeal made statements, and they were horrific statements about transgenderism, justifying why transgenderism should be shoved down the throats of the people in this country, not only in schools but in universities".
He said he had religious rights, and citizens had the right to express themselves freely.
Judge Murphy advised that was a matter for the hearing.
However, he continued to address the court, telling the judge that his family had been subjected to a "mob" of gardaí which he claimed "invaded the courtroom" and assaulted his sister Ammi, a solicitor.
He maintained the officers assaulted him and his brother, "who spent 108 days in prison because he would not accept transgenderism, and will not be forced to accept transgenderism in the school where he works".
Simeon Burke claimed Enoch was left bleeding.
He told the emotionally charged remand hearing that "gardaí were making their way toward my mother after assaulting my sister and my brother".
At that point, he alleged, he was targeted and attacked by gardaí, whom he claimed "manhandled him and pushed him out of the courtroom".
He also said officers "F- him out of the courtroom" before taking him to the garda station. He also complained about officers swearing at him.
'I am not a criminal'
"I'm shocked. I am shaken to my core; I am not a criminal, I am not a criminal," he said.
"Transgenderism should not be forced down the throats of people. For the judge to have made that comment was wrong", he said, referring the Court of Appeal judgement.
Simeon Burke complained that his clothes were taken, his shirt was ripped, and that "I have been left bleeding".
"I have been brought in like a criminal; I am not a criminal," he repeated.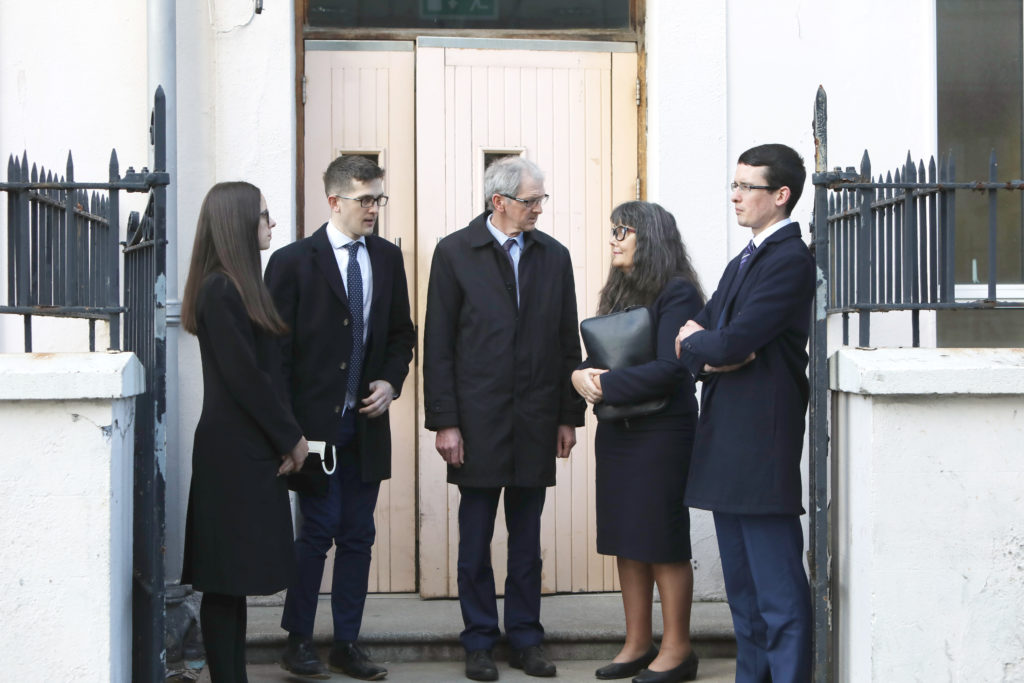 He told Judge Murphy she had a responsibility to stop this process "right now" and had a duty before God, and that she had sworn before God to uphold the constitution and the law.
Judge Murphy listened and thanked him before noting he refused station bail, and there was no garda objection to bail.
"Is there an application for bail?" she asked, to which he replied: "There is an application to stop the process.
"I have been treated in a brutal fashion, as have been my family because we raised objections to transgenderism being forced down the throats of the people of this country".
Judge Murphy set his bail at €200 with the condition to stay away from the Four Courts, but she did not require a cash lodgement. She told him he needed to sign the bond, but he refused.
"I am not a criminal: I am not signing anything, and I will not be treated as such," he answered.
"I am not prepared to be treated like a criminal," he said.
"You don't wish to take up bail?" Judge Murphy asked, and he said, "I will not be treated like a criminal".
Upset family members in the public gallery called the proceedings shameful, while his mother asked why Simeon's shoes and clothes had been taken.