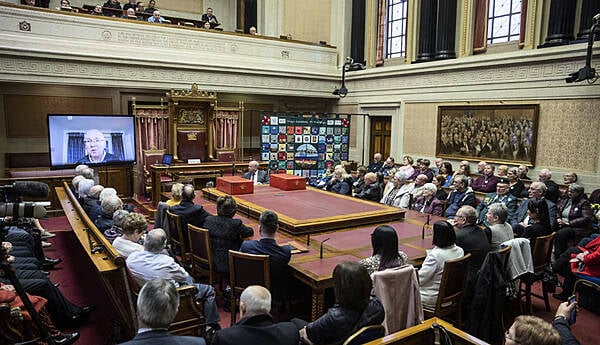 By Claudia Savage, PA
Respect for the survivors and victims of the Troubles has been "washed away", according to the son of a victim of a loyalist attack.
Paul Wilson is the son of SDLP senator Paddy Wilson, who was murdered by the loyalist group the Ulster Freedom Fighters 50 years ago.
Mr Wilson was speaking at an event in Stormont to mark the European Day of Remembrance for Victims of Terrorism.
Speaking of his father, he said: "Years later I was asked to contribute to a commemoration plaque in Stormont. I came up with three words I thought he stood for. Equality, tolerance and respect."
Mr Wilson then built on his understanding of respect in Northern Ireland today.
"Sadly, the respect for survivors and victims of the Troubles has been washed away," he said.
"We see paintings and murals depicting cold-blooded murderers. Where is the respect for each other? For your neighbour? Where is the respect for those who died and the families who are left?"
At the event, family members were able to share how the death of their loved ones as a result of terrorist attacks had affected them and their families.
Mary Hornsey is the mother of Paul Maxwell, who was 15 when he was killed alongside Lord Mountbatten in an IRA attack in Co Sligo.
Ms Hornsey spoke of Paul's love of sailing and read a selection of poems that she had written to help express her grief surrounding her son's death.
"I was devastated and overcome by grief. I miss him so much," she said.
Ms Hornsey's final poem concluded: "I hope my child you'll find grace to forgive, this torment with which I must always live."
Also contributing was Tanya Williams-Powell, the granddaughter of Thomas Niedermayer, who was kidnapped and later killed by the IRA in 1973.
In the years following his death Miss Williams-Powell's grandmother, aunt, mother and father would all go on to take their own lives.
"That is the legacy, the multi-generational trauma that's been caused by the decision to kidnap Thomas," Miss Williams-Powell said.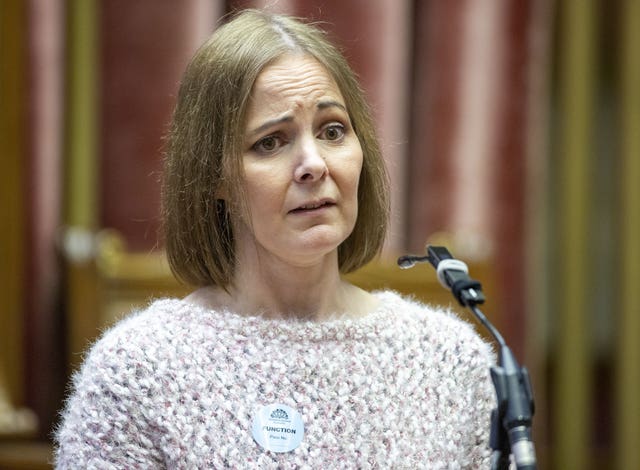 "For me that is absolutely atrocious. Those who say that violence and terrorism is the only way they can deal with things. They need to explain that to the family and victims who are left.
"So many of my family died by their own hand, mental health is so much more open now but it is still stigmatised."
TUV leader Jim Allister, who also spoke at the event, alluded to the Northern Ireland Troubles Bill which is currently being debated in the House of Lords and would provide protection from prosecution for those who co-operated with an independent truth commission.
"When you have a government that says we want to give amnesty to murderers, then respect for the victims of terrorism has well and truly been washed away," he said.
Mr Allister added: "The victims do matter. The scars that have been left cannot be ignored. Victims do deserve to be front and centre of any arrangements dealing with the past."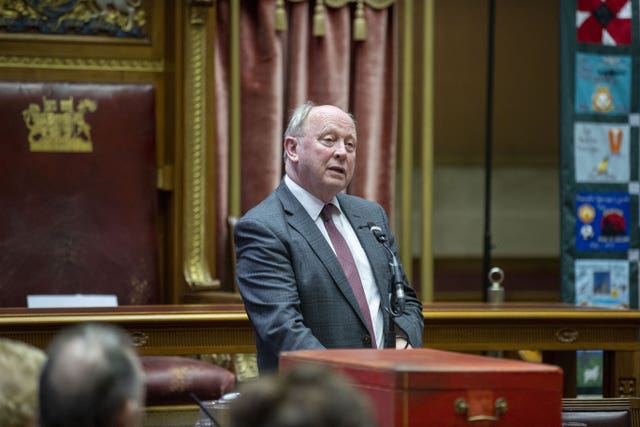 To mark European Victims' Day, civic council buildings will light up red in acknowledgement of victims and survivors of the Troubles.
South East Fermanagh Foundation (SEFF) made the request of all 11 councils as well as Dáil Éireann in Dublin and the Palace of Westminster in London.
SEFF's director of services Kenny Donaldson spoke on the importance of victims' perspective as the 25th anniversary of the Good Friday Agreement approaches.
"It is important particularly at this time that victims/survivors are acknowledged, almost 25 years on since the signing of the Belfast Agreement, victims/survivors remain a constituency whose needs have not been delivered upon," he said.
Mr Donaldson added at Stormont on Tuesday: "Today is about the recognition of a constituency of people that we would argue have borne the price of compromise, for others to enjoy the level of peace we have here today, imperfect as it is.
"Today is very much about the unity of values. It's about the opposition of violence wherever that violence comes from. We're very clear that whether it was carried out by republicans or loyalists or members of the forces that committed a criminal act, it was all wrong.
"Today we have representation from victims of both loyalist and republican violence and it's very important to hear those individuals joining together."