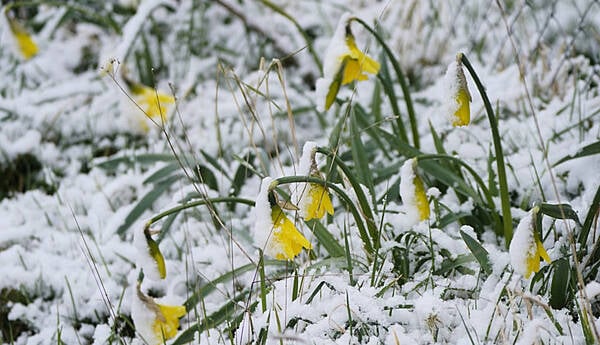 Tomas Doherty
Met Éireann has issued a series of warnings for snow and ice this week as an Arctic blast continues to hit Ireland.
The biggest impact is likely to be felt on Thursday as a heavy spell of sleet and snow will move over the country, with some accumulations expected.
The forecaster issued a status-yellow warning for Connacht and counties Cavan, Donegal, Monaghan, Longford, Louth, Meath and Westmeath for much of Thursday, with sleet and snow leading to hazardous driving conditions and travel disruption.
Met Éireann meteorologists also said there was still uncertainty about Thursday's forecast as they published the likelihood of precipitation falling as either drizzle, rain, sleet or snow in different parts of the country.
There is some uncertainty in the forecast for Thursday

Read more in our Meteorologist's commentary here➡️https://t.co/ktXtWjbfIg pic.twitter.com/VoCJHnQvJc

— Met Éireann (@MetEireann) March 7, 2023
Patchy sleet or snow will also hit counties Cork and Kerry on Tuesday night and Wednesday morning, with the forecaster warning of hazardous conditions on some roads and footpaths.
A separate ice warning is in place for Connacht and counties Cavan, Donegal, Monaghan, Longford, Louth, Meath and Westmeath from 9pm on Tuesday until 9am on Wednesday.
Gerry Murphy, a meteorologist at Met Éireann, told RTÉ's Morning Ireland on Tuesday that cold conditions were going to continue for the rest of the week with the risk of snow and sleet in many parts of the country.
Very cold overnight, another very cold night tonight with temps set to dip even lower. 🥶🌡️📉

Check the website for forecasts and warnings ➡️https://t.co/6N7XkAZaF5 pic.twitter.com/7lxmiU1wY1

— Met Éireann (@MetEireann) March 7, 2023
Temperatures dropped to minus 3.7 degrees in Roscommon on Monday night and could drop to minus 5 degrees in the northern half of the country on Tuesday night.
Meanwhile, the UK Met Office has predicted snow in the North throughout this week, with similar conditions expected in parts of Co Donegal.
It said the snow would have the potential to cause significant disruption, particularly on Thursday and Friday.
📉Quickly turning very cold this evening with a sharp frost forming for many under clearing skies

⚠️Snow showers in N Scotland, and perhaps Northern Ireland and North Sea coasts giving an #ice risk

Less cold in the far south with patchy rain and #snow returning to SW England pic.twitter.com/m3F2bb0Ewe

— Met Office (@metoffice) March 7, 2023
Motorists have been cautioned to drive more slowly and be aware of icy conditions.
Brian Farrell from the Road Safety Authority urged drivers to take care on the roads, to reduce speed, to watch out for pedestrians and to ensure windscreens were clear before driving.