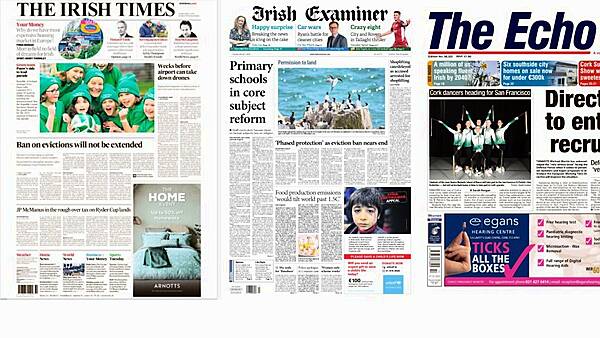 By PA Reporter
Tuesday's front pages focus on the ban on evictions not being extended by the Government as well as the Defence Forces having an issue with recruitment.
The Irish Times and Irish Examiner both report that the Government are not looking to extend the eviction ban.
The Echo lead with a piece with comments from the Tánaiste who said the Defence Forces are facing a major challenge with recruitment.
Morning, readers. Stay with @BelTel for all your breaking news. Here's a look at today's front page of the Belfast Telegraph.
To read the full newspaper on your device, go Premium+ ➡️ https://t.co/WfXEtzkTSl pic.twitter.com/mYPCKmaijg

— Belfast Telegraph (@BelTel) March 7, 2023
Meanwhile, in the UK Tuesday's newspapers focus on a range of stories, from the legislation to tackle small boat crossings of the Channel to Boris Johnson reportedly including his father on his resignation honours list.
The Daily Mail, The Times and the i all look ahead to the Home Secretary and British Prime Minister unveiling their plans to remove and ban asylum seekers from re-entry if they arrive in the UK through unauthorised means.
Tuesday's @DailyMailUK #MailFrontPages pic.twitter.com/tjYUwWhfdp

— Daily Mail U.K. (@DailyMailUK) March 6, 2023
THE TIMES: PM plans annual cap on number of refugees #TomorrowsPapersToday pic.twitter.com/fFO23dKjFu

— Neil Henderson (@hendopolis) March 6, 2023
Tuesday's front page: Sunak plan to stop Channel migrants may be unworkable, Tories warn him#TomorrowsPapersToday

Latest by @singharj @eleanormia: https://t.co/ZNFPE6ThC9 pic.twitter.com/9cI6nDCBwL

— i newspaper (@theipaper) March 6, 2023
The Independent, the Daily Mirror and the Daily Star focus on the reports that Boris Johnson included his father Stanley Johnson as one of as many as 100 names put forward for honours.
INDEPENDENT DIGITAL: Arise, Sir Dad? #TomorrowsPapersToday pic.twitter.com/DAN5mvY0og

— Neil Henderson (@hendopolis) March 6, 2023
Tuesday's front page: No honour#TomorrowsPapersTodayhttps://t.co/xzFhKU2OMb pic.twitter.com/vcrEjX8DQU

— The Mirror (@DailyMirror) March 6, 2023
Tomorrow's front page: 'Bozo's 100 honours' https://t.co/gwmFVOZ7Ap#TomorrowsPapersToday pic.twitter.com/3AQl83lyCy

— Daily Star (@dailystar) March 6, 2023
The Daily Telegraph again focuses on Matt Hancock's leaked messages, with the latest revelations suggesting that he discussed withholding funding for a learning disability centre to pressure an MP not to rebel against coronavirus restrictions.
The front page of tomorrow's Daily Telegraph:

'Block funds for MPs who don't toe line on lockdown'#TomorrowsPapersToday

Sign up for the Front Page newsletterhttps://t.co/x8AV4Oomry pic.twitter.com/BbSY3T4TiO

— The Telegraph (@Telegraph) March 6, 2023
The Guardian reports on the biggest "super-emitting" methane leaks threatening the climate.
Guardian front page, Tuesday 7 March 2023: Revealed – biggest 'super-emitting' methane leaks threatening climate pic.twitter.com/dQa6g3tDDr

— The Guardian (@guardian) March 6, 2023
The Metro covers the tragedy of the the three people killed in a crash that left two others seriously injured.
Tomorrow's Paper Today 📰

FAMILY'S DOUBLE TRAGEDY

🔴 Second sister dead in crash 'lost' for two days#TomorrowsPaperToday pic.twitter.com/3Xyl18U1fs

— Metro (@MetroUK) March 6, 2023
The Financial Times reports on US House Speaker Kevin McCarthy to meet Taiwan's leader in the US to avert Beijing backlash.
Just published: front page of the Financial Times, UK edition, Tuesday 7 March https://t.co/HJZDMr6r5R pic.twitter.com/wKBZ5N5TOc

— Financial Times (@FinancialTimes) March 6, 2023