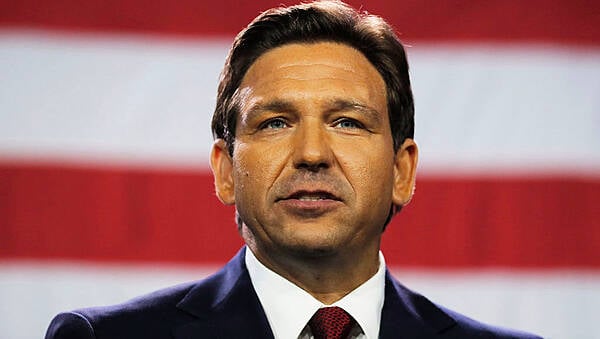 Thomson Reuters
Florida Governor Ron DeSantis has called on US president Joe Biden to allow Novak Djokovic to compete at this month's Miami Open despite the world number one being unvaccinated for Covid-19.
Djokovic, one of the most high-profile athletes unvaccinated against the virus, applied to the US government last month for special permission to play at ATP Masters events Indian Wells, which begins on Wednesday, and the March 19th-April 2nd Miami Open.
The Serbian, 35, formally withdrew from Indian Wells on Sunday. Florida Senator Rick Scott said that US officials had denied Djokovic's request.
"This denial is unfair, unscientific and unacceptable," Mr DeSantis wrote in a letter to Mr Biden on Tuesday.
"I urge you to reconsider. It's time to put pandemic politics aside and give the American people what they want – let him play."
Republican DeSantis signed a law in November 2021 banning schools, businesses and government entities from requiring vaccination against Covid-19, drawing condemnation from health experts and Democratic leaders.
The US currently bars unvaccinated foreigners from entry into the country, a policy that is expected to be lifted when the government ends its Covid-19 emergency declarations on May 11th.
Djokovic, who missed last year's Australian Open after being deported from that country due to his vaccination status, has said he would skip Grand Slams rather than have a Covid shot.
He won his record-tying 22nd Grand Slam at the Australian Open in January. He has not played at Indian Wells or the Miami Open – which together comprise the "Sunshine Double" – since 2019.
Last week, Mr Scott and fellow Republican Senator Marco Rubio of Florida also wrote to Mr Biden urging him to grant the waiver request.
Indian Wells tournament director Tommy Haas, the United States Tennis Association and the US Open were among those also hoping Djokovic would be allowed to enter.
"The only thing keeping Mr Djokovic from participating in this tournament is your administration's continued enforcement of a misguided, unscientific, and out-of-date Covid-19 vaccination requirement for foreign guests," Mr DeSantis said.