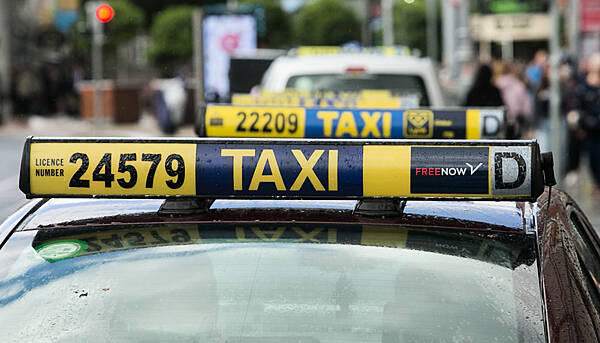 Seán McCárthaigh
There has been a sharp decrease in the number of taxi drivers working in evenings and at night-time over the past year, according to the results of a new survey.
Research on the taxi industry commissioned by the National Transport Authority shows just 50 per cent of all taxi licence holders reported working 6-8pm at the end of 2022, compared to 59 per cent at the start of the year.
While almost 60 per cent of taxi drivers operated between 8pm and midnight in early 2002, less than half were working during the same period by September/October.
The fall-off was even more pronounced after midnight with only 38 per cent of taxi drivers stating they worked between 12 midnight and 4am at the end of 2022 – down from 51 per cent in February last year.
The situation was even more acute in Dublin where just 35 per cent of taxi drivers in the city said they worked in the hours after midnight.
The results mirror complaints from the public over the past year about difficulties in getting taxis in major cities and towns at night-time.
The findings are part of new research published by the NTA on the taxi industry which conducted surveys among almost 670 drivers plus over 1,000 consumers last September/October.
More than 80 per cent of taxi drivers who currently do not work in the hours after midnight said they had given up working nights including 21 per cent who had ceased night-time shifts in the past three years.
Almost half (48 per cent) cited concerns about their personal safety as the reason for stopping working nights, while 23 per cent said it was for their personal health and 13 per cent said it was not financially worthwhile.
Asked what might encourage them to work nights, 31 per cent of taxi drivers said nothing would persuade them to work night shifts.
Almost 1 in 5 drivers said working such hours was too dangerous and risky but they might consider it if there was better safety and a greater Garda presence on the streets, while 8 per cent said they would work nights for the opportunity to earn more money.
However, a leader of one of the country's main representative groups for taxi drivers, expressed surprise at the results of the NTA survey.
The National Private Hire and Taxi Association spokesperson, Jim Waldron, said he believed the number of drivers operating at night-time had been relatively static over the past year.
"If anything, I would have thought the situation was improving as late hours are more lucrative for taxi drivers," said Mr Waldron.
The NPHTA said an advertising campaign run by the NTA last year to attract new entrants into the profession seemed to have been successful, although he expressed concern that very few young people were becoming taxi drivers.
"Many don't seem to recognise there are a lot of positives about becoming a taxi driver such as being your own boss and working the hours that suit you," said Mr Waldron.
However, he acknowledged that the Covid-19 pandemic had resulted in some older drivers stopping work amid concerns for their health and not returning to the profession once restrictions were lifted.