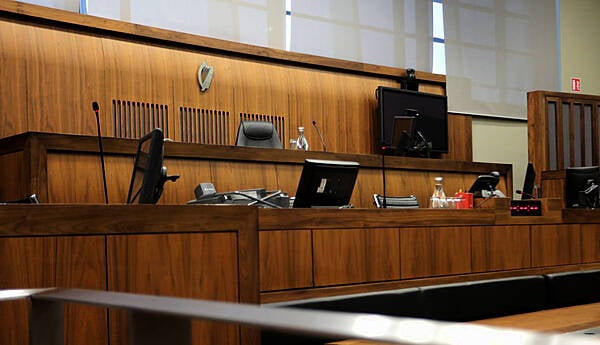 Alison O'Riordan
Gardaí found the body of a mother-of-three lying in the foetal position on the floor of a campervan with her bloodied hand protruding outside the sliding door and a child's car seat over her face, a murder trial has heard.
A garda also told the Central Criminal Court jury on Thursday that Valerie French Kilroy's three children were found in their rural home hungry and "very dehydrated". One child requested Kellogg's Coco Pops, which the garda witness went out to buy.
James Kilroy (49), with an address at Kilbree Lower, Westport, Co Mayo is charged with murdering occupational therapist Ms French Kilroy (41) at their home on a date unknown between June 13th 2019 and June 14th 2019, both dates inclusive.
He has pleaded not guilty by reason of insanity.
Patrick Gageby SC, defending Mr Kilroy, has made a number of formal admissions to the court on behalf of his client including that he killed his wife Valerie.
The trial has already heard that Mr Kilroy demonstrated to gardaí in interview how he had killed his wife and at one point sketched the knife he had used.
Giving evidence today, Garda Colm Boyle from Westport Garda Station told Anne Marie Lawlor SC, prosecuting, that he was informed the accused had "made confessions" to his colleague Garda Leanne Nallen on the afternoon of June 14th "that he had murdered his wife and kids".
Confession
Gda Nallen testified that the accused man had made a "confession" to her in Mayo General Hospital that day and stated "I killed my wife and kids".
Gda Boyle went with Sergeant Kieran McGinty to the Kilroy home where he found three very young and extremely distressed children crying very loudly. Gda Nallen was trying to comfort them and make them feel at ease. "With the information we had received there was a possibility of three or four bodies, obviously when we saw the children were ok our attention focused on the whereabouts of Ms French Kilroy," he said.
The witness said he commenced a search of the house and went into one of the children's bedrooms but could find nobody there.
There was no body in the next bedroom which was very untidy with bedsheets thrown on the ground. Gda Boyle went to the downstairs bathroom after he was informed about blood splatter there. Gardaí quickly ascertained that Ms French Kilroy was not in the house, he said.
Gda Boyle went outside to the farmyard where he found a green old style camper van in a shed. The front of the vehicle was closely parked to a wall and there was a large pool of blood at the back of the van.
The sliding door on the left was open but he couldn't see into it. "A wooden type chair was blocking my path so I walked around the front of the vehicle, when I walked I could see a hand hanging out the sliding door. It had three rings on the ring finger and a gash to the wrist," he said.
The body was that of Ms French Kilroy, and she was lying on her left-hand side in a curved position with her knees bent forward to her chest. "I couldn't see her face as a [child's] car seat was placed over it," he said.
The witness alerted Sgt McGinty and agreed with Ms Lawlor that it was immediately apparent it had been a violent death. Gda Boyle made his way back to the house and noticed two shopping bags containing groceries on the footpath outside after jumping a wall adjacent to the farmyard.
Gda Boyle said the three children were very dehydrated, and he was informed by his colleagues that there was no food in the house.
Children
The witness went to the local Texaco station to buy Kellogg's Coco Pops which one of the children had requested as well as milk, fizzy drinks and chocolate.
"I sat with one of the children when he was eating the Coco Pops, and it was apparent to me that he was extremely hungry, and it had been a substantial amount of time since he had eaten," he recalled.
Under cross-examination, Gda Boyle told Patrick Gageby SC, defending, that he had met Mr Kilroy earlier that day when the accused was "in complete nakedness" and covered in scrapes.
The accused told the witness his name, said he had been on a pilgrimage of penance to Croagh Patrick and that he had to do it because of what he had done. Mr Kilroy claimed his clothes had come off him as he was trying to get out of a tunnel and that he appeared very confused.
Michael D Hourigan BL, prosecuting, read a statement from Sergeant Kieran McGinty, who said that he saw clumps of hair and a hair trimmer around the sink in the Kilroy house on June 14th when he looked through a bathroom window.
The witness went to an open shed when Gda Boyle shouted at him and observed blood on the concrete at the rear of a campervan. Inside the vehicle he observed a female body, who he now knows to be Ms French Kilroy, wearing black jeans and wine coloured boots.
She was lying in a foetal position on the floor, the body was facing forward and the left hand, which was covered in blood, was protruding outside the door.
There was a lot of blood on the ground, a car seat was concealing the head and the rear window of the van was smashed. When Sgt McGinty checked the body there was no sign of life and he stepped away from the van at 3.06pm.
On June 25th 2019, Sgt McGinty found clothing including a black sock, blue underpants and waterproof trousers pushed into a space in between rocks at Dooncastle in Westport. There was a stone placed on top of the clothing.
Evidence has been given that a man rang gardai at 9.40am on June 14th to say he had observed a naked man, who turned out to be Mr Kilroy, in a field in front of his house at Derrygorman in Westport.
Mental health assessment
Earlier, consultant psychiatrist Dr Camilla Curtis from Mayo Mental Health Services told Ms Lawlor she assessed the accused on June 14th at Mayo University Hospital.
She was made aware that the patient was arriving into the emergency department by ambulance and when she first saw Mr Kilroy he was holding his head in his hands.
Dr Curtis said the purpose of her examining the accused was to determine if he fulfilled the criteria under the Mental Health Act to be admitted as an involuntary mental health patient. She said Mr Kilroy did not meet the criteria.
The witness spoke to Mr Kilroy and noted his thoughts were disordered and he was displaying some persecutory delusions. "He mentioned his wife was going to harm him, that God had a particular mission for him and that he had to follow some commandments," she recalled.
Mr Kilroy told her he was experiencing visual hallucinations and could see the dead. He also believed his wife was working against him and trying to harm him.
He wasn't sure if he had harmed or killed Valerie and was acting illogically, saying the world would end in 55 years time, she said.
The accused told the psychiatrist that killing Valerie "wasn't part of the plan" and that he thought she was in the Ford van in the shed. He said he had stabbed her in the throat using a kitchen knife.
Dr Curtis queried the patient about his use of drugs and he admitted using cannabis but said he hadn't used it for ten days and used to grow it. He said he would use the drug every two days and was smoking it for the past 19 years. He also said he had been prescribed medication for psychosis.
Asked where Ms French Kilroy was, the accused said he left her in the van as she was turning into a zombie and he felt the dead were going to get him. He denied hearing voices.
He said there was no change in his mood and denied having thoughts of self-harm or suicide. He also said he had no choice but to kill Valerie as it was God's choice.
When asked if he would regret it, the accused was unable to respond and wouldn't say yes or no, she said.
Dr Curtis decided the accused should not be detained as she was not satisfied that he met the legal criteria for a mental disorder. The witness decided that Mr Kilroy did not have a mental disorder and could not be detained for that reason. This was communicated to gardai and Mr Kilroy was clinically discharged.
Under cross-examination, Dr Curtis agreed with Mr Gageby it had been established that two of the accused's children were safe before she discharged him but it wasn't clear whether the third child and Ms French Kilroy were. She also agreed that there was a strong possibility that he might have killed his wife.
When Mr Kilroy asserted that his wife had stabbed him in the back he was asked to sit forward but there was no sign of a stab wound there, said the psychiatrist.
However, she said he had a lot of superficial wounds and could not remember if he had caused harm to himself.
Dr Curtis further agreed that the accused believed his wife was working against him and trying to harm him. At that stage Mr Kilroy said he was on a mission from God to kill his wife.
When asked if he fulfilled that mission, the defendant said he didn't know.