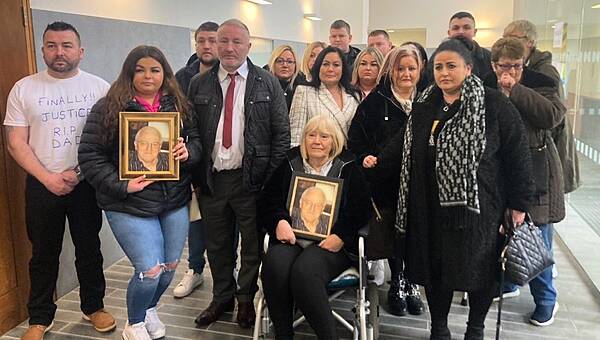 David Raleigh
A new inquest verdict and cause of death has been issued on the death of a father of six from Limerick following a second inquest.
On Thursday the Limerick Coroner, John McNamara, recorded a verdict of "medical misadventure" in the death of Michael Daly sr, aged 64, of Lee Estate, Limerick City.
A verdict of natural causes was recorded at the original inquest held in 2012.
The second inquest heard Mr Daly's son Michael Daly jr discovered information through trawling through his late father's medical notes, which had not been available at Mr Daly sr's post-mortem in April 2010.
Mr McNamara also formally recorded that the findings from the 2012 inquest on the cause of mr Daly's death be modified from cardiac (heart) failure, to cardiac failure and cardiac disease on a background of recent bowel cancer, surgeries, infection, sepsis, and peritonitis.
Updated verdict
The coroner's updated verdict on cause of death was based upon a review of the case by retired state Pathologist professor Marie Cassidy, who was commissioned by the coroner as an independent expert witness.
Mr McNamara said it had been a "very complex inquest" and that neither of the two inquests had implied or proportioned blame or liability to any parties involved in Mr Daly's care "who had all wished for him to get better".
Mr McNamara said he had been "fortunate of having the benefit of the expertise" of a number of independent medical witnesses.
Mr Daly developed rectal cancer in March 2007. Dr Raphael Keane, a consultant colorectal surgeon at University Hospital Limerick, now retired, successfully removed a large cancerous tumour from Mr Daly's bowel and performed a defunctional ileostomy in order to divert his bowel movements away from the surgical wound.
The tumour was in the lower rectal region "in a difficult to access region" and Mr Daly "subsequently developed an anastomotic leak which is a risk associated with this type of procedure," Mr McNamara said.
Despite there being an 80 per cent chance of a recurrence of Mr Daly's cancer, it "never developed".
Progressively unwell
However, following a stoma reversal, performed by Dr Keane, Mr Daly "became unfortunately progressively unwell".
Mr McNamara said: "It's clear from the evidence and from the records that he had multiple attendances and admissions and subsequent discharges from University Hospital Limerick throughout the period 2008-2009-2010."
Throughout this period Mr Daly suffered symptoms "consistent with chronic inflammation".
"He also had low blood hemoglobin and an episode of delirium in November 2009."
"It is fair to say Mr Daly underwent a lot of tests and investigations at the hospital, but it would appear the cause of his ongoing illness was never established," the coroner said.
Mr McNamara highlighted two CT scans taken of Mr Daly's abdomen and pelvis – one on September 9th, 2008 and the second on February 16th, 2009, which he said were "significant" to the case.
Scan
Mr McNamara said that Dr James Young graham, a consultant radiologist, acting as an independent witness on behalf of the coroner, had given evidence that he found "significant and unexpected findings" on the 2008 scan which included "gas" and a "breakdown" in Mr Daly's pelvis.
Mr McNamara said Dr Graham gave evidence that "he would have brought this to the attention of the clinician and the case would have been reviewed at the next colorectal MDM (multi-disciplinary meeting)".
Mr McNamara said Fintan Wallis, a consultant radiologist, who had performed the 2008 and 2009 scans on Mr Daly's abdomen and pelvis, told the inquest that "the information he received before he carried out the scans was patchy".
The coroner said that Mr Wallis, although he had not agreed with everything Dr Graham had said, is direct evidence was "that he was unaware Mr daly had been sick and unwell", and that "he accepted that he misinterpreted or misread the scan having read and heard Dr Graham's evidence".
Mr McNamara said mr Daly's surgeon, Dr Keane "in his evidence last Monday accepted that if he had this information available" he would have carried out a defunctional ileostomy sooner than he did.
Dr Chris Danbury, a consultant intensivist and witness for the coroner, found that a build up of an "infection had led to sepsis".
Mr McNamara said, Professor Allen-Mersh, a colorectal surgeon and independent expert witness for the coroner, "gave an opinion that, on a balance of probabilities" had a more "timely defunctional colostomy" being performed it "would have avoided (Mr daly's) death on the 7th of April 2010."
Sepsis
Dr Gordon Pate, a consultant cardiologist, and witness for the coroner "accepted the proposition that sepsis would have been a contributory factor to death, because of the excessive demands placed on mr Daly's heart".
Mr McNamara said Professor Marie Cassidy's evidence was "that it was a combination of factors at play that led to mr Daly's death, along the lines as follows, cardiac failure and cardiac disease on a background of recent bowel cancer, surgeries, infection, sepsis and peritonitis".
In conclusion, Mr McNamara said: "Having heard all of the evidence, on the balance of probabilities, which is the appropriate standard to assess this case on, I'm satisfied that the appropriate verdict to record is one of medical misadventure."
"I will formally record the cause of death as per the formulation given by Prof Cassidy."
Post-mortem
The inquest heard the Pathologist who conducted Mr Daly's post-mortem in 2010 was not aware that he had contracted sepsis following an infection, when he recored in his findings that the original cause of death was simply due to cardiac failure.
Mr McNamara praised barrister Doireann O'Mahony, for having "left no stone unturned" in her representations of the Daly family, and expressed his condolences to the family.
Ms O'Mahony said the family was thankful to the coroner for granting the second inquest: "We just want to say the coroner's service is a vital public service and today the Daly family's faith in the service has been restored."
Mr McNamara reminded all parties that his verdict "does not carry any connotations with it of blame or liability".
Family reaction
Speaking afterwards, Michael Daly jr, said: "We always knew as a family that if the full body of evidence was presented that the coroner would come to the verdict he has reached."
"As a family all we wanted to know was what exactly happened to our father and all the circumstances around his passing in April 2010."
Mr Daly's widow, Mary Daly, said afterwards: "I just want to thank everyone for their kindness for my husband, he was a kind man, we had a good life together, we were happy."
"Of course I'm delighted with the verdict, it has been a long road and thank God it is finally over now."