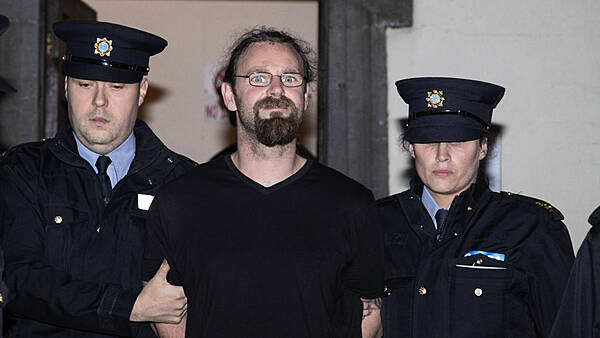 Ryan Dunne
Murder accused Stephen Silver had a "seething resentment" toward gardaí and the shooting of Garda Colm Horkan was "a deliberate action done with the intent of murder," a prosecution barrister has told the Central Criminal Court.
In the closing statement for the prosecution in the trial of Mr Silver (46), of Aughavard, Foxford, Co Mayo, Michael Delaney SC said that Gda Horkan was a well-regarded garda of 25 years' service with no disciplinary issues on his record, who had no idea when he signed out his firearm on the afternoon of June 17th, 2020, that he would be shot dead with the same gun just nine hours later.
Mr Silver has pleaded not guilty to the murder of Gda Horkan knowing or being reckless as to whether he was a member of An Garda Siochana acting in accordance with his duty at Castlerea, Co Roscommon on June 17th, 2020.
He has pleaded guilty to manslaughter and the jury have been told the main issue in the trial is Mr Silver's state of mind at the time of the shooting.
Mr Delaney on Thursday told the jury that the unlawful killing of Gda Horkan is not an issue because Mr Silver has pleaded guilty to manslaughter, so he has admitted it was unlawful.
'Outright lies'
"You cannot rely on what Mr Silver has said in interview or told psychiatrists or what he told the court. Because whether he is well or unwell, he has a tendency to embellish things or to tell outright lies. He has an overarching tendency to tell self-serving accounts," said Mr Delaney.
He said that the accused had told Professor Harry Kennedy "a fib" as to whether or not he knew Gda Horkan was a garda, by twice saying he thought that Gda Horkan had said "Arda" when he got out of his car to speak to Mr Silver, something he later admitted was a lie.
Mr Delaney said that the accused told Dr Brenda Wright that he only pulled the trigger once, but evidence was given during the trial of the pull pressure required to discharge a shot.
"He denied itching for a confrontation with the gardaí, but we suggest the evidence suggests the opposite," said Mr Delaney. "He had a seething resentment towards the gardaí, something that was reflected in his interview where he said: 'I have a sh**load of complaints against the gardaí, a list as long as my arm'."
Mr Delaney also said that at the scene of the shooting, Mr Silver said to gardaí: "I know what ye did to that black man in America," which Mr Delaney said was a reference to the shooting of George Floyd by American police.
Mr Delaney said that Mr Silver was "exercised" about a garda raid on the house of his friend, James Coyne. He said that the accused called at Castlerea Garda Station on the day "to rant about an elderly man" and later did a U-turn outside the garda station, which Mr Delaney said was to provoke a reaction from gardaí.
Mr Delaney said that the disturbance in Knockroe prompted neighbours to call the gardaí station, and Gda Horkan's car was seen driving into Knockroe and then leaving, following the same direction that Mr Silver and Mr Coyne had taken. He said there was an inference that Gda Horkan was investigating the disturbance.
"The accused would have you believe that for no reason Gda Horkan got out of the car and squared up to him. That doesn't stand up," said Mr Delaney.
"Does any of that give the sense that he would disregard his duty as a garda and set upon a man in the street, as Mr Silver said?" asked Mr Delaney.
He said that Mr Silver had on three occasions during garda interviews agreed with Mr Coyne's statement that Gda Horkan had said he was arresting Mr Silver.
"It was only the fourth time that he flipped and said the whole thing was lies and bullsh**," said Mr Delaney, adding that the prosecution was suggesting that Mr Silver had reflected on this and seen difficulty in the word "arrest," hence his "lame attempt" to cast out this part of the statement.
Concerning Mr Silver's account of the struggle between him and Gda Horkan, Mr Delaney said that it seemed implausible that someone trained in the use of firearms like Gda Horkan would pull the trigger in a manner that had no control over the direction of the bullet. He said that Mr Silver struck Gda Horkan on the head at least once with the gun and then shot him ten times, some of those shots fired while Gda Horkan was on the ground.
"He fired until the gun was empty. If there had been more bullets in the gun, would he have kept firing? How many bullets until he felt safe in his own mind?" asked Mr Delaney.
He said that Mr Silver "made a rare slip" in garda interviews when, at one point, he was asked how he knew Gda Horkan was a garda and his answer was: "Because he told me." Mr Delaney said that Mr Silver then realised his error and said to the interviewing garda: "You told me, everybody told me."
Mr Delaney said that the first part of Mr Silver's answer was the truth and everything else introduced by Mr Silver were red herrings. He said that Mr Silver has "a capacity for performance, for drama".
He told the jury that it had been established beyond reasonable doubt that the accused knew Gda Horkan was a garda acting in the course of his duty, and in taking the gun he attempted to kill or cause serious injury.
"Who is the real Stephen Silver?" asked Mr Delaney, saying that the evidence given by James Coyne painted a picture showing that what Mr Silver did on that day with regards to driving the motorbike in the estate was not out of character for him.
He said that the evidence of Prof Kennedy was Mr Silver was not a suggestible person. He said during the trial, Mr Silver had said he had not read the psychiatrists' reports, but he later admitted he had read the report by Dr Brenda Wright.
"There is nothing wrong with him reading the reports, but where you have this additional material emerging, is it possible in reading it that it had an influence on him?" said Mr Delaney.
"Virtually everything else that happened that day is attributable to his anger with the gardaí over the raid on James Coyne's house," he said.
He said remarks made by Mr Silver in his interviews with gardaí about being set-up and claiming Gda Horkan had killed himself were all part of "a defensive strategy to cast himself as the innocent party".
"He was attempting to conceal his guilt," said Mr Delaney.
Mental capacity
He said Prof Kennedy had given evidence that Mr Silver had significant mental capacity at that time of the shooting, including the capacity to form intent.
He said that Dr Wright disagreed with this, but she said she could not find anything of a delusional nature in his mind at the time.
"Dr Wright said that there was evidence of him having impaired control of emotions. Is this failure on his part to keep a lid on his anger? Is that enough to reduce his culpability for shooting a man more than ten times?" asked Mr Delaney.
Mr Delaney said the prosecution believed that the defence of diminished responsibility should be rejected.
"This is a tragic case. When Gda Horkan signed out his firearm that day, he could not contemplate that he would be shot dead by that same firearm nine hours later.
"Similarly, when Mr Silver got up that morning, he did not know he was going to kill a garda. Fate brought those two men together," said Mr Delaney.
He said that the shooting of Gda Horkan was a deliberate action done with the intent of murder and done with knowledge that he was a garda acting in his duty.
During the trial, the jury heard evidence from Dr Wright, interim clinical director at the Central Mental Hospital, who said it was her view that Mr Silver's illness at the time he killed Gda Horkan was such that it impaired his thinking and his judgement contributed significantly to his actions.
However, witness for the prosecution, consultant psychiatrist Prof Kennedy told the jury that he found "no positive evidence" that Mr Silver suffered a relapse of bipolar affective disorder at the time he shot dead Gda Horkan.
Mr Silver gave evidence during the trial that he believed Garda Horkan was "a heavy down from Dublin" who was trying to kill him.
He said that Gda Horkan was wearing a Tommy Hilfiger jacket and "didn't come across" as a garda. He gave evidence that a struggle ensued between them before he fell to the ground, and in the process of getting up he felt the gun on Gda Horkan's hip.
"He had his hand on the gun and I had my hand on the gun and we wrestled. The gun came out; I couldn't tell you who took it out," said Mr Silver.
He said that he felt Gda Horkan "was trying to kill me".
"I kept shooting until the gun finished and there was no ammunition left," Mr Silver said.