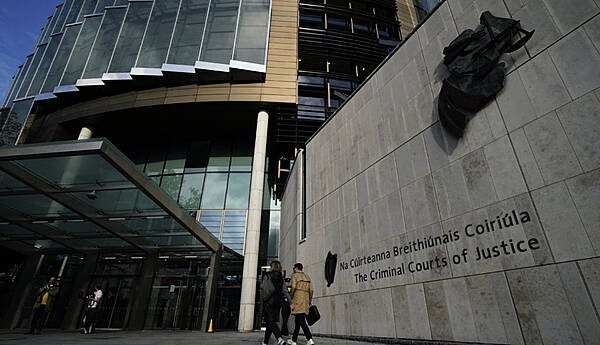 Paul Neilan
A teenager has given evidence at the trial of two men accused of trying to murder him, telling the jury that he cannot recall events before, during or after he was shot in what the State says was a "well-planned and premeditated hit".
A witness also told the Central Criminal Court on Thursday that she heard three shots outside her home and shouts of "Go on! Finish him!" before someone calling out for help could be heard.
The Central Criminal Court has heard that the victim, who was 17 at the time of the shooting, suffered life-threatening injuries at Eugene Street, Dublin 8, at around 10.55pm on the night of February 24th, 2021.
The male teenager was shot in the neck, cheek and leg after he got into a taxi outside a Eugene Street address. He was later taken to St James' Hospital, where he underwent surgery after scans revealed the bullets had passed through his body.
The two accused men, Stephen Mulvey (31) and Jamie Berry (27), both formerly of Leo Fitzgerald House, Dublin 2, are both accused of the attempted murder of the now 19-year-old at Eugene Street and possession of a firearm, a Beretta pistol, with intent to endanger life on the night of February 24th, 2021.
Both men have pleaded not guilty to all charges.
On Thursday, the injured party told Eilis Brennan SC, prosecuting, that he had no memory of the night.
The teenager told Ms Brennan that he could not remember going to Eugene Street or meeting anyone there. The injured party also said he could not remember anything about the shooting, his injuries, going to hospital, his length of stay there or of regaining consciousness.
The teenager told Hugh Hartnett SC, defending Mr Berry, that he was on medication and could not remember events around his shooting.
Mr Hartnett said that the teenager had made a statement to gardaí stating that, when leaving Eugene Street, he was intending to go to his partner's house and ordered a taxi to do so.
The injured party told counsel he had no memory of ordering a taxi and repeated that he was on medication.
Separate location
Mr Hartnett said that in his statement to gardaí the teenager also said that on the night he was originally intending to go to another, separate location but went to Eugene St for "a smoke". Again, the injured party said he had no memory of the night.
Witness Yasmin Ryan, who gave evidence by video-link, told Ms Brennan she lived on Eugene Street at the Coombe Hospital end, which is a cul-de-sac.
Ms Ryan said she was at home on the night with her partner and heard a loud noise that she first thought was a car backfiring. "Then I heard a second, the same as the first one," she said.
Ms Ryan said the blinds at her address were closed at the time the shots were heard and that when they were opened, a parked van blocked their view. However, Ms Ryan said she heard a voice shout "Go on! Finish him!" before she heard a third bang.
The witness said she could then hear someone cry out "Help! Help me! Someone, please help!"
Ms Ryan said she then rang 999 and told the emergency services that she believed someone may have been shot and was in need of assistance.
Ms Ryan told Ms Brennan that the voices she heard sounded like they were from Dublin and from people in their 20s or 30s.
In opening the case for the prosecution earlier this week, Ms Brennan said the teenager, upon entering the Toyota Prius taxi, was shot a number of times at close range causing heavy bleeding.
Ms Brennan said that the injured party tried to escape the scene but had suffered one-centimetre bullet injuries to the right lower cheek, the left side of his neck and his right thigh.
It is the State's case that Mr Berry was the shooter and Mr Mulvey was assisting along with another male not before the courts.
Counsel said the two men ran from the scene of the shooting and got into a black Hyundai hatchback manned by a getaway driver that was waiting nearby.
The Hyundai was later found burning out at Greenville Avenue, Sandford Gardens, Dublin 8, where a handgun was recovered.
Ms Brennan has said the attempt on the teenager's life was a "planned and premeditated hit" involving the "joint enterprise of three individuals", one of whom is not before the court.
Mr Berry is also accused of criminal damage to a home on Eugene Street on the same night, where it is alleged that a bullet he fired passed through the front door, an internal wall and smashed through the glass of an oven cooker where it lodged.
The trial continues at the Central Criminal Court before Ms Justice Eileen Creedon and a jury of seven women and five men.