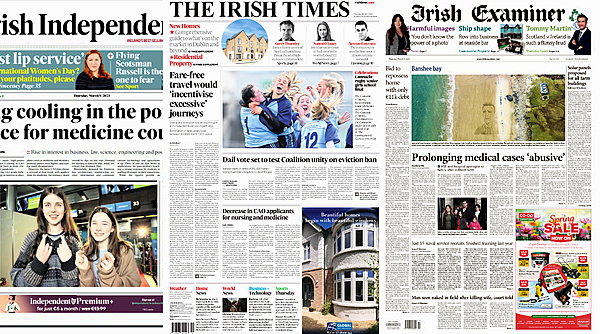 Thursday's newspapers are covering CAO points, fallout from the eviction ban decision and a tragic collision in Co Down.
In The Irish Times: The Government is facing mounting pressure over its decision to end the ban on evictions as Sinn Féin signalled plans to force a Dáil vote on the matter after the St Patrick's Day recess. This week, Green Party TD Neasa Horigan strong criticised the decision.
The Irish Independent's lead story is on CAO points — there's been a significant drop off in demand for medicine and nursing courses. The front page photograph shows star of An Cailín Ciúin, Catherine Clinch, and her sister at Dublin Airport ahead of the Academy Awards ceremony in Los Angeles this weekend.
Good morning, here's the front page of today's Irish Independent pic.twitter.com/7VgZPb7zsP

— Independent.ie (@Independent_ie) March 9, 2023
The Irish Examiner leads with reaction to a story from the High Court yesterday: A patient safety advocate has said that dragging out medical negligence cases is abusive toward patients, as a Clare family finally received an apology on Wednesday over the death of their baby 16 years ago.
The Irish News and the Belfast Telegraph both carry news of a tragic fatal road accident in Co Down.
Morning, readers. Stay with @BelTel for all your breaking news. Here's a look at today's front page of the Belfast Telegraph.
To read the full newspaper on your device, go Premium+ ➡️ https://t.co/WfXEtzkTSl pic.twitter.com/iChCcorOfc

— Belfast Telegraph (@BelTel) March 9, 2023
Good morning. Today's #FrontPage

Prayers offered for family after fatal road collision

Government considering appointment to encourage paramilitaries to transition

Read: https://t.co/JyzDL4zdLS

Subscribe: https://t.co/y5tlLNJSPb

Home Delivery: https://t.co/I1gVh0iuJt pic.twitter.com/CyTRstGgJv

— The Irish News (@irish_news) March 9, 2023
Across the water, thursday's newspapers continue to cover the UK Government's small boats Bill after it emerged the EU has concerns it could breach human rights laws.
The Independent, the Daily Express, the i and The Guardian all report on Rishi Sunak's "contentious" new migrant policy.
Independent digital front page: Battle of the small boats #TomorrowsPapersToday pic.twitter.com/e38jTmGdpk

— George Mann 🫧⚒️🫧 (@sgfmann) March 8, 2023
Thursday's front page – Rishi's Victory: Deal With French To Fix Boats Crisis#TomorrowsPapersToday https://t.co/Jntxnaj9Xa pic.twitter.com/ROXJ5NC13r

— Daily Express (@Daily_Express) March 8, 2023
Thursday's front page: Sunak's small boats Bill 'risks Brexit peace with Europe'#TommorowsPapersToday

Latest from @singharj: https://t.co/8Gepr1DUdy pic.twitter.com/PzOKuAgcBF

— i newspaper (@theipaper) March 8, 2023
Guardian front page, Thursday 9 March 2023: Sunak facing clash with EU on 'unlawful' asylum plans pic.twitter.com/4saRkVOfoK

— The Guardian (@guardian) March 8, 2023
The Daily Mirror and the Daily Mail focus on football commentator Gary Lineker's criticism of the legislation with him vowing to "continue to speak up" despite facing backlash from his employer, the BBC.
Thursday's Front Page: Lineker: I will never be silenced#TomorrowsPapersToday https://t.co/yQqK7pBIqD pic.twitter.com/wAZrxmf0T8

— The Mirror (@DailyMirror) March 8, 2023
Elsewhere, Matt Hancock was censored by the Cabinet Office over his concerns that the Covid-19 pandemic began with a lab leak in Wuhan, according to The Daily Telegraph.
The front page of tomorrow's Daily Telegraph:

'Hancock's Chinese lab leak claims censored'#TomorrowsPapersToday

Sign up for the Front Page newsletterhttps://t.co/x8AV4OoUh6 pic.twitter.com/OOJGaXhhNL

— The Telegraph (@Telegraph) March 8, 2023
While millions of people could be offered a new generation of weight-loss drugs under plans to turn the tide on obesity and get benefit claimants back to work, The Times says.
The Times: Tories plan to speed up deportations by dragging heels in court #TomorrowsPapersToday pic.twitter.com/Yx18j8htMW

— George Mann 🫧⚒️🫧 (@sgfmann) March 8, 2023
Metro splashes with the news the Sussexes' daughter Lilibet has been christened with an official title.
Tomorrow's Paper Today 📰

OUR LITTLE PRINCESS

🔴 Sussexes' Lilibert christened… with official title#tomorrowspaperstoday pic.twitter.com/hiGyRQND9g

— Metro (@MetroUK) March 8, 2023
Ministers are planning to tackle chronic shortages in the labour sector by opening the door to foreign workers, the Financial Times writes.
Just published: front page of the Financial Times UK edition Thursday March 9 https://t.co/gNlApvVtfG pic.twitter.com/cJ8sn7BKVR

— Financial Times (@FinancialTimes) March 8, 2023
And the Daily Star features a story about a swearing parrot that has been banned from watching TV after it repeatedly told people to "f*** off".
Who needs security in a boozer when you have Louie the swearing parrot🤣 #TomorrowsPapersToday https://t.co/BGlufPr7AN pic.twitter.com/TgLzMrNLKS

— Daily Star (@dailystar) March 8, 2023