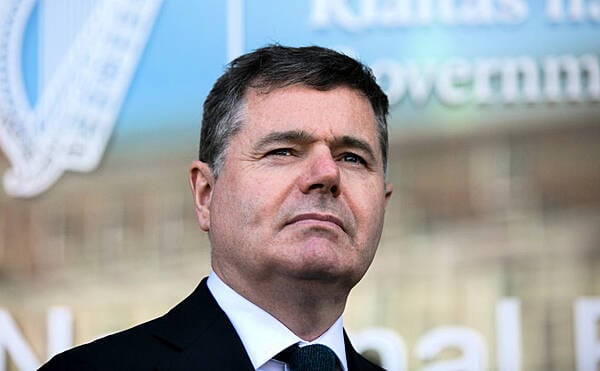 Vivienne Clarke
Minister for Public Expenditure Paschal Donohoe has said he was aware of the consequences of the lifting of the eviction ban and the risks in the short term.
But he said that if the ban had been extended for another quarter it would have been even more difficult to "get out" and the impact on future housing supply would be even worse.
"I'm very much aware of the very difficult consequences that a decision like this could have," he told RTÉ's Morning Ireland. "But I ultimately believe that if the moratorium was extended, we would have less rental accommodation available in the future.
"And the challenges of today will become even harder tomorrow. This is the reason why over the last number of months, the Government has made great effort. Seeing over 5,000 new homes have been built, converting 1,500 empty local authority homes into accommodation that can be used and leasing an additional 600 homes across the country.
"This is a decision that I know has weighed heavily on all who have been involved in it and were very much aware of exactly the risks."
Dáil vote
The Government is facing mounting pressure over its decision to end the ban on evictions as Sinn Féin signalled plans to force a Dáil vote on the matter after the St Patrick's Day recess.
A vote would bring renewed focus on any lingering divisions within the Government as some Coalition TDs continued to express concerns over the plan to phase out the moratorium on evictions from the end of the month.
Fianna Fáil TD John McGuinness said the eviction ban "should never have been lifted without certain modifications to it and it being put back in place again".
Mr Donohoe said the decision to end the eviction ban was one that required "an awful lot of an explanation" and acknowledgement that there were risks and difficulties in the short term.
Asked about a report in The Irish Times that local authorities in Dublin purchased just 13 out of 400 properties that were offered in recent months under the tenant-in-situ scheme, Mr Donohoe said it had been agreed with the Minister for Housing that more money would be made available to local authorities for the scheme.
"We'll spare no effort in making sure they're clear regarding the money that is available to them," he said.
In reference to criticism from Mr McGuinness, Mr Donohoe said it was his opinion that if the moratorium had been extended for another quarter or another half a year, "it would have been even more difficult to get out of it at that point. And the impact on the future supply of rental accommodation would have been even worse.
"I'm seriously aware of how many people could be and will be in those circumstances in the weeks and months ahead. But when we brought in the moratorium on evictions, we did say it was a short-term measure.
"And I also have a responsibility to be aware of those families, those workers who want additional rental accommodation in the month and in the years ahead. And it's my considered judgment that if we extended a moratorium, it would be even harder to meet those needs later on this year and in the years ahead.
"I very much appreciate the risks, the challenges that a decision like this can create. But it's why we're going ahead in our efforts to build more homes. And it's also why we need to avoid doing things that lead to even less rental accommodation being available later on this year.
"So we will do two things. Firstly, for approved housing bodies. The Government agreed last week changes to allow to help them with the borrowing efforts they need to supply more cost rental accommodation and other forms of accommodation in the time ahead and approved housing bodies from many parts of our country, supplying between 30 per cent and 50 per cent of the new rental accommodation that we need in relation to how we will deal with local authorities.
"This is why Minister O'Brien met the local authorities last week to emphasise to them the importance of this scheme being expanded. And it's also why I've agreed with Minister O'Brien that we will increase the budget that he has available to him. We will change that to make more money available to local authorities so they can expand that scheme."