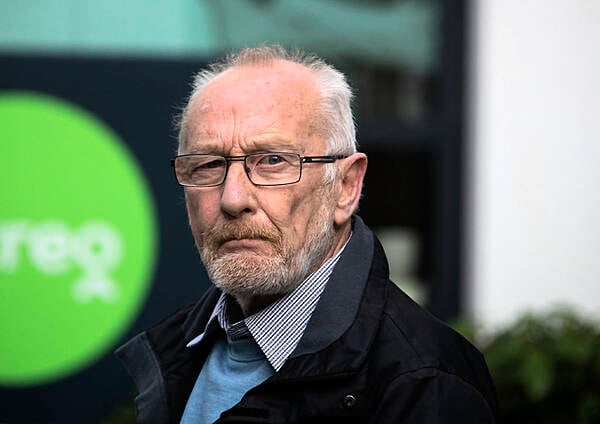 Seán McCárthaigh
A former leader with the Boys' Brigade has been sentenced to three years in prison for sexual offences on two young brothers from Co Wicklow over 40 years ago in a case which a court heard involved "a high level of grooming."
Gordon Black (73), a former leader of the Christian youth organisation, pleaded guilty at Wicklow Circuit Criminal Court to four counts of indecent assault on the younger brother on unknown dates between 1977 and 1982.
Black, a widower and father of three of Mill Meadows, Arklow, Co Wicklow, also pleaded guilty to a separate charge of indecent assault on the victim's older brother on an unknown date between 1978 and 1980.
The court heard that Black, a retired van salesman, knew his two victims through sporting and Boys' Brigade connections as well as being a family friend.
News report
Gardaí were contacted by the two brothers, who are now aged 55 and 59, after they had read an online news report about Black in January 2020 when he was given a suspended two-year prison sentence at Dublin Circuit Criminal Court for indecently assaulting another young boy during the 1960s.
The court heard the younger victim was "enraged and upset" to read a court report that suggested it had been a one-time offence.
"It was like a red rag to a bull when he read the article," said counsel for the DPP, James Kelly BL.
The victims had previously raised concerns about Black's role as a captain in the Boys' Brigade with a Church of Ireland rector in Arklow in 1996 which had led to his immediate departure from the youth organisation which he had first joined in the 1950s.
However, the brothers did not report him to gardaí at the time as they were incorrectly advised that their names could become public.
Confession
When questioned by gardaí about the abuse reported by the two brothers, Black confessed to the crimes and revealed he had been abused himself as a child.
Detective Garda Kevin Donnegan gave evidence that the first offence against the younger brother occurred at a hall in Clonroche, Co Wexford around 1976 during a Boys' Brigade camp when the boy was about 9 years old.
Det Garda Donegan said Black had put his hand down the inside of the boy's pyjamas while he was asleep in a sleeping bag and touched him on the penis before taking his victim's hand and placing it on his own penis.
The court heard that the youth leader abused the boy about 10 times in total in the back of his van by forcing him to touch the defendant's penis when his victim used to accompany him on delivery rounds in the south-east of the country.
On another occasion, the boy was invited to stay overnight in Black's house where he was abused in the scout leader's bedroom by having sex on top of his victim's legs and ejaculating.
The boy and his family had no concerns about him going to stay with Black as they had mistakenly believed his wife would be in the house.
In a victim impact statement, the man said the image of his abuser standing naked after the assault was "burnt into my mind".
Another time, Black was interrupted by the boy's older brother when he was in a bedroom with the victim during a party in their family home, while their parents and others were downstairs.
Other offences took place at a location south of Arklow known as "The Kish" when the boy was being driven home from matches by Black.
Grooming
Judge Patrick Quinn observed that the case involved "a high level of grooming."
The court heard Black assaulted the older brother one night when they were stopped in a car while out hunting rabbits by trying to open his victim's trousers but the victim's quick thinking by accelerating off at speed prevented more serious abuse.
The older brother told the court that he felt he had failed to protect his younger and more vulnerable brother from Black's evil actions which he claimed would "remain forever like a stain on my soul."
He said what happened had left a devastating and lasting effect on him, even though he realised the abuse could have been far more serious.
Det Garda Donnegan said Black claimed the abuse happened at a time when he was trying to find out if he liked young boys or women, even though he did not consider himself a homosexual.
Black, who is now estranged from his own family, had also insisted that there were no other victims of his abuse apart from the three young males whose cases had come before the courts.
Counsel for Black, Eoin Gallagher BL, said his client, who had heart problems and prostate cancer, fully apologised to the two brothers and acknowledged the pain and upset he had caused.
Mr Gallagher said his client could not explain his offending actions.
Moderate risk of re-offending
The court heard that a probation report had assessed Black as being at a moderate risk of re-offending while he still had a limited understanding of the impact of his offences on his victims.
Judge Quinn said Black had engaged an "a continuous series of sexual abuse over a protracted period of time which destroyed the innocence of two little boys."
"It involved a high level of grooming and planning which had a life-long effect on the victims," the judge added.
He said Black had broken the trust of the two brothers, their families and the Boys' Brigade.
Sentencing Black to five years in prison, Judge Quinn said he would suspend the final two years on condition that the defendant have no unauthorised contact with anyone under 18 years on his release.
The judge also imposed a condition that Black, who will be placed on the sex offender register, could not engage in any travel or leisure activity without the permission of his probation officer.
Speaking after the hearing, the two brothers welcomed the outcome of the case but said the court process had been very difficult.
"It's a great relief. With that sentence, it brings things to a full stop," said the younger victim.