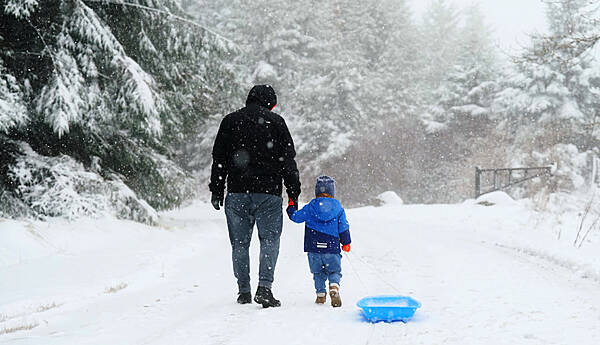 Met Éireann has issued a new warning for frosty conditions overnight after snow and ice affected commuters on Friday morning.
Snow fell heavily in parts of the country on Thursday night, as buses and lorries were seen skidding off-road in some areas.
Hundreds of people in Cork and dozens in Northern Ireland were also left without power on Thursday night. More than 100 schools across the North are closed for the day after the snowfall.
3cm of snow recorded in Co. Tipperary last night #snow #sneachta
📷Graeme Morrison pic.twitter.com/OofAvKpdpz

— Met Éireann (@MetEireann) March 10, 2023
A status yellow warning will be in place in Connacht and counties Cavan, Donegal, Monaghan, Kildare, Laois, Longford, Louth, Meath, Offaly and Westmeath from 7pm on Friday until 10am on Saturday.
Met Éireann said freezing temperatures, widespread frost and icy surfaces will lead to hazardous travelling conditions.
In the North a status yellow warning for ice is in place until 10am on Saturday.
Icy in places this morning with a dry day in store with sunny spells 🥶⛅️

It will be cloudier in the southwest with isolated showers and some showers of rain and sleet are possible on northern coasts 🌧️

🌡️Highs of 4 to 7°C in a light variable breeze.

ℹ️ https://t.co/9gKN6SVok4 pic.twitter.com/zRIHbIjOla

— Met Éireann (@MetEireann) March 10, 2023
Met Éireann warned of icy conditions on roads and footpaths on Friday, with meteorologist Gerry Murphy telling RTÉ's Morning Ireland there is a possibility of "very hazardous conditions on roads".
Mr Murphy said temperatures will rise to between 4 and 7 degrees later in the day as the snow melts.
The melting snow combined with frost on Friday night will lead to even more dangerous conditions, he warned, with motorists and pedestrians urged to take care on roads and paths.
Mr Murphy said mild air will "push through" on Saturday with a return to "more typical" weather from Sunday.
Keith Leonard, from the National Directorate for Fire and Emergency Management, said road conditions on Friday could still be hazardous.
Public transport was working well with minimal disruption, he told RTÉ's Morning Ireland. Schools were open in most areas and his advice to parents was to consider that everything is operating as normal unless they hear otherwise.
Transport Infrastructure Ireland was gritting the main national routes while local authorities were treating secondary routes, he said.
However, he warned there was a limit to coverage, not every road could be gritted and even where roads had been treated they could still be slippery. "A treated road is no guarantee of safety."– Additional reporting: Vivienne Clarke