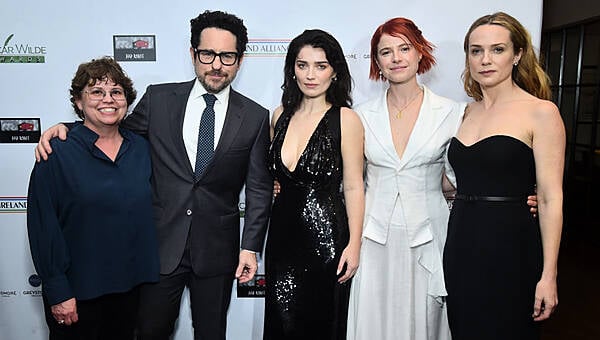 Michael Bolton
With an historic number of Academy Award nominations, the Irish had much to celebrate at the US-Ireland Alliance's annual Oscar Wilde Awards, held again at Bad Robot, the Santa Monica production company of J.J. Abrams and Katie McGrath.
Alliance founder, Trina Vargo, who created the event 17 years ago, said that "from Belfast last year, to BANSHEES this year, the Irish are on a roll. We were delighted to honor Kerry Condon, Jessie Buckley, and Eve Hewson this year, as well as An Cailín Ciúin."
Kerry Condon, fresh off a BAFTA win, and an Academy Award nominee for Banshess Of Inisherin, was presented with her Oscar Wilde Award by Rhea Seehorn of Better Call Saul.
Seehorn said Condon "so inspired me to the depth of my soul as an actor, and then I got to meet her, and she's even better." She spoke of Condon's believability and her credibility, and called her "searingly honest in her performances."
Condon spoke about her early days in America, including funny asides that everyone has come to know and love for her.
Jessie Buckley, a previous Academy Award nominee was presented with her Oscar Wilde Award by Sarah Polley who directed her in Women Talking, and who is herself nominated for an Academy Award this year for adapting the film's screenplay.
In accepting Buckley said she finds the whole awards thing "a bit bewildering. I usually get kind of squashed like some kind of sausage into a dress and can't wait to get home and like, have chips and tequila, and put my pajamas on."
Eve Hewson received the 'Wilde Card' award, presented to a rising talent. She was seen this year in the popular television series, Bad Sisters, and her performance in John Carney's new film, Flora And Son,received rave reviews at Sundance. Charlie Hunnam presented to his friend who he described as an enigmatic, fearless actress, who truly embodies the spirit of what it means to be a Wilde Card.
Catherine Martin, Ireland's Government Minister responsible for the arts, tourism and the Irish language presented the special award for AN Calín Ciuín (The Quiet Girl), the first Irish language film ever nominated for an Academy Award for Best International Feature.
She said the film has "captured the hearts of so many and done so much to promote our beloved native language."