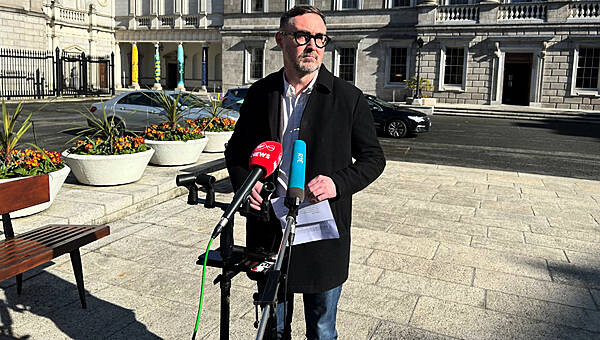 By Cillian Sherlock, PA
Landlords submitted 4,741 notices of termination during the third quarter of last year, a significant proportion of which will fall due from April 1st when the moratorium on evictions ends.
The figures released by the Residential Tenancies Board (RTB) show that 2,999 of those Q3 notices of termination will become due this year.
While there is a legal obligation on landlords to submit notices, they are self-reported and the RTB figures only contain what it has received.
Notices also cannot be interpreted as directly correlating to one tenant or tenancy as they may either be sent to each tenant in a residency or to the tenancy as a whole.
Reflecting on the figures, Sinn Féin's housing spokesperson repeated a call for the Government to "immediately reverse the decision not to extend the eviction ban".
"The figures released by the Residential Tenancies Board today are truly shocking and seriously worrying," Eoin Ó Broin said.
Mr Ó Broin said there were also 1,131 notices served in Q1 and 1,666 served in Q2 of 2022.
He said it was physically not possible for homeless services to cope with the number of people giving up their tenancies from April.
"The latest figures show that the sale of homeless risk from 1 April, when the government's ban on evictions ends, is much worse than expected.
"The consequence will be thousands of people forced to stay with family and friends or overhold in their rental accommodation.
"It will also see a rise in rough sleeping and the prospect of families with children being referred to garda stations for a safe place to sleep."
He added that because Q4 data has not been published, trends suggest there "could be more than 10,000 notices of eviction before the end of the year".
A leading homelessness charity described the figures as "shocking".
Wayne Stanley, executive director of the Simon Communities of Ireland, said the figures provide "an accurate reflection on what is happening in our broken housing system".
"The data reflects the scale of the pressure on individuals and families in the private rental market and they also reflect the scale of protection the moratorium is providing," he said.
Mr Ó Broin called on members of Government to have "compassion".
He said that, depending on whether Government ministers knew about the RTB figures earlier this week, they were either "callous" or "incompetent" when announcing the end of the eviction ban on Tuesday.
He said Sinn Féin will have a motion calling on the Government to reverse its decision next week.
"Any TD or any minister who thinks it is acceptable to put this number of families, this number of human beings, children, adults and pensioners at risk of homelessness, anybody who thinks that's acceptable from the start of April, I have to say I don't think has a conscience at all," he said.