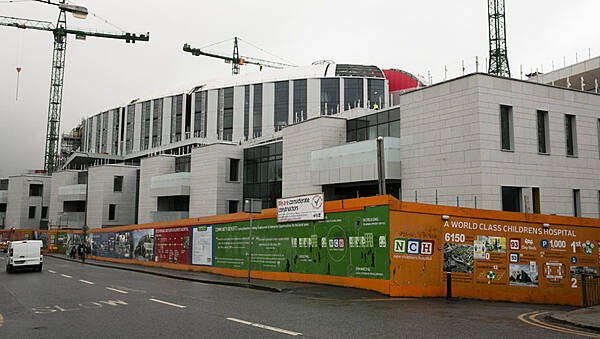 Gordon Deegan
The private operator of the 'pay' car park to serve the €1.43 billion National Children's Hospital (NCH) is to be required to make "a premium up-front payment" of over €5m to operate the car-park.
As work continues on the NCH, the National Paediatric Hospital Development Board (NPDDB) has initiated the tender competition for a 30-year contract to operate the car-park with the issuing of a Suitability Assessment Questionnaire (SAQ).
Spaces
The car park is to comprise 994 spaces of which 70 are to be accessible.
The documentation states that the maximum charge for car-parking over a 24-hour period for visitors to the hospital is to be €10.
The document states that the maximum 24-hour charge is imposed by Ministerial order and the maximum charge will be indexed annually using the Consumer Price Index and in accordance with the Contract.
A spokesman at the Department of Health said on Monday: "The Programme for Government – Our Shared Future makes a commitment to introduce a maximum daily car parking charge for patients and visitors at all public hospitals, where possible, and to introduce flexible passes in all public hospitals for patients and their families.
He said: "This is a reflection of the Government's appreciation of the financial challenge that can be faced by people in meeting these expenses, in particular where they are frequent users of hospital services. This commitment is informing the procurement process for the car park operator at the New Children's Hospital."
The questionnaire states that of the 994 spaces, 575 will be paying visitor Spaces, 100 spaces will be CHI Social Care Guest Spaces and 319 spaces will be for Staff Parking.
It is also currently anticipated that there will be 350 bicycle parking spaces and 26 motorbike parking spaces.
The questionnaire states that a capital premium payment or Concession Fee from the car park operator will be required up-front in consideration for obtaining the concession to operate the Car Park.
The documentation states that €3 million will be payable by the car park operator upon the execution of the contract; €1m will be payable by the operator upon confirmation of its placement of an order for the Car Park's access control system and €1m will be payable to NCI upon successful instalment and commissioning of the Car Park's access control system.
The documentation states that any parking demand risk in the 575 Paying Visitor Spaces shall lie with the car park operator and the remaining 419 CHI Staff Spaces and CHI Social Care Guest Spaces will be paid for by CHI from the commencement of the 30-year concession period.
Candidates for the work will be shortlisted in May and tenders are to be lodged by December with the contract to be executed in April of next year.