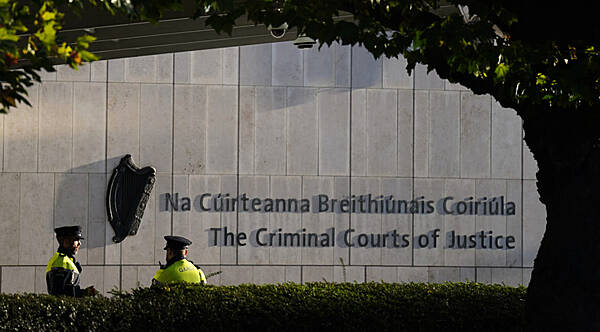 Fiona Ferguson
A Dublin man caught in possession of €85,000 worth of drugs and €125,000 in cash has been jailed for six years.
Fiachra Slator (40), of Lindisfarne Green, Clondalkin, pleaded guilty at Dublin Circuit Criminal Court to possession of a small quantity of drugs at his home and a larger amount of drugs, as well as bagging material, weighing scales and a blender, at a location in Straffan, Co Kildare.
This drugs offence comes with a presumptive mandatory sentence of 10 years' imprisonment, which a judge can depart from in exceptional circumstances.
Slator further pleaded guilty to a count of money laundering in relation to €125,110 found at his mother's home. All offences occurred on April 14th, 2022.
Garda Ciaran O'Neill told Oisin Clarke BL, prosecuting, that gardaí acting on confidential information obtained two search warrants – one for Slator's home and another for a location in Co Kildare.
The search at Slator's home recovered a small amount of cannabis and a hallucinogenic drug called DMT.
Keys found during the search were later found to open an outhouse at the Kildare location which Slator had been renting. Cannabis and cocaine valued at a total of €85,000 were found concealed in car engines and batteries. A large amount of bagging material was also recovered.
A further search was carried out at Slator's mother's home where the cash was recovered in a locked box. Slator was arrested and made certain admissions.
Drug debt
James Dwyer SC, defending, said Slator had begun using drugs after the tragic death of his brother a number of years ago, which had a dramatic effect on him. He confirmed to Judge Nolan that Slator had a drug debt, when the judge inquired if Slator was holding the items for third parties.
He outlined Slator had a serious medical condition but was using his time in custody productively.
Mr Dwyer asked the court to take into account Slator's early guilty plea, admissions in relation to his own role and submitted his client was not living in circumstances showing any benefits of drug dealing.
Judge Martin Nolan noted Slator's medical issues and his desire to change his life but said Slator was a mature man who took a decision to involve himself in these offences.
Judge Nolan said he could depart from the 10-year mandatory minimum in this case but said it was a "good amount" of money and drugs. He imposed a six-year sentence and backdated to when Slator went into custody.