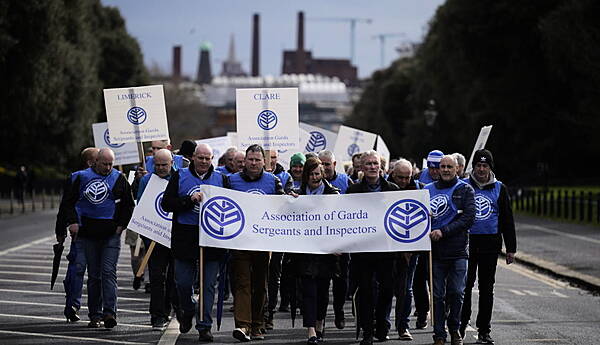 By Cillian Sherlock, PA
The Association of Garda Sergeants and Inspectors (AGSI) is to stage another "day of action" after participating in a protest march against ongoing roster issues on Monday.
The march culminated at Garda Headquarters where AGSI general secretary Antoinette Cunningham and president Paul Curran handed over a letter to the Garda Commissioner.
The protest follows the moving of gardaí to a new roster during the Covid-19 pandemic.
Ms Cunningham said the protest is a "clear sign of frustration" that members feel over their working arrangements.
"There is a problem with rosters, there is a problem with morale, there is a problem with health and safety," she told approximately 200 members of AGSI who participated in the march.
She said the current roster has been extended 15 times in three years.
Ms Cunningham said garda sergeants and inspectors took pride in their role in policing throughout the Covid-19 pandemic but said the roster has since not returned to normal.
"Previous commitments given by the Garda Commissioner that members would return to their normal work pattern have not been honoured. The Commissioner is now trying to impose a roster without agreement, and this is unacceptable," she said.
She said more than half of AGSI members will be asked to work an additional 47 days under the new roster.
"That is not family friendly, it does not have an appropriate work-life balance," she said.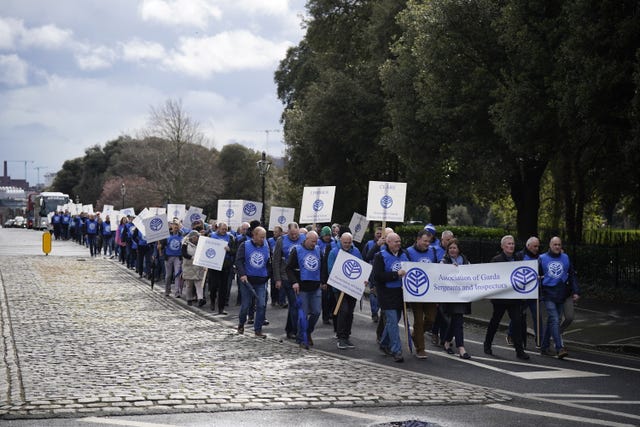 Ms Cunningham said some members have to work 14 days out of every 16 whereas the previous roster was six days on and four days off.
"There's high level of fatigue with that," she added.
While the working shifts under the new arrangement have increased in number, they are shorter in duration.
AGSI said it has appealed the new roster multiple times, including with Garda Commissioner Drew Harris on Wednesday.
On Friday, he described the planned days of action as "unnecessary" and "not particularly helpful".
Mr Harris said the roster issues have been examined and have now moved to an external process at the Workplace Relations Commission (WRC).
Ms Cunningham said AGSI had not been given a chance to make a submission through the internal Garda Conciliation Council.
"There's an internal process before you enter into the State machinery and you have to take every effort to resolve the issue internally first," he said.
The AGSI National Executive is to meet next week and will then announce a second day of action.
National executive member Sergeant Paul Wallace said there is "plenty of space for talking" without triggering the state mechanism of the WRC.
"We're still on a Covid roster and the pandemic is well over now," he said.
AGSI will also discuss further action and possibly elevating the dispute at its annual delegate conference in four weeks' time.
Separately, the International Council of Police Representative Associations (ICPRA) issued a statement of support for AGSI's protest.
General secretary Calum Steele said: "The international police union community stands full square with our colleagues in AGSI as they embark on this unprecedented action in protest over their duty rosters."