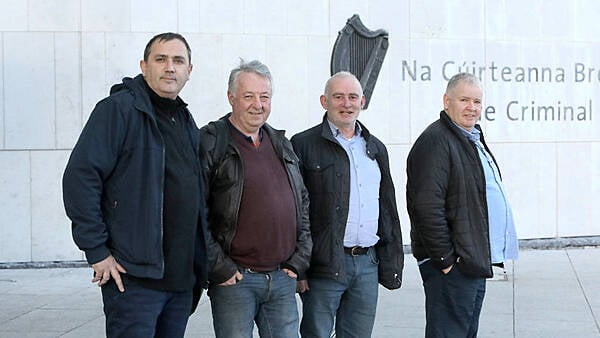 Isabel Hayes
A group that rode in convoy to carry out an eviction at a farm being repossessed in Roscommon was "like something out of the wild west", a trial has heard.
The jury in the Central Criminal Court trial of four men accusing of taking part in an attack on a repossessed farm in Roscommon heard on Monday from the managing director of the company tasked with carrying out the repossession of the property five days earlier.
Aidan Devlin, of Trinity Asset Management Services, described meeting a large group of people at Strokestown church on December 11th, 2018, before driving in a convoy to carry out the repossession of the 30-acre estate at Falsk.
It is the State's case that five days later, at around 5am on December 16th, 2018, a group of approximately 30 people, some wearing balaclavas, arrived at the rural property at Falsk outside Strokestown, Co Roscommon, armed with chains, pickaxe handles, a meat cleaver, baseball bats and a hurley.
The door of the house was smashed with a sledgehammer and four security men were seriously assaulted, forced to the ground, had their shoes removed and their hands tied with cable ties. The windows of the house were smashed, the men's vans and cars were set on fire and a guard dog was beaten unconscious and later had to be put down, the trial has heard.
Charges
Patrick Sweeney (44), of High Cairn, Ramelton, Co Donegal; Martin O'Toole (58), of Stripe, Irishtown, Claremorris, Co Mayo; Paul Beirne (56), of Croghan, Boyle, Co Roscommon; and David Lawlor (43), of Bailis Downs, Navan, Co Meath, have pleaded not guilty to a total of 53 charges.
Each man is separately charged with the same 17 charges; criminal damage to the door of the house, aggravated burglary, false imprisonment of and assault causing harm to the four security guards, arson of four vehicles and violent disorder. The four defendants are also charged with robbery of a wristwatch from John Graham and, finally, with animal cruelty.
On Monday, Mr Devlin told the jury he is the managing director of Trinity Asset Management Services. He said his company was involved in executing orders in relation to properties that were being repossessed.
Mr Devlin said his company was involved in the repossession of the property at Falsk on December 11, 2018 at the request of KBC Bank and the Roscommon county sheriff. He said he engaged Ian Gordon's security company to assist him on the day of the repossession.
Under cross-examination from Blaise O'Carroll, representing Mr O'Toole, Mr Devlin said his company was using Mr Gordon's Northern Ireland-based company in 2018 as a number of other security companies he used to work with from the Republic stopped carrying out this kind of work.
He agreed with defence counsel that he did not ask to see Mr Gordon's licence to work in the Republic. "That was an oversight on our part."
Mr Devlin said he was present at three separate meetings with gardaí prior to the execution of the order. "From our perspective and from the perspective of the sheriff, he wanted to be certain no breach of the peace occurred," he said.
He told the court he was informed by the sheriff that if the residents of the property refused to leave voluntarily, "they would be removed".
Drove in convoy
On the day of the repossession, Mr Devlin said he met a number of people at Strokestown Church car park including a colleague from Trinity Asset Management Services, two staff from KBC, a locksmith, a stock man and assistant, eight security men, three land engineers, a fencing contractor, and several gardaí. He said the group met at Strokestown and drove in a convoy to Falsk.
The court heard the gate of the property was locked and opened by the locksmith, before Mr Devlin said he and the court messenger knocked on the door, accompanied by some security men.
He said he could hear voices inside the house but there was no answer. Shortly afterwards, a group of people including the owner of the house, Anthony McGann, emerged from the rear of the property. Mr Devlin agreed with defence counsel that this surprised him.
He said the group was being "aggressive" towards them and demanding to see the repossession order, which they then said was fake. The court heard a retired garda was among the group. Mr Devlin said Mr McGann and his supporters protested for "some time" before the security men began removing them one by one.
Mr Devlin said he and the courts messenger then went into the property via a rear door, where Mr McGann's brother and sister were sitting in a living room. A number of security men then moved them out of the premises.
Mr Devlin said he was not entirely sure Mr McGann's brother had autism, saying he had been informed locally that there might be "alcohol or autism" but it was not information he could rely upon.
He said Mr McGann's brother protested against being taken out of the house, but did not resist.
The court heard that when Mr Devlin emerged from the house, he saw Ian Gordon and the retired garda grappling on the ground.
When asked by defence counsel: "Did you think what the hell is going on here?", Mr Devlin replied: "Absolutely".
Security dogs
Andrew Sexton SC, defending Mr Beirne, asked Mr Devlin if it took him by surprise when Mr Gordon showed up with seven security men and two dogs. Mr Devlin said this was something he and Mr Gordon had arranged previously as the estate was substantial in size.
When asked if the two security dogs had passports to travel to Ireland, Mr Devlin said he was happy that if Mr Gordon's company was supplying them, then they were compliant.
In relation to the group that met at Strokestown church car park prior to the eviction, Mr Sexton put it to Mr Devlin that this was "like something out of the wild west – a sheriff and a posse heading down the road".
"There was a convoy of people heading down the road yes, including An Garda Síochána," Mr Devlin replied.
The trial continues before Judge Martina Baxter and a jury.