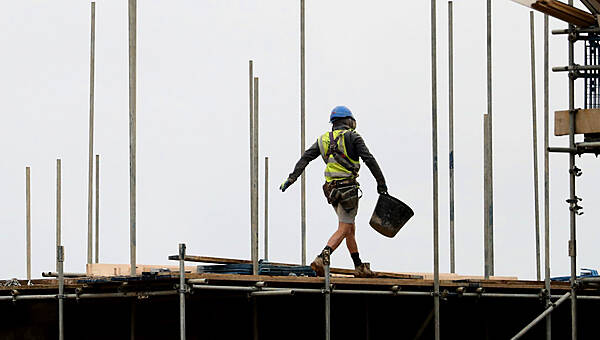 Vivienne Clarke
Targets for the delivery of 6,000 cost-rental properties over the coming years are expected to be met on-time, according to the chief executive of the Land Development Agency (LDA), John Coleman.
Speaking to RTÉ Radio's News at One, Mr Coleman said he is confident that 1,000 cost-rental units will be delivered by the end of next year, adding the target of 5,000 cost-rental properties by the end of 2026 should also be met.
Mr Coleman's comments came after the launch of a lottery for the first-phase of homes in Citywest, Dublin. The lottery, for 22 properties in the 95-home scheme, will take place next week.
The LDA was set up in 2018 to build homes on publicly owned land, but when asked about the length of time it has taken for houses to come on stream, Mr Coleman pointed out that it takes time to source sites.
"We have to design (houses), which for very big schemes takes quite a bit of time. If you can get them through the planning system, then you have to procure contractors to get on them and then it takes 18–24 months to build the first phase," he said.
Mr Coleman said it was "pretty good going" to have the first units coming on stream next year, adding: "We know that we can't wait for that process and that's why we're doing our other initiatives like Project Tosaigh that delivers immediately.
"It's part of a much wider programme of affordable homes and cost-rental delivery that we have, which is a mixture of delivery on State lands, but also joint ventures that we do with the private sector to get affordable housing that the State will retain that's delivered on land which we control.
"So the point of the LDA, the purpose is to get the delivery of affordable homes happening where and when it should be happening, really regardless of land ownership. Ultimately, I suspect the people that reside in their affordable homes won't care too much whether the land once came from the HSE or the OPW or private sector developers.
"What we've done is we've stepped in because a lot of land that's on planning consent is put on commenced or not delivering as quickly as it should be, and we stepped into some of those situations to say if we were to do a transaction with you to deliver these homes as cost rental homes, would you accelerate your delivery or would you commence it at all?"
Mr Coleman said the LDA had a target of 5,000 units by the end of 2026, explaining: "We've contracted or agreed commercial terms on about 1,500 of those so far and we intend to get to around 2,500 by the end of the year. So we're well on track to deliver that target."
The level of interest for the lottery for homes in Citywest was very strong, he said, with hundreds of applicants in the first hour since it went live.
"We will leave it up (online) for a week, which is what we're required to do, and then after that a lottery is run by an independent party to select the tenants that are compiled from eligible applicants."
However, Mr Coleman warned that one institution could not be a panacea for the overall housing problem, but added: "I think it's a very positive statement that very shortly after launch that we can start delivering these homes at a very big discount to the market.
"I think we are starting to see that volume coming through, which is what we want to achieve, and I think people can look at the 5,000 unit target by the end of 2026 with confidence as a result."