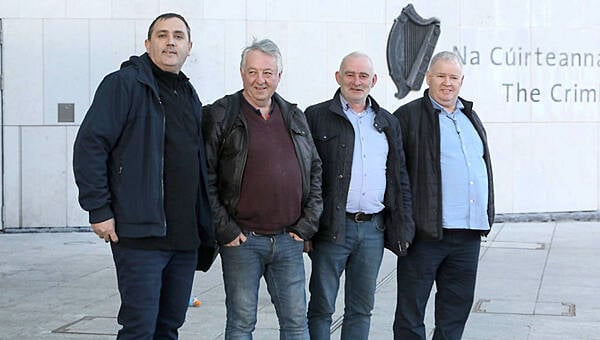 Sonya McLean
A security guard who was guarding a farm that had been repossessed has told a jury he was struck a number of times after being pushed to the ground by a group of people.
Mark Rissen gave evidence on Tuesday in the trial of four men accused of taking part in an attack on the farm in Co Roscommon.
Mr Rissen told Tony McGillicuddy SC, prosecuting, that he was told to stay on the ground and not to move before he got "blows to the back, a few digs to the face, to my hand and my legs".
He later told the trial that he noticed blood on his socks and realised he was bleeding from a gash on his leg.
The court has heard that a repossession was carried out at a property at Falsk, Co Roscommon on December 11th, 2018, during which a number of security men were guarding the 30-acre estate.
It is the State's case that five days later, at around 5am on December 16th, 2018, a group of approximately 30 people, some wearing balaclavas, arrived at the rural property armed with chains, pickaxe handles, a meat cleaver, baseball bats and a hurley.
The door of the house was smashed with a sledgehammer and four security men were seriously assaulted, forced to the ground, and had their shoes removed and their hands tied with cable ties.
The windows of the house were smashed, the men's vans and cars were set on fire and a guard dog was beaten unconscious and later had to be put down, the trial has heard.
Patrick Sweeney (44), of High Cairn, Ramelton, Co Donegal, Martin O'Toole (58), of Stripe, Irishtown, Claremorris, Co Mayo, Paul Beirne (56), of Croghan, Boyle, Co Roscommon, and David Lawlor (43), of Bailis Downs, Navan, Co Meath, have pleaded not guilty at Dublin Circuit Criminal Court.
Charges
Each man is charged with the same 17 charges. They are separately charged with false imprisonment of and assault causing harm to Mr Rissen, Ian Gordon, John Graham and Gary McCourtney at Falsk, Strokestown on December 16th, 2018.
Each of the four accused is also charged with aggravated burglary, as well as four charges of arson in relation to a car and three vans which were allegedly set alight.
The four are also each charged with criminal damage to a door of a house, violent disorder, robbery of a wristwatch from John Graham and, finally, for causing unnecessary suffering to an animal by causing or permitting an animal to be struck on the head.
Mr Rissen told Mr McGillicuddy that during the attack, the men were asking him where Ian Gordon was before he was brought to another part of the property. He said he was taken there by three or four people.
He said he recalled at one stage that he was asked again did he know where Ian Gordon was. "I think there were people trying to record what I was saying. I am presuming on a phone. It was something small and it was dark."
Mr Rissen said the people also asked him did he have any identification and he gave them his Private Security Authority license.
He said he was told to get down on the lawn outside the front of the property and told to keep down. He said Johnny [John Graham] and "another guy" were on the lawn area with him.
Mr Rissen said the group left and he got up. His hands were not tied but the man who was on the lawn with him had cable ties around his hands. This man asked him to try and look for something to release him.
Mr Rissen got up and noticed the man's trousers were pulled down. He pulled up the man's trousers for him and went back into the property, where he noticed his phone was charging in the sitting room.
He got his phone and called the emergency services. He told the operator that all three emergency services were needed. He then got a knife from the kitchen and cut the cable ties for the other man.
Mr Rissen said he saw Johnny outside and noted he had blood on his head.
He noticed that his own socks were wet and discovered that there was blood coming from a gash on his leg.
Filming
Mr Rissen said he noticed a dark vehicle outside the property, and he could see two occupants were in the vehicle who were filming.
He hid in a nearby barn on the site which was on fire, however, he said he felt it was safe and he hid there for a couple of minutes until the black vehicle left.
He said he then left the barn and noticed "Ian and some of the other guys" had come back.
The fire service arrived and they dealt with one of number of vehicles at the site which were on fire.
Mr Rissen said the ambulance service arrived and dealt with himself, Johnny and Ian. He said Johnny had his head bandaged and was very dazed and could have been sick.
Mr Rissen said there were marks on his back, his hand and his head. "I was in a state of shock. When I went to the ambulance, they took my blood pressure, and it was through the roof."
He was taken to Mullingar Hospital, where he spent three or four hours being treated for smoke inhalation and having x-rays taken of his head, back and hands.
Mr Rissen said his clothing was taken from him and later he dropped it off at Longford Garda station.
He added that he had been given a body camera when he arrived at the site, but it was taken from him when he was being "manhandled" out of the property.
The trial continues.