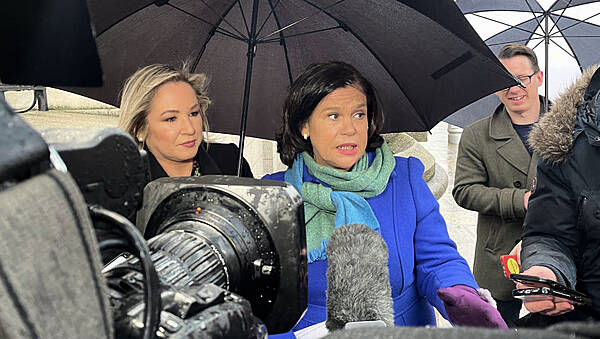 Kenneth Fox
Sinn Féin leader Mary Lou McDonald has said her party will on Tuesday move a motion in the Dáil to extend the eviction ban until January 2024.
As the Irish Examiner reports, it places renewed pressure on the Government as Green Party TDs Neasa Hourigan and Patrick Costello have called for the moratorium on evictions to continue.
A debate is scheduled in the Dáil for next Tuesday, March 21st, when the Taoiseach and ministers arrive home following their St Patrick's Day trips abroad.
The motion put forward by the main opposition party will force a Dáil vote on the matter, resulting in fresh criticism for the Government and tension within the Coalition.
Speaking to reporters in New York on Monday night, Ms McDonald said Sinn Féin "absolutely appreciates" that the ban on evictions "is not in and of itself the answer to our housing crisis".
She said the party knows it can't be a "permanent feature" but added that it is "irresponsible" of Government to take away protections from vulnerable renters.
She said she has written to Taoiseach Leo Varadkar urging him to reverse his decision on the eviction ban and said the responsibility is also on him to tell the thousands of families who face eviction in the next few weeks where they are supposed to go.
"I think common decency has to prevail here, common sense has to prevail here, and both of those things mean a reversal of the Government decision," said Ms McDonald.
"Our proposal is to extend the eviction ban to the end of January 2024."
Ms McDonald said the focus has to be on the issue of emergency accommodation given there is "simply no room for people if they should fall homeless".
She said Sinn Féin has set out proposals on vacant and derelict buildings and speeding up the system in terms of procurement and delivery of housing.
"It's very clear that the Government has not put in place any mitigating measures or any plan and can't answer the very simple, straightforward question of where do these families go," she said.