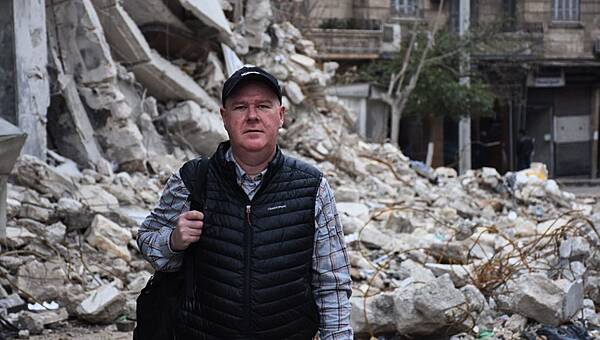 David Raleigh
A Cork priest based in Syria has called on Europe and the US "reassess" their policy of long-term economic sanctions on the barbaric Bashar al-Assad regime, claiming it is threatening the future of ordinary citizens who are struggling to survive there.
Syria, alongside Turkey, suffered immense damage following a 7.8 magnitude earthquake on February 6th which killed over 50,000 people across the two countries.
One month on, Cork Jesuit Fr Tony O'Riordan said the economic sanctions imposed by the US and the EU are exacerbating "grotesque poverty" on "ordinary Syrians".
US president Joe Biden's decision in the immediate aftermath of the earthquake to relax US sanctions has drawn sharp criticism from some in Washington, however, Fr O'Riordan called on those in power to consider completely lifting the sanctions.
Fr O'Riordan, who is leading the Jesuit's response to the crisis in Aleppo, said it remains "a city where people know hunger on a daily basis" as a direct result of the sanctions.
He said Syria was already on its knees prior to the quake due to 12 years of civil war, adding he could not see a peaceful end to the conflict unless there is "a significant international effort to try to resolve the situation".
Tens of thousands continue to sleep in makeshift shelters or out in open public spaces out of fear of further earth tremors and aftershocks – the most recent of which in Aleppo was felt two weeks ago.
"The people here know the pain of extreme poverty, not having fuel or access to medical care, they know what it's like to live in the dark," Fr O'Riordan said.
As the 12th anniversary of the civil war looms over the country, Fr O'Riordan accused the international community of having "largely forgotten Syria".
"There has been no urgency to address the political and international status of Syria, or look at the role of sanctions and the impact of sanctions on ordinary people, or look at what is the (best) way of moving forward in Syria."
"The big powers like Russia, Turkey, the United States, and neighbouring countries – for all different reasons they are happy to see Syria move towards almost a crippling poverty, and aid alone cannot be the (international) response."
Fr O'Riordan is no stranger to calling out wrong-doing where he sees it. In 2016, he highlighted the "evil" activities of drug gangs in his former parish Moyross, Limerick. In 2018, he also escaped an attack by a 2,000-strong mob on a Jesuit compound in Maban, South Sudan.
The Kilmichael native said, in his opinion, the Irish Government "can play a very key role in keeping the plight of Syria on the international agenda", suggesting the Taoiseach, Leo Varadkar and his Cabinet colleagues can "bring Ireland's strong diplomatic experience" to shamrock bowl conversations with political leaders around the globe on St Patrick's Day.
Mr Varadkar is scheduled to meet Mr Biden at the White House on Friday.
The situation is grotesque, it needs to be resolved.
Fr O'Riordan's message to those in power is clear: "This conflict needs to end for the people of Syria, who are still enduring a downward spiral of living conditions, insecurity, and ever-increasing poverty. The situation is grotesque, it needs to be resolved."
Encouraging people in Ireland to "engage with their politicians on what is the long-term solution" for Syria, he said political leaders should "look beyond and question the regime of sanctions that not only impacts the regime, but impacts the ordinary people in a really cruel fashion".
"The international sanctions have crippled the economy here. Ordinary people might get $20 a month because the Syrian economy is close to worthless, and the cost of living is enormous and continues to increase."
The "knock on effect" of sanctions after war, famine, war crimes, and last month's earthquake, Fr O'Riordan said, is that "people here can no longer afford basic things to survive".
"They are dying because they are unable to access medicine as they prioritise the need for food for their family."
He added another consequence of sanctions is children are "loosing out on their education" because they are sent into the streets by their families to "scrounge in bins for plastic" in order to earn a paltry sum to buy bread.
Fr O'Riordan reiterated his call for the West "to understand the gravity of the crippling situation of about 12 million people in this country, who are not combatants in any conflict".
"They are ordinary citizens who just happen to be born in Syria. They want to live a normal life, and because of the sanctions regime they are being ground down daily."
Dialogue
"They should be asking themselves, is this what we intend? How long do we intend this situation to continue? And, how far are we going to allow this situation to deteriorate before we say we need to reassess what we are doing here, that we need to reassess our policy?"
Asked what is the alternative to sanctions, Fr O'Riordan said: "For me, it's dialogue, and it's risks for peace. I think the narrow logic that somehow sanctions would put pressure on the people to rise up against the (Assad) regime and remove the regime, to maybe question that at least."
"To me (sanctions) seems too simple, because what's happening here is a level of suffering and deprivation caused by not only international sanctions, but it is one big component of what's crushing the people here."
Fr O'Riordan said he is not suggesting Syria's regime be allowed to rule without consequences: "There are issues of accountability for war crimes, but just continuing the current policy, from the perspective of the suffering caused on the ordinary people, that certainly needs to be reassessed."
He added: "I think the current weakness of Syria suits the big powers. Russia has its section, the Americans have their section, Europe has its stake and Turkey has its stake – so from a strategic self-interest point of view, they are probably all happy, but that's at the cost of the suffering of huge swathes of the Syrian population, and that is what I would be questioning.
"There is an all-out assault on the dignity of people here in Syria. Europe, the United States and Russia, all have a case to answer here, and maybe this is where the discussion needs to go."
Donations to the Jesuits' Syria Earthquake Appeal can be made via the Irish Jesuits International website or by contacting 01-836 6509.